Case Study: How Jetoctopus Enabled SMG to Manage Multimillion and Multilanguage Marketplace Websites for 3+ Years
SMG Swiss Marketplace Group operates a network of popular online marketplaces, having several multi-million-page websites with impressive SEO traffic. One of the notable features of these marketplaces is their multilingualism. In Switzerland, websites need to have versions in three languages: Italian, German, and French. However, given their international nature, many SMG sites offer an English version to cater to a broader audience.
The sheer volume of pages across these marketplaces is measured in millions. Consequently, conducting SEO analysis on such websites demands considerable expertise in implementing effective internal linking, timely detection of technical issues, and optimizing the crawl budget. So, implementing cutting-edge tools was essential to manage this extensive project successfully and simplify the task of the SEO team.
For over three years, SMG has relied on JetOctopus, the fastest and most affordable SEO crawler and logs analyzer, to facilitate its SEO efforts. JetOctopus played an instrumental role in strengthening SMG's SEO framework.
Swiss Marketplace Group holds a special status as our esteemed client, and we take immense pride in our unique collaboration with them. The SEO strategy adopted by SMG is genuinely intriguing and worthy of exploration.
In this case study, we will delve into the key challenges faced by SMG's SEO team and elucidate how JetOctopus resolved them successfully. The dedicated team at JetOctopus was happy to assist SMG during their SEO tasks. We left no stone unturned in empowering them to achieve the best outcomes.
Why SMG Entrusted JetOctopus for SEO Excellence
SMG's decision to choose JetOctopus was driven by a multitude of valuable benefits we offered. Our powerful tool empowered SMG to manage SEO strategies for their marketplaces. By utilizing JetOctopus, SMG effectively tackled the challenges of indexing and monitoring technical issues while considering the unique dynamics of each website's performance.
One standout feature of JetOctopus was its pricing flexibility, which was often hard to come by in other options. This ensured that SMG could optimize its budget effectively while gaining high ROI for its SEO efforts.
What's more? JetOctopus's core values, including simplicity, reliability, and dedicated human support, made it an indispensable asset for SMG businesses looking to optimize their online performance.
Before using JetOctopus, SMG encountered several SEO challenges. One of these challenges was effectively managing multiple websites, which required careful monitoring of each marketplace. This is where alerts played a pivotal role for SMG websites. They enabled the team to promptly identify any issues with logs or performance in the SERP, preventing significant traffic losses.
Besides, SMG's favorite tools within JetOctopus included the Crawler, Alerts, and Log Analyzer. These tools empowered the SEO team to gather comprehensive data and insights, simplifying the management and analysis of information from various sources. The integration of logs, often deemed challenging, was seamlessly achieved through open communication between JetOctopus and SMG's developers. Logs played a vital role in managing and understanding the crawl budget, a crucial aspect of their SEO strategy.
With features encompassing logs, Google Search Console (GSC), and extensive crawl data, JetOctopus eliminated the need for multiple tools, offering a consolidated and user-friendly experience with just a few clicks.
Let's delve into key cases that helped SMG enhance its SEO performance.
Alerts for a Financial Project
For projects in high-interest niches, technical issues that impact SEO can be particularly critical. Hence, it was crucial to stay vigilant about website performance and indexability and observe how Googlebot responds to the technical changes and their impact on the search engine results pages (SERPs).
The SEO team took a comprehensive approach to address the challenge and implemented a set of alerts across different sections. This allowed them to track the causes and consequences of technical issues effectively.
Let's explore an example to understand how they successfully undertook the endeavor.
The website had two weak points that required continuous monitoring.
Firstly, the load time – server response time was a critical factor. Some Core Web Vitals indicators were load-time-dependent, and a slow page response time could negatively affect the crawl budget. The website had encountered this issue before, prompting the SMG SEO experts to set up specific alerts.
Monitoring load time in crawl results was an initial indicator, but it wasn't the most critical. Load time could vary due to user traffic or technical work. Sometimes, the crawler might overload the web server, leading to longer load times. However, monitoring and assessing whether the issue was temporary or required immediate attention was crucial.
So, to ensure that the detected deterioration in load time was temporary, SEO specialists had set up alerts to track load time changes specifically for Googlebot. If the number of slow-loading pages increased and persisted over time, Google could have potentially reduced its crawling of the website. Consequently, this could have led to a delay in discovering new pages and updates to indexed pages. No wonder, the Googlebot load time alert held paramount significance for SMG.

Another vital aspect closely monitored by colleagues in the financial marketplace was the proper implementation of canonicals. Mistaken changes to canonicals could have removed pages from the SERP. Therefore, SEO experts set up alerts during crawling to track pages with changed canonicals.
Additionally, they configured an alert in Google Search Console to monitor pages where Google had already scanned and altered the canonical page.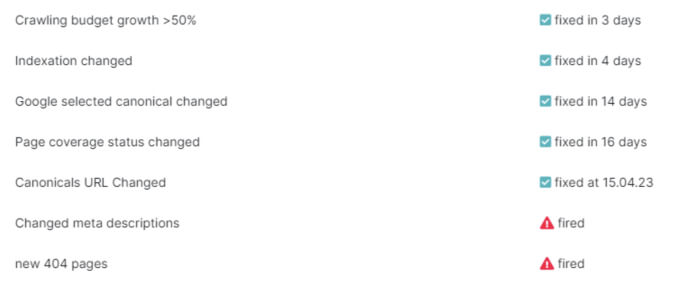 Drawing from the SEO team's experience, we would like to highlight the significance of setting up alerts across different sections. This approach proved highly valuable as it revealed the cause-and-effect relationships that aided in maintaining and enhancing SEO performance.
Crawl Budget Optimization for Classifieds Website
One unique aspect of the classifieds website is the constant flux of its content, where users create and delete thousands of new ads daily. In such instances, archiving all user announcements can be cost-prohibitive due to the large amount of server space required. Moreover, custom ads often lack SEO optimization, leading to poor traffic generation for high-volume keywords.
Simultaneously, the ever-changing nature of the site's pages can impact the crawl budget. On the one hand, Google may struggle to keep up with scanning new pages. On the other hand, crawling pages can become time-consuming, resulting in numerous 404 errors as pages are constantly being removed. It's a fact that a high number of 404 errors can significantly reduce Google's crawl rate of a website.
Thus, the classifieds site faced a challenging task: it was necessary to make Google crawl only pages that returned a 200 response code and ensure it had time to process and index the short-term ads.
We took the following steps to enhance the crawl budget.
Step #1: Timely removal of internal links pointing to deleted (404) user ads
We removed internal links that pointed to deleted user ads (404 pages). It was common for these links to remain in the HTML code and sitemap even after users deleted the ads. This was a prevalent issue among many websites with dynamic content. We addressed it by regularly conducting complete website crawls to identify non-200 pages and links leading to 404, 301, and 302 pages
Step #2: Optimization of internal linking
From our experience, even basic optimization of internal links had a significant impact. However, internal linking required careful consideration because most of the site's content was user-generated, and users didn't always provide unique descriptions or optimize their content to improve SERP results.
Therefore, we strategically selected the right pages for strengthening internal linking. As a result, we observed increased impressions and clicks on search engine results pages (SERPs).
The screenshot below reflects the positive results of crawl budget optimization over six months. The ongoing work in this area holds great promise, and we extend our best wishes to SMG for continued success!

Improved Performance in SERP through Content Optimization
Achieving good results on Google requires extensive technical website optimization. Addressing critical issues can improve your rankings in search engine results pages (SERPs). Initially, your website's visibility on Google will increase, followed by improvements in click-through rate (CTR) and average position as you continue technical optimization.
A notable example of such ongoing technical SEO work can be seen in one of SMG's real estate marketplaces. As shown in the screenshot, the website's page impressions in the SERPs exhibit a highly positive trend, accompanied by a significant increase in the number of clicks.

Why did this positive trend persist?
Firstly, the increase in website visibility was a crucial factor. Additionally, there was a specific focus on enhancing the rankings of individual pages in the SERPs. It's a fact that pages ranking within the top three positions tend to drive the most traffic. Hence, we made efforts to improve page rankings.
To achieve these results, SEOs focused on content optimization in bulk. By comparing two website crawls, one conducted in May of this year and the other from the previous year, the effectiveness of the optimization efforts became evident.

What did the results of this comparison reveal?
1. The average number of words per page had increased, leading to a higher chance of ranking for long-tail keywords. By adding relevant and high-quality content to the pages, there was an expected increase in traffic for low-frequency and long-tail keywords.
While the traffic from these keywords might not have been as substantial as high-frequency keywords, users who encountered the website in the SERP for long-tail keywords were more likely to become familiar with the brand, appreciate the product's benefits, and click on the website in future SERP searches, even if it wasn't among the top 3 positions.
2. SMG experts effectively addressed the issue of non-unique content. In the first crawl, numerous pages contained similar texts, which hindered the website's ability to attract quality traffic from the SERP. Increasing unique internal content improved the chances of covering a wider range of user queries in the niche.
This led to a more focused and higher-ranked page for relevant search queries instead of multiple poorly ranked pages in Google.
3. There was also an increase in the number of images on the website pages, which could boost traffic from Google Images. Visual content played a crucial role in enhancing user experience and making the website more appealing. User engagement and time spent on the website positively impact SEO, as search engines consider user behavior data as a ranking signal.
Simply put, if users enjoyed the website and spent more time on it, Google perceived it as deserving more frequent exposure in search results.
A crucial point to emphasize here is that manually optimizing a website's content with millions of pages is not feasible. Therefore, automating and streamlining the process and optimizing content in bulk is imperative.
Conclusion
This case study highlights the results of the efforts made by SEO specialists on three websites with distinct topics. Each website had its unique characteristics and technical aspects. However, the continuous technical optimization positively impacted the crawl budget, clicks, impressions in the SERP, and organic traffic.
The assistance of the JetOctopus SEO experts team played a crucial role in executing and monitoring the SEO tasks. Their expertise and tools were instrumental in helping SMG achieve its goals.
At JetOctopus, we are committed to helping our clients achieve excellent organic traffic results. Our team is always ready to share our expertise and support with our valued clients.