Modern websites are very dynamic. They change frequently, URLs are updating, and websites have migrated to new domains. In all these cases, redirects are needed so that users and search engines can find the right URLs. If redirects are missing or not working properly, you may lose conversions and the URLs will drop out of the index.
In this "How to" we will show you how to check redirects on your website with JetOctopus.
Start a "New crawl" or select the desired crawl from your list.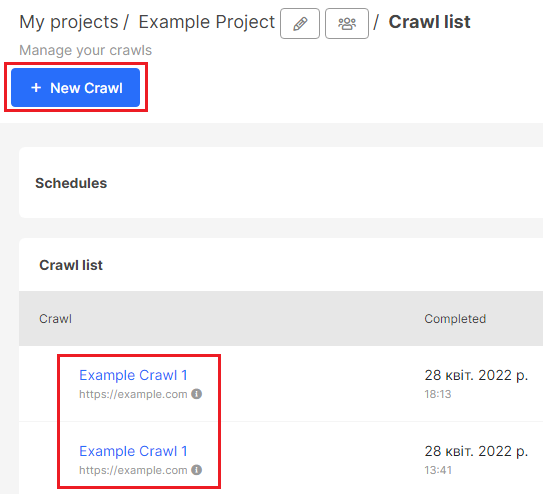 You can also check the list of redirected URLs. To do this, select the "URL list" mode and enter the URL list. Each URL should be in a new line without additional characters.
How to find the total number of redirects on your website
To see the total number of redirects, go to the "Crawler" menu – "Overview". On the "Status Codes" chart, you will find the percentage of URLs with specific response codes. If there were redirects during crawling, you will find 301, 302, 307, 308 and other 3xx response codes on this chart. You will find the same chart with additional information in the report "Technical" – "Status Codes".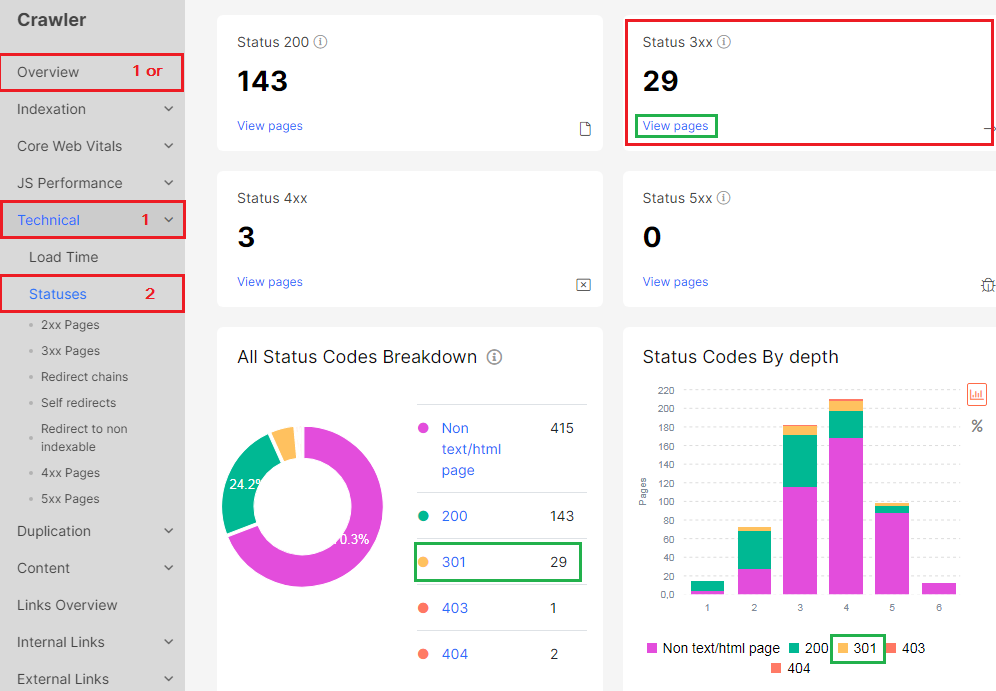 How to check if there are problems with redirects
With JetOctopus, you can easily check that your redirects are working properly. To do this, select the desired report in the "Technical" – "Statuses" menu.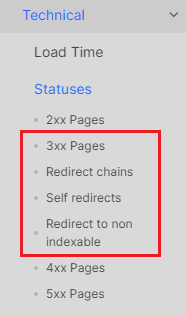 In the 3xx report, you will see all the URLs with 3xx response codes. Check if this list really includes the pages that need to be redirected. Also, pay attention to the type of redirect: temporary (302 or 307) or permanent (301 or 308). If the page is moved permanently, there must be 301 or 308 redirects. If temporarily, then 302 or 307. Pay attention to the column "Redirect Target Status Code". Ideally, all redirect target pages have 200 response codes.
How to find redirect chains
JetOctopus has created a special report that will help to find redirect chains. In the "Redirect chains" data table, you can find URLs with 2 or more hops during redirection. Search robots do not process more than 5 hops in a redirect chain.
More information on why you should avoid redirect chains: How to find redirect chains.
How to find redirect loops
If a page is redirected to itself, this is called a cyclic redirect. The user or search engine will be redirected to the same URL until the client browser disconnects. This is a technical error that should be avoided. You can find the list of self-redirected URLs in a separate report.
Redirects to non-indexable URLs
No problem if non-indexable URLs have redirects to pages with noindex. For example, such redirects may be required for internal pages. But if there is a redirect from a page that was already in the SERP to non-indexable URLs, it can cause it to drop out of the index. Check the list of such URLs in the "Redirects to non-indexable" report.
You can bulk export the data you need in a convenient format: CSV, Excel or Google Spreadsheets.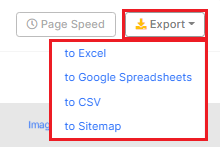 How to check redirects for search engines
We also strongly recommend checking redirects for search engines. You may not be aware that search engines are crawling old URLs, as your website's current code does not include links to those old pages. You need to have logs to check redirects for search engines.
Go to the "Logs" menu, and select "Raw Logs". Next, filter the URLs, using the drop-down menu. Select the status code "Between" – 300, 399.

You can select any status code and configure additional filters.