Headings play a crucial role in website optimization. In this article, we will explore the significance of H1 headings, discuss the reasons to analyze them, and provide a comprehensive guide on identifying and resolving duplicate H1 headings – a common issue faced by many websites.
Understanding H1 headings
H1 headings, enclosed within the <h1></h1> HTML tag, represent the most vital heading on a page. For information-based websites, it serves as the article's title, while for e-commerce sites, it represents the product or category name. Although a page can contain multiple H1 headings, each one should emphasize equally important content segments.
Why it is important to analyze H1
H1 headings do not directly influence search engine rankings, meaning that excessive keyword usage or unnatural phrasing is unnecessary. Nevertheless, optimizing H1 headings is crucial due to their significant role.
Firstly, H1 headings, similar to other headings, aid Google in understanding the page's content. When Google comprehends the page's purpose, it can effectively rank it based on user queries in search engine result pages (SERPs).
Secondly, H1 headings hold importance for users as well. They are visually prominent on the page and help users determine if they have landed on the correct page containing the desired information.
Thirdly, H1 headings play a critical role in improving website accessibility for users relying on screen readers. A clear and comprehensible H1 heading enhances the overall accessibility of your website.
In general, a well-crafted H1 heading contributes to a user-friendly page, indirectly influencing SEO outcomes such as time spent on the page and user engagement rates.
Why you should avoid duplicate headings
As mentioned earlier, the H1 heading should accurately represent the main subject of a webpage. Having multiple pages with the same main subject on your website can pose difficulties for search engines and users alike. Search engines will struggle to determine which page is more relevant and important to display in the search engine results page (SERP) when users search for related topics. Similarly, users will find it challenging to identify which page is more suitable for their specific request.
In our experience, duplicate H1 headings often arise when page section names are utilized as H1s. For instance, the headings "Reviews," "Similar Products," "Price," and so on, might be employed as H1s on offers, instead of using the actual product name. While these elements are crucial parts of the page, they fail to clearly convey the page's topic to the user.
To address this issue, it is essential to ensure that each page has a unique and descriptive H1 heading that accurately reflects its content. By avoiding duplicate headers, you enhance the clarity and relevance of your website's pages, enabling both search engines and users to better understand and navigate your website.
How to find duplicate H1
To locate duplicate H1 headings, follow these steps.
1. Run a full website crawl: It's crucial to conduct a comprehensive crawl of your entire website. If only a portion of your site is scanned, some duplicate H1s may remain undetected. You can also select any completed crawl to search for duplicate headings.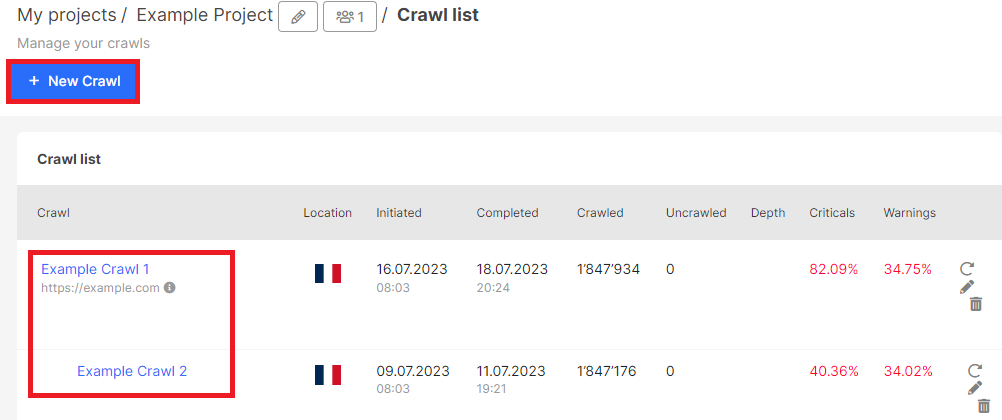 After crawl is finished, navigate to the "Duplication" – "H1" dashboard.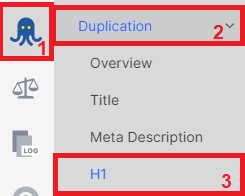 On the dashboard, you'll find a chart displaying the distribution of unique, similar, and duplicate H1 headings. Click on the relevant segment or the "Duplicated" option to go to the data table with the details.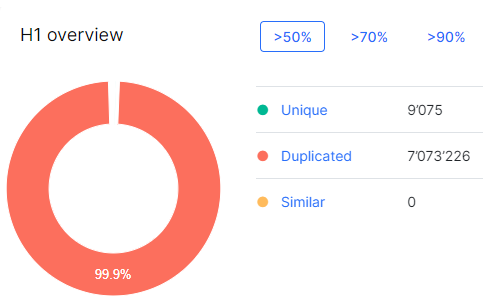 Explore the data table: you will be directed to a data table listing all pages with duplicate headings. The "URL" column provides links to the pages where the duplicate heading was identified. The "H1" column contains the heading itself, while the "H1 Duplications" column indicates the number of pages with the same H1. A value of "1" in this column means there is 1 another page with the same heading as the one mentioned in the "URL" column.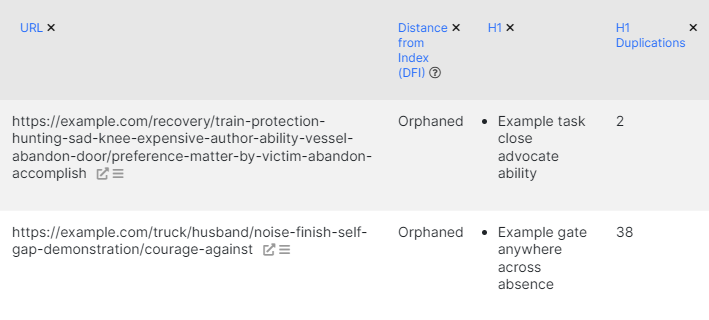 To view other pages with the same heading, copy the desired H1. Then, in the data table, apply the filter "H1" – "At least one value contains" – "Your H1" and click "Apply."

The filtered results will display a list of all pages where the entered H1 was found.
Go back to the "Duplicates" – "H1" dashboard to identify the most frequently duplicate H1s on your website.

Click on the number next to each H1 to access a data table listing all pages where that specific H1 was discovered. You can choose to analyze duplicate H1s for the entire website or solely indexable pages. Select the "Indexable" built-in segment to focus on indexable pages.

If desired, export all data tables containing duplicate headings to a preferred format by clicking on the "Export" button and selecting the desired format.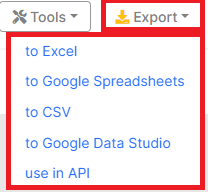 By following these steps, you can efficiently identify and address duplicate H1 headings, ensuring a more optimized and user-friendly website.