Organic search, the most dominant source of trackable internet traffic, contributes to over 53% of all visitors coming to websites. And, if you are like most searchers, you'd prefer clicking on an organic search result over paid ads.
Not just this, most searchers are in a hurry to get relevant content for their query. Hence, they are less likely to go beyond the top 5 search results, leave alone the 2nd page in the SERPs.
Recent research shared by Zero Limit Web shares that the first 5 organic search results account for 67.6% of all the clicks. The results from 6 to 10 account for 3.73% only!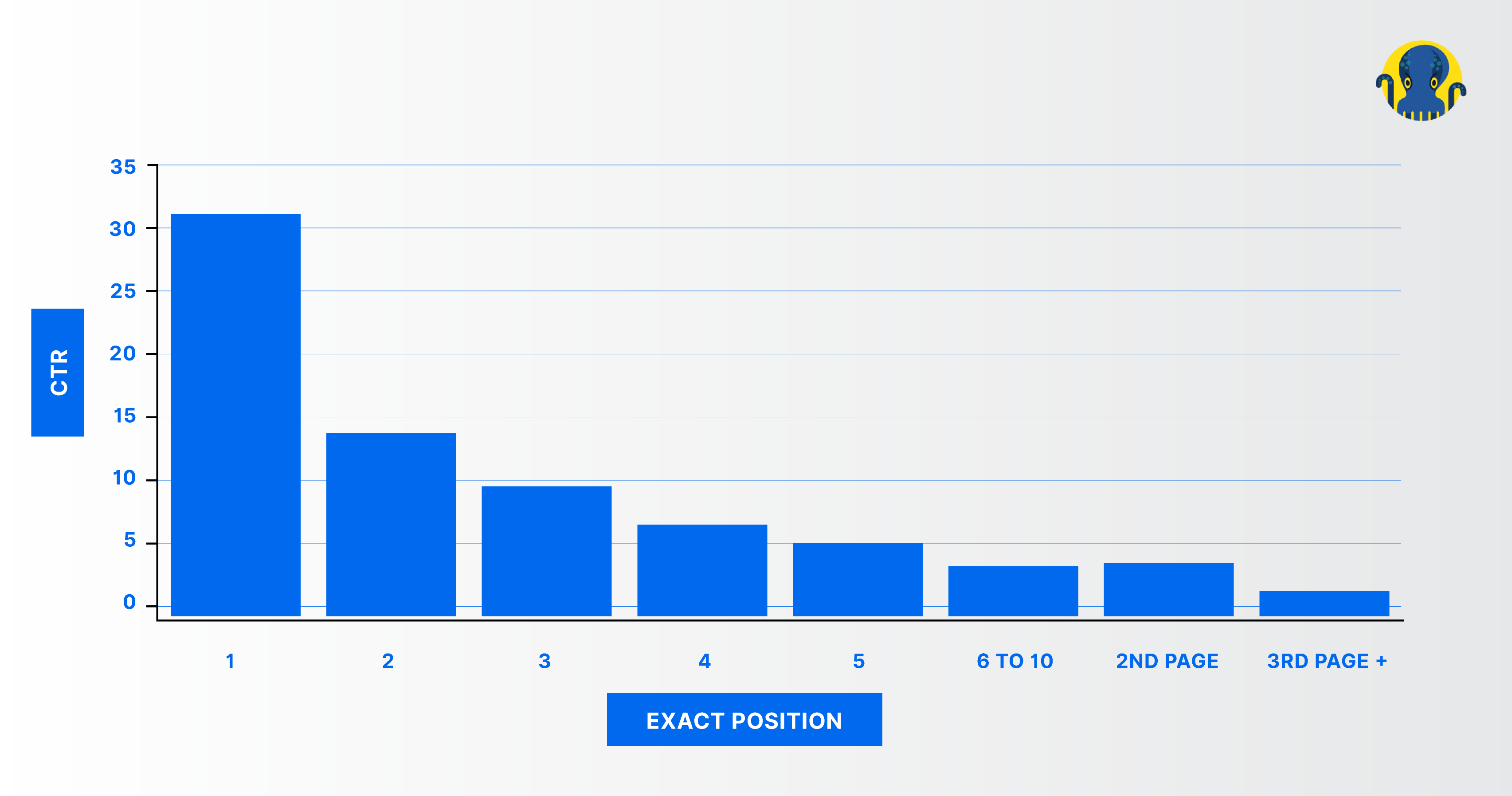 All this clearly emphasizes the importance of SEO in helping businesses hold a prominent organic position in the SERPs, namely page one.
However, SEO isn't a precise science. It's the art of making calculated assumptions based on a few trusted SEO metrics, tracking them, and identifying more opportunities for optimization.
For this purpose, every marketer and SEO professional should use certain SEO metrics that indicate whether or not your current strategies are working.
In this post, we'll touch upon the top SEO KPIs and metrics that are relevant to all your search marketing efforts.
What are SEO KPIs?
SEO metrics or KPIs help marketers gauge their search marketing performance. Since these quantifiable values change each time, they need to be tracked each month. These metrics offer deep insights into a site's search engine ranking and conversions. They help a marketer analyze the quality of traffic, the top-performing pages, the high-conversion keywords, and other aspects of the website.
For instance, organic clickthrough rate is one of the most important SEO metrics that assess how effective your listings are at prompting clicks. It helps marketers in making critical decisions like coming up with traffic-generating keywords.
Now that we know what is SEO metrics, it's time to understand why it's critical to track them.
Benefits of Tracking SEO KPIs
Monitoring SEO KPIs are critical to ensure SEO success. Here's why every search expert and marketer should track the SEO metrics that matter!
To Measure SEO ROI
The ROI of any campaign is an indicator of whether or not the strategy is working or if it needs to be improved or abandoned.
In practice, calculating ROI on your SEO efforts is complicated. SEO usually serves the purpose of improving brand visibility and recognition. Hence, it's tough to put a number on it.
SEO metrics highlight the association between search behavior, traffic, conversions, and profit, thereby helping you establish SEO impact on revenue.
For instance, if you compare the results of a current crawl with previous crawls, you can see the impact of your SEO efforts. Combine the data like technical audits, SEO performance, and conversions using a tool like JetOctopus to get a complete picture.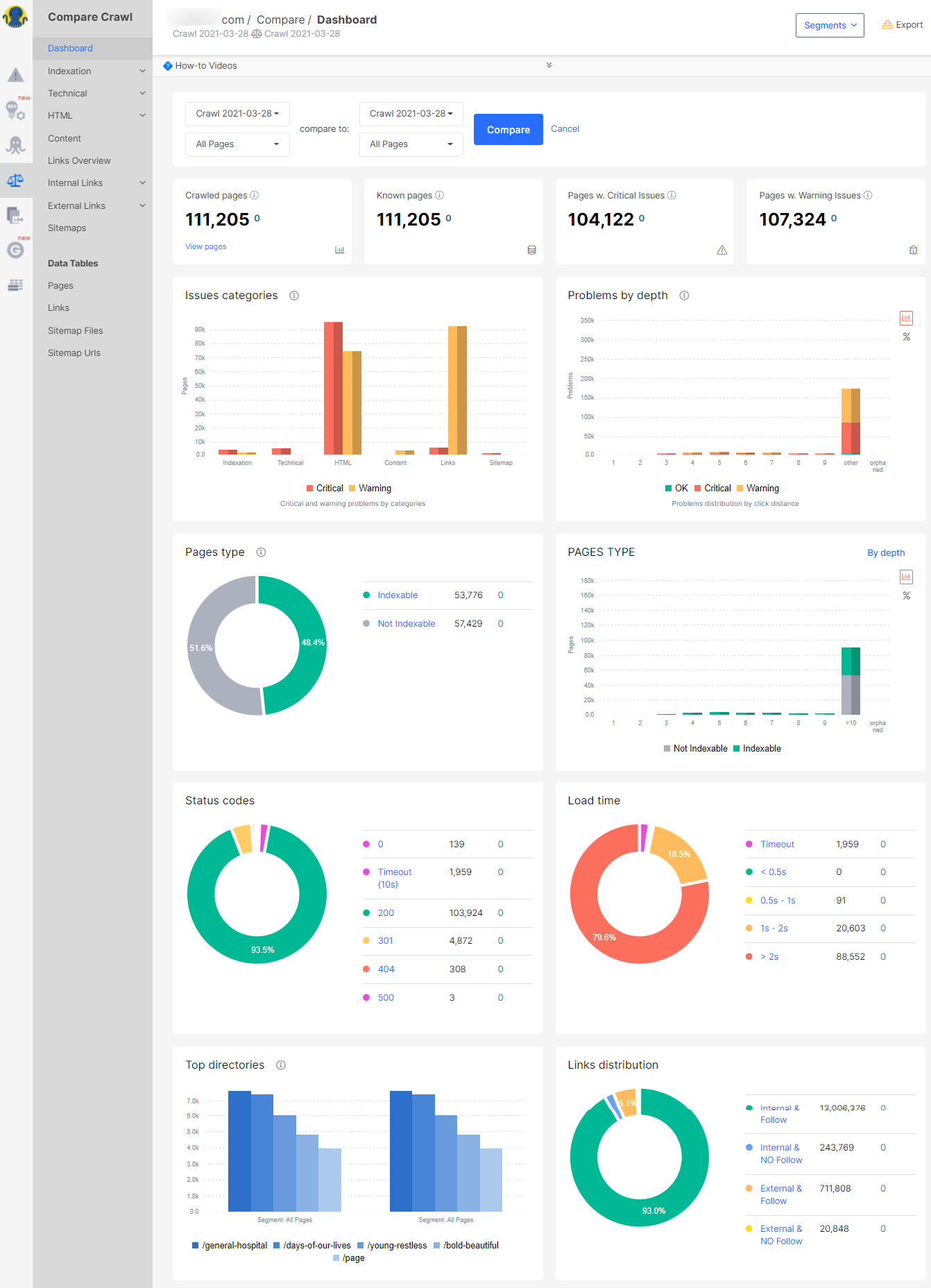 To Identify Improvement Opportunities
Keeping a tab of the SEO metrics helps you identify areas of improvement. The SEO realm is constantly evolving with Google sharing new updates by the minute.
Measuring these search performance metrics allows marketers to stay on top of the SEO game by constantly revamping the strategy for better performance.
Measure Progress Against Set Goals
SEO metrics are closely tied to a firm's marketing goals.
For instance, an ecommerce startup may aim at increasing brand awareness in the initial months. So, the marketing team will prioritize SEO KPI reporting of traffic to the main page, number of branded keywords and their search volume, direct traffic, referral traffic, and SERP impressions.
Tracking these metrics will help the team understand how closer or away they are from their business goals.
Prioritize SEO Efforts
Let's take the ecommerce example we spoke of earlier. Say, you find that your direct traffic is good but referral traffic is poor. This could be attributed to a recent search algorithm update, redirects, incorrect robots.txt rules, or other issues.
Thus, you need to prioritize a technical audit, on-page SEO, and content marketing among other tactics to boost direct traffic to your site.
When you track the SEO performance metrics routinely, you know what's working and what isn't. This allows you to determine the areas that need the maximum investment of resources to fetch the best results.
11 Most Important SEO KPIs and Metrics
Here are the most important enterprise SEO metrics that every search marketer should keep track of.
1. Organic Traffic
Organic traffic is a significant benchmark of SEO success. High traffic means your website or content is getting more eyeballs. It represents the organic search traffic (or visitors) coming from the search engines, thereby measuring the direct impact of our SEO efforts. Hence, you surely want to track this KPI.
Keep a track of the organic sessions, a visit to the site, the actions taken during that visit, and user exit. Also, as your site grows bigger, you'll see fluctuations in the overall organic traffic for the site. In such cases, it's wise to track smaller segments of individual pages of the website.
Google Analytics is a great tool for measuring organic traffic. You can also adjust the time frame to get a detailed view of the traffic performance after a specific SEO campaign.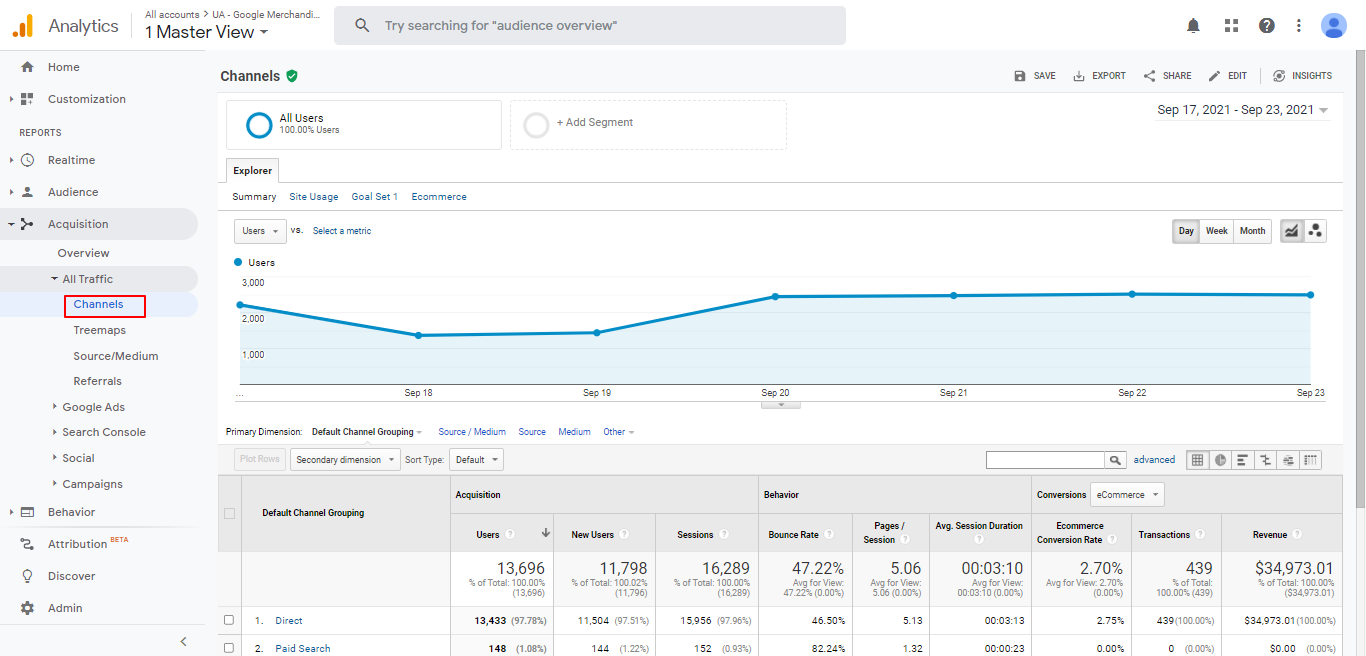 This metric is quantifiable proof that your SEO efforts are working and fetching more visitors, leads, and ideally conversions. Thus, it caters to the main goal of your SEO strategy – improving the online visibility of a business whenever there's a search for any keyword related to the business or industry.
Hence, tracking this metric is critical to visualizing the long-term effect of SEO on your business website.
2. Keyword Rankings Changes
This is a pretty straightforward metric every business should monitor. Keyword ranking is the position of your web pages in the SERPs for certain queries or keywords. As you scale your website, you should aim at ranking higher for high-volume keywords.
The web traffic is extremely sensitive to the smallest change in keyword rankings. Even a change of one position can mean huge traffic gained or lost. Further, this KPI is the first entry point to achieve other objectives like gaining more traffic, leads, and sales.
Keyword ranking tells us two things –
The effectiveness of your current SEO efforts
The nature of your keyword selection. If you don't see an improvement in target keyword rankings, you need to choose a less competitive keyword and rank for it first.
Hence, it's important to track keyword ranking changes.
Having said that, remember not to overreact to a sudden drop in ranking. This could be because of an algorithm update. However, remember to track this metric weekly to identify issues with your website.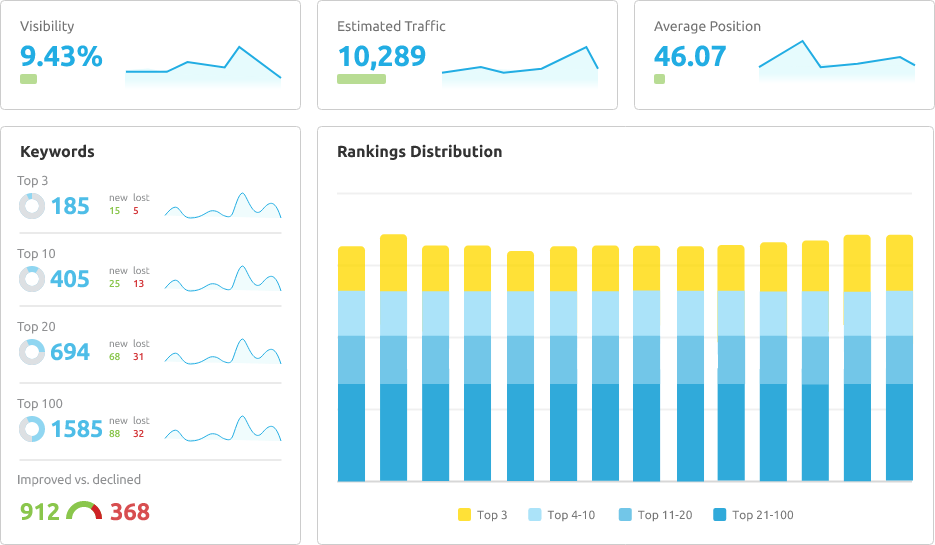 Use advanced SEO analytics tools like SEMrush or SE Ranking to check the search rankings of your site, compare it with competitors, and discover new opportunities to get into Google's top results.
3. User Behavior
Behavioral SEO metrics are critical indicators of whether your site is engaging with users. They point to page optimization and user experience.
For instance, metrics like bounce rate, session duration and depth, and pages per session can tell you how users are interacting with or navigating through your site. A high bounce rate would mean people visiting your site aren't finding it engaging enough.
Tracking user behavior is critical because Google's algorithms are putting a lot of emphasis on the relevancy rankings (user behavior metrics) to determine page relevance and ranking. Thus, to stay on top of modern SEO, you need to actively monitor user behavior.
For instance, if a user spends more time on a page or interacts with the content, in Google's eyes, it's a vote of confidence.
Google Analytics is a good tool to keep a close eye on these user behavior metrics.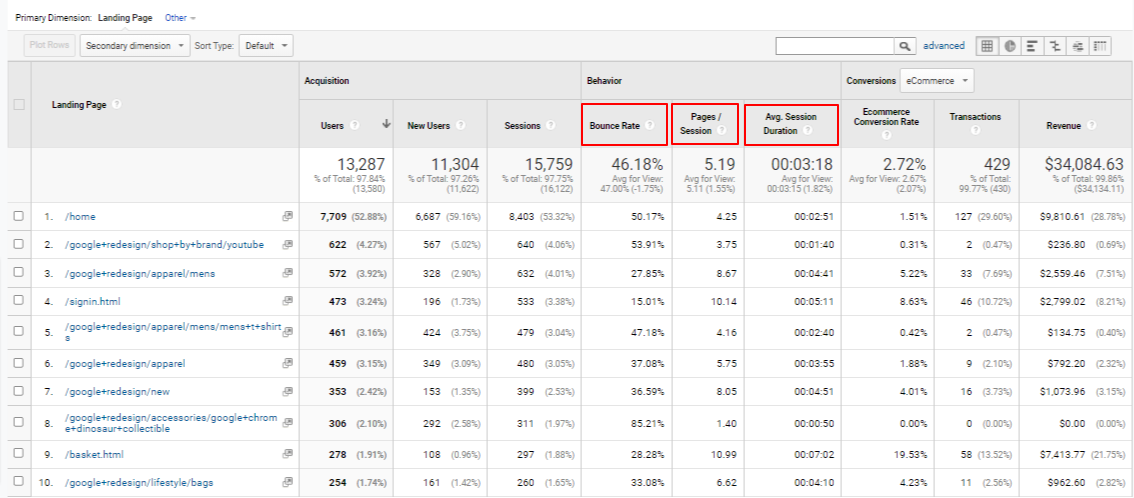 Choose 'Landing Page' as the primary dimension and look for pages that stand out as good or poor performers concerning engagement.
Also, if your bounce rate is too high, it's wise to audit the internal links and on-site navigation. Use an SEO crawler like JetOctopus to review the site architecture. This will allow you to create a site structure that makes it easy and quick for people to find content or search bots to crawl it.
| | |
| --- | --- |
| Internal links | On-site Navigation |
4. Bots Behavior
Search bots crawl the pages of a site they are allowed access to and add them to the index. This allows them to offer relevant results to a query. Any bot activity on a page shows how/ when search engines discover content and what they know about your website.
Monitoring bot behavior is key to SEO success because every search marketer needs to ensure the following –
Site visibility for search bots – Tracking bot behavior can help you identify errors if any and rectify them in time. This makes the website bot-friendly, allowing Google crawlers to easily access site content and assess its relevance.
Pages cannot rank if they aren't crawled and indexed by the bots. Hence, it's critical to make the URLs discoverable.
Crawl budget dynamics – If you want Google to crawl certain URLs, you need to ensure that it doesn't spend all the crawl budget on URLs you don't care about.
Monitoring bot behavior using SEO crawlers can help you identify and resolve issues leading to a waste of crawl budget. Thus, by optimizing the crawl budget you increase your chances of ranking pages and improve your site's quality in the eyes of search engines.
Bot behavior can be easily monitored using Google Search Console and JetOctopus log analyzer and SEO crawler. Review your server logs will reveal search bot behavior and discover sections that are most/least crawled.
On the other hand, the SEO crawler will run a full crawl of your site to understand how critical pages are distributed and verify the technical attributes responsible for making them accessible to the bots.
5. Backlinks
It's a well-known fact that a strong backlink profile is critical for gaining a prominent position in the SERPs. This makes tracking backlinks one of the most important SEO metrics.
Moreover, monitoring a site's backlink profile allows you to take timely remedial action against any issue. For instance, if you suddenly lose a quality backlink, you can quickly contact the respective webmaster to recover it. Similarly, if you gain poor links, you can disavow them before you get penalized by Google.
Ahref's Backlink Checker is a great tool to monitor several incoming links and referring domains.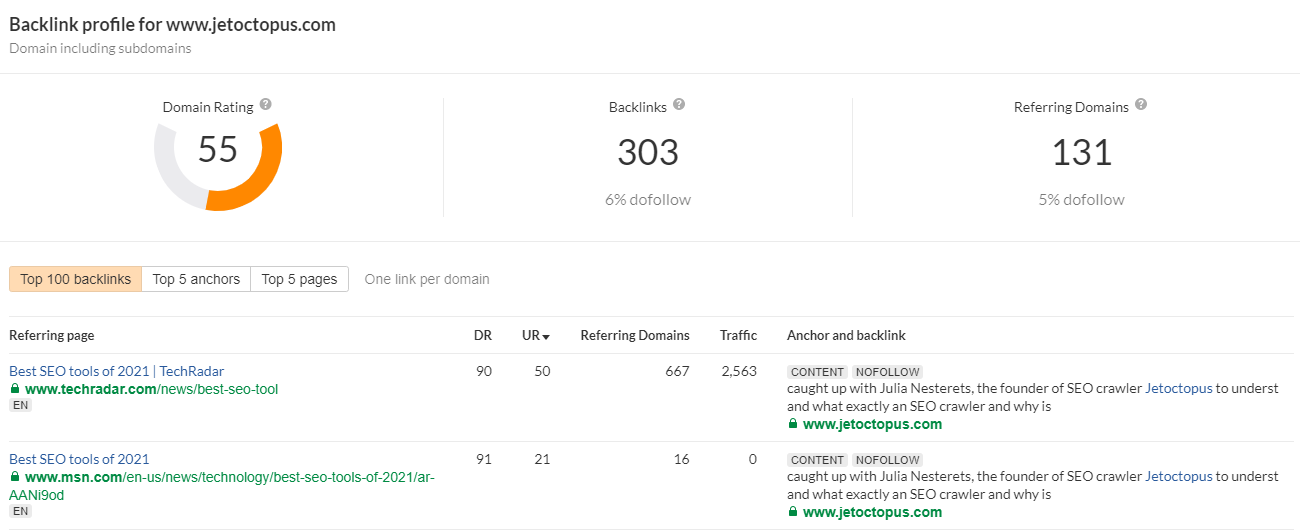 Building a strong backlink authority will position your website as an authority and boost its trustworthiness for Google and users. Use the insights derived by tracking this metric to earn external backlinks from reputable sites and drive quality referred traffic to your site.
6. Organic CTR (Clickthrough Rate)
Organic CTR is the percentage of searchers who visited your website after seeing it in the SERP.
So, if 10 searchers saw your web page in the SERP for a specific keyword and 2 clicked and visited your website, your organic CTR will be 20%.
This metric will help you determine the success of your website content. It also indicates how effective your title tags and meta descriptions are in persuading searchers to click on your link.

Thus, tracking this metric will help you measure the relevance of your content.
CTR can be directly measured in the 'Performance' report of Google Search Console.
7. Conversion Rate
When the desired activity (that benefits the business) is accomplished, it is referred to as a conversion. These actions are relative to the total number of visits to the website. A conversion could be a whitepaper download, form submission, newsletter signup, a purchase, or a subscription.
In a way, this metric represents the impact of your SEO strategy on your business goals, be it acquiring leads or generating sales. Hence, this metric is the most important for gauging your success.
The key here is to set clear goals you would like to track on your website. Once that's done, you can use Google Analytics (Conversions – Goal Overview) to define goals and monitor your progress.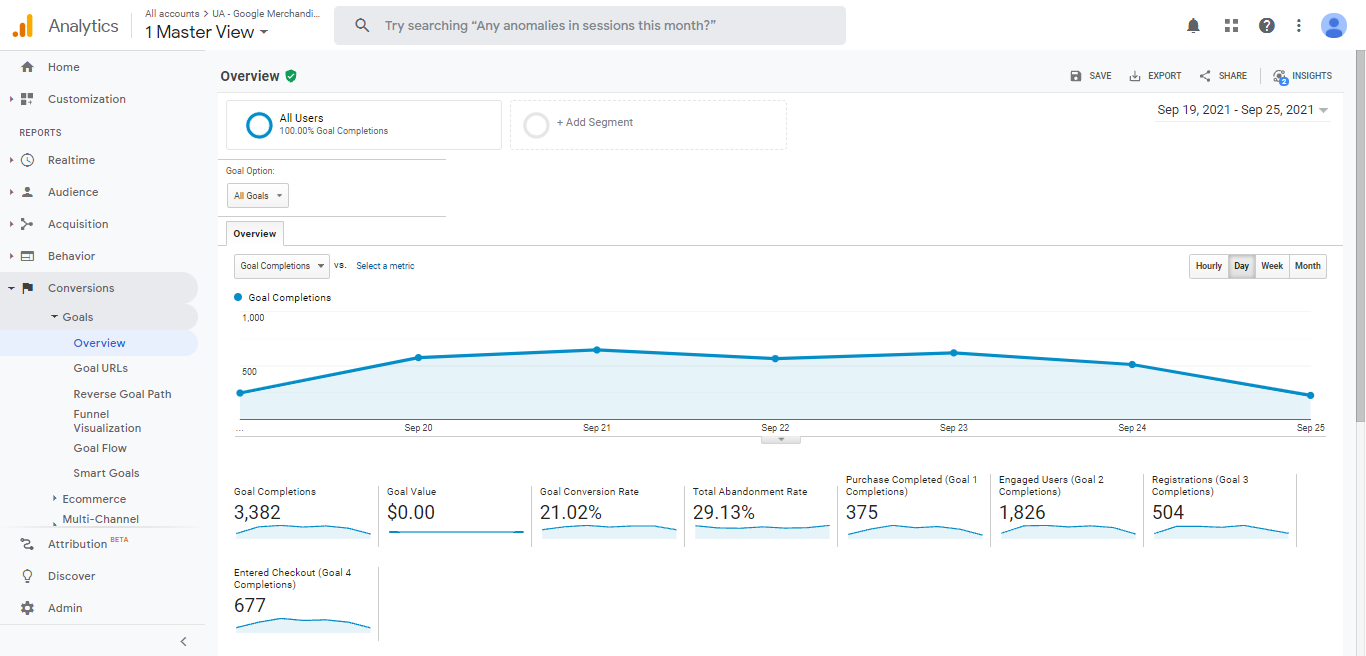 The report lets users identify important enterprise SEO metrics like the number of goal completions, goal value, and goal conversion rate. This will give you a clear idea about the ROI of your SEO efforts.
8. SEO ROI (Return On Investment)
Though SEO is a long-term investment, every marketer strives to understand whether their SEO efforts are breaking even or not. Every SEO tactic adopted, whether it's creating a piece of content or resolving technical SEO issues, delivers benefits for years. Hence, it may be challenging to determine the SEO ROI.
Follow these steps to quantify your SEO returns.
On the Google Analytics dashboard, navigate to Acquisitions – Overview – Organic Search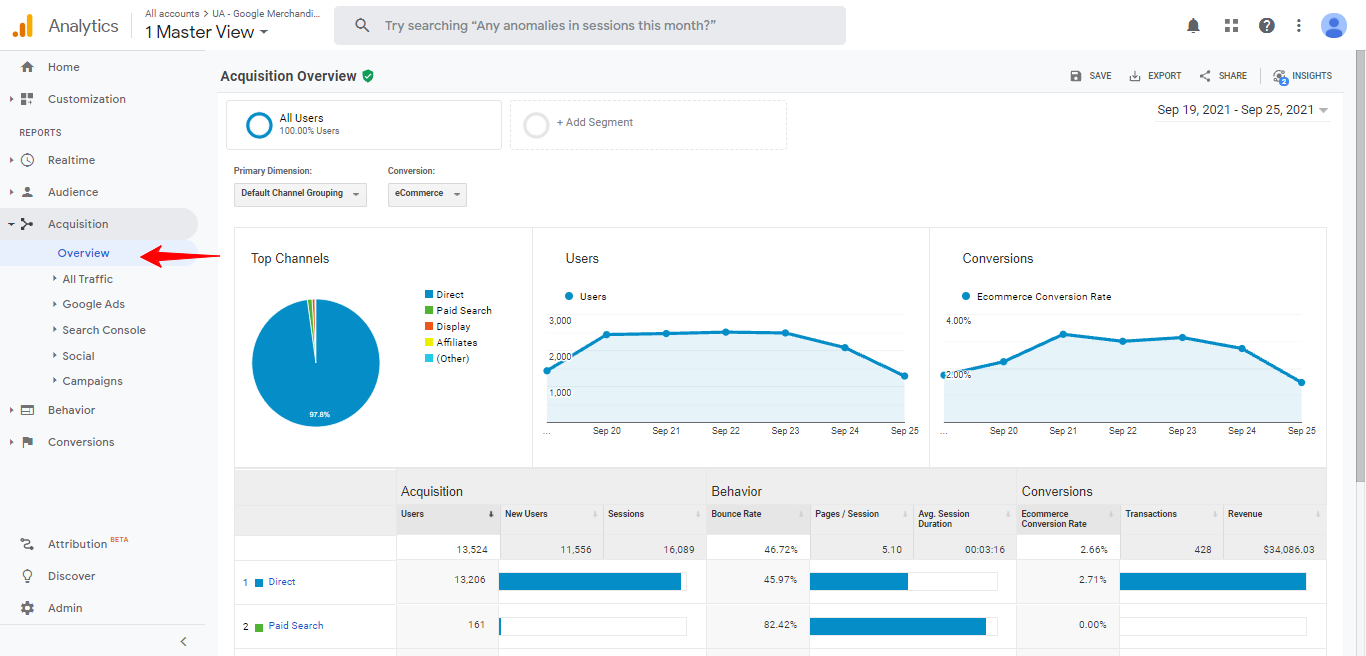 Set the date range to at least a year as it takes time to see the effects of the SEO tactics implemented.
Choose 'Ecommerce' in the Conversions drop-down menu.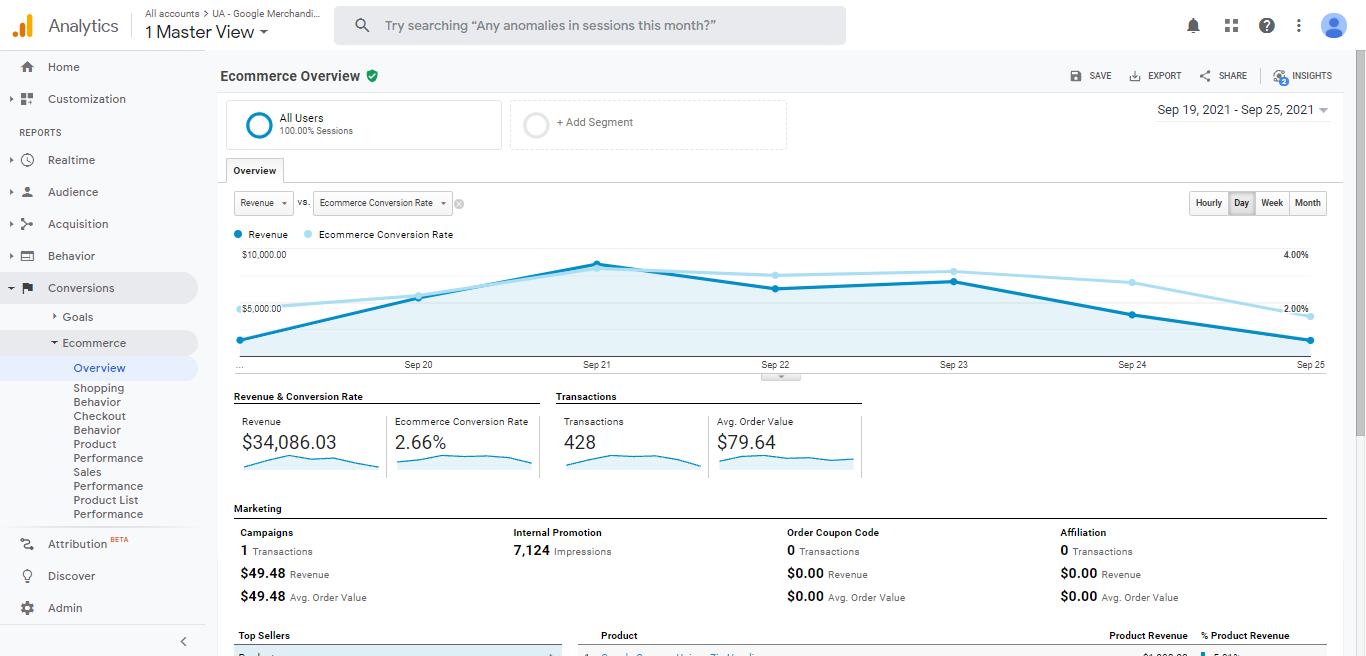 This is the revenue purely from organic search.
Next, go to Conversions – Multi-Channel Funnels – Assisted Conversions and choose Organic Search.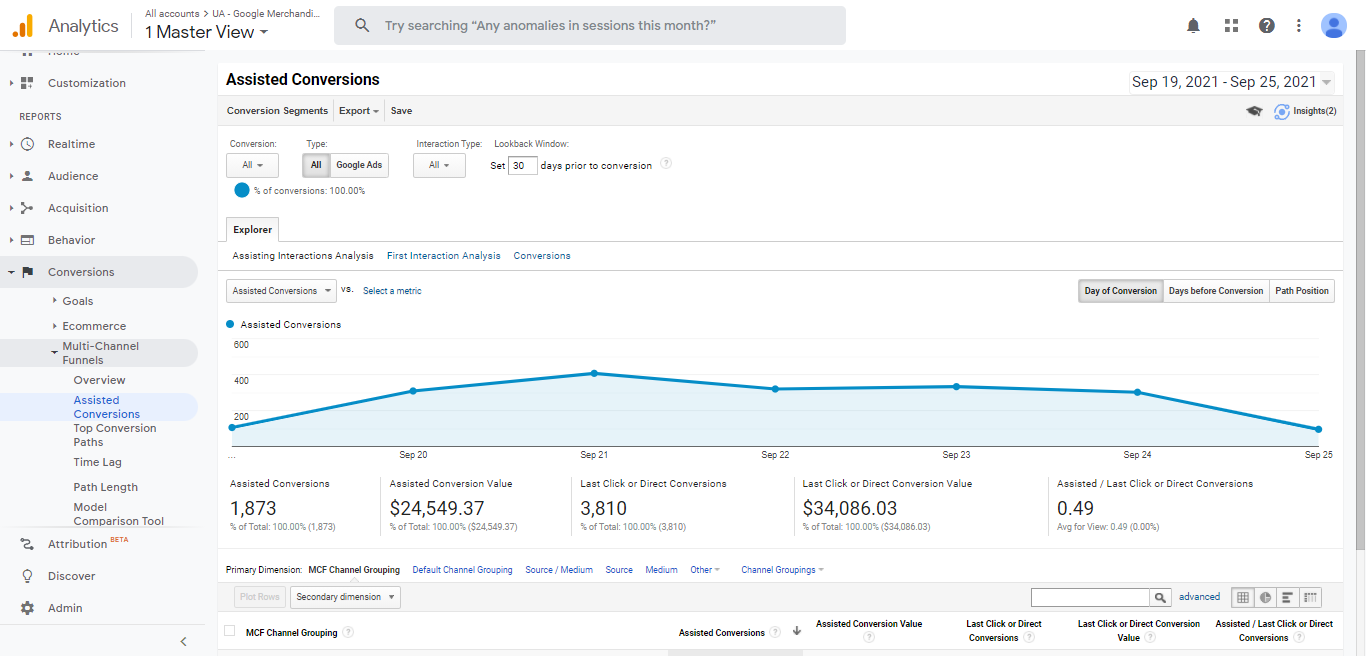 This is the part organic revenue, meaning the users may have visited your site from a search engine and other sources.
Now, add all the SEO expenses during the same period and calculate the difference between this and the annual revenue. Divide the difference by the annual SEO spending.
So, if your annual spending is $2M and revenue is $3M, the SEO ROI will be calculated as below –
(3M-2M)/2M X100 = 50%
9. Page Speed – Core Web Vitals
Google proved its commitment to offering a good user experience to its customers by introducing the core web vitals. The search giant has always been telling search marketers to focus on improving their site's user experience, but now it will rank sites based on UX signals.
Core web vitals represent a set of metrics that matter most for ensuring a great page experience. It has three main components, namely –
Largest Contentful Paint (LCP), a metric that indicates the site's loading performance.
First Input Delay (FID), a metric that indicates interactivity.
Cumulative Layout Shift (CLS), a metric that measures stability.
For monitoring and optimizing the core web vitals, you can count on tools like Page Speed Insights, Chrome UX Report, Google Search Console, and Web Vitals Extension from Chrome. These tools can help in measuring the core web vitals, thereby providing instant feedback on loading, interactivity, and layout shift metrics.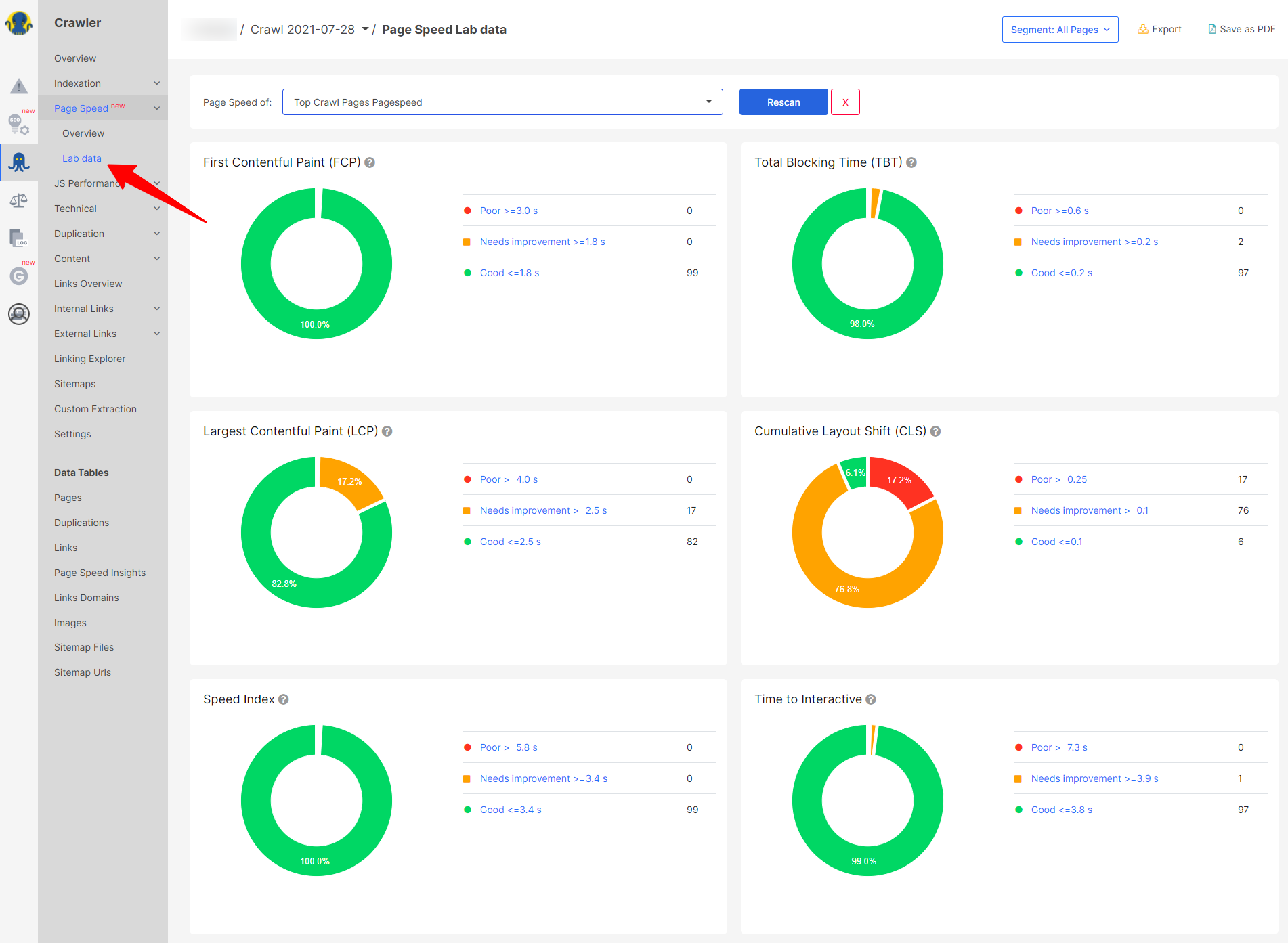 10. Domain and Page Authority
Besides using the quality of backlinks as the metric for measuring SEO performance, it's critical to pay attention to authority metrics like domain and page authority.
Domain authority (DA) and page authority (PA) are terms coined by Moz.
DA assesses the authority of a domain on a scale of 0 to 100. The metric uses the quality of links, link relevance, brand mentions, and other factors to measure DA. A higher DA corresponds to a greater likelihood of ranking higher in the SERPs.

You can use Moz's Domain SEO Analysis tool to gauge your DA.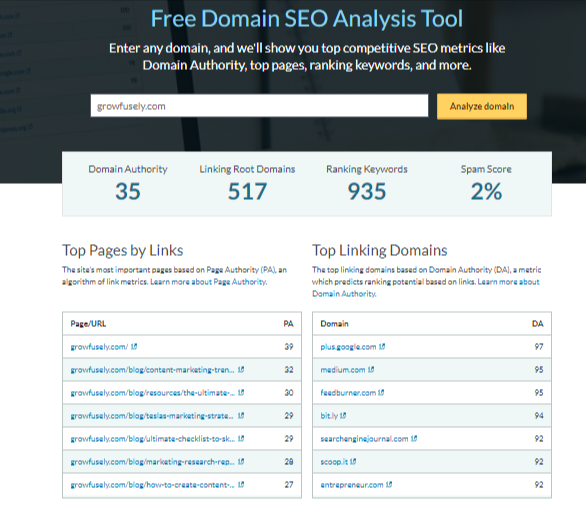 Page Authority predicts how well a specific page will rank in the SERPs. The score ranges from 1 to 100. A higher PA score corresponds to a greater ability to rank.
Use Moz's Link Explorer tool to gauge your Page Authority.

11. Important Traffic KPIs
While you can easily assess your site's performance using the overall traffic, you need to dig deeper into this KPI by tracking other metrics. We have listed the top SEO KPI examples below that will help you understand the nature of traffic your site is getting. Google Analytics makes it easy to track these metrics.
New versus returning visitors
The ratio of new visitors to returning visitors can offer interesting insights into how effective your inbound digital marketing tactics are. Monitor this metric and observe how it changes over time.
This metric shows you the average number of pages a person views in a given session. It's quite helpful in assessing how engaging your web pages are. After all, more eyeballs and time spent on each page relate to more revenue.
This metric measures the average length of sessions on a website. Google Analytics starts counting a session when a searcher lands on a site and continues till they exit.
Anything between 2-3 minutes is a reasonable benchmark for average session duration.
Web analytics tools take the last page viewed in each visitor session. These pages are the top exit pages of the drop-off points on a website.
This metric shouldn't be confused with bounce rate. It shows exactly where users leave after they start their session. The insight can be used to highlight the pages businesses should focus on for increasing the chances of conversion.
Direct traffic and referral traffic
Direct traffic is the visits received with no referring website or platform. On the other hand, when a visitor follows from a link on social media, blogs, or other websites, the site of origin is called the referring site.
The insights can help marketers channel their marketing efforts.
Lead to conversion is also referred to as the sales conversion rate or lead conversion rate. It is the proportion of qualified leads converting into actual sales. Tracking this metric is important because it helps you gauge your business's sales funnel.
Tracking SEO KPIs Isn't Only about SEO Performance
Besides boosting SEO performance, tracking the relevant SEO KPIs will save you time and money spent on tasks that do not drive profits. Here are a few more reasons why you should track these metrics and maintain an SEO KPI report.
Optimize your resources towards tasks that fetch revenue.
Make sure that your efforts drive tangible results.
Identify the tactics that work and the ones that do not.
Ensure ongoing refinement of the strategies.
Best Tools for Tracking SEO Performance
SEO analytics allows marketers to track and measure their SEO efforts and adopt strategies to improve search performance. Luckily, several SEO analytics tools can help in getting a deep understanding of website data, thereby allowing you to maximize the ROI on your SEO efforts.
Here are a few tools that are commonly used to track SEO data.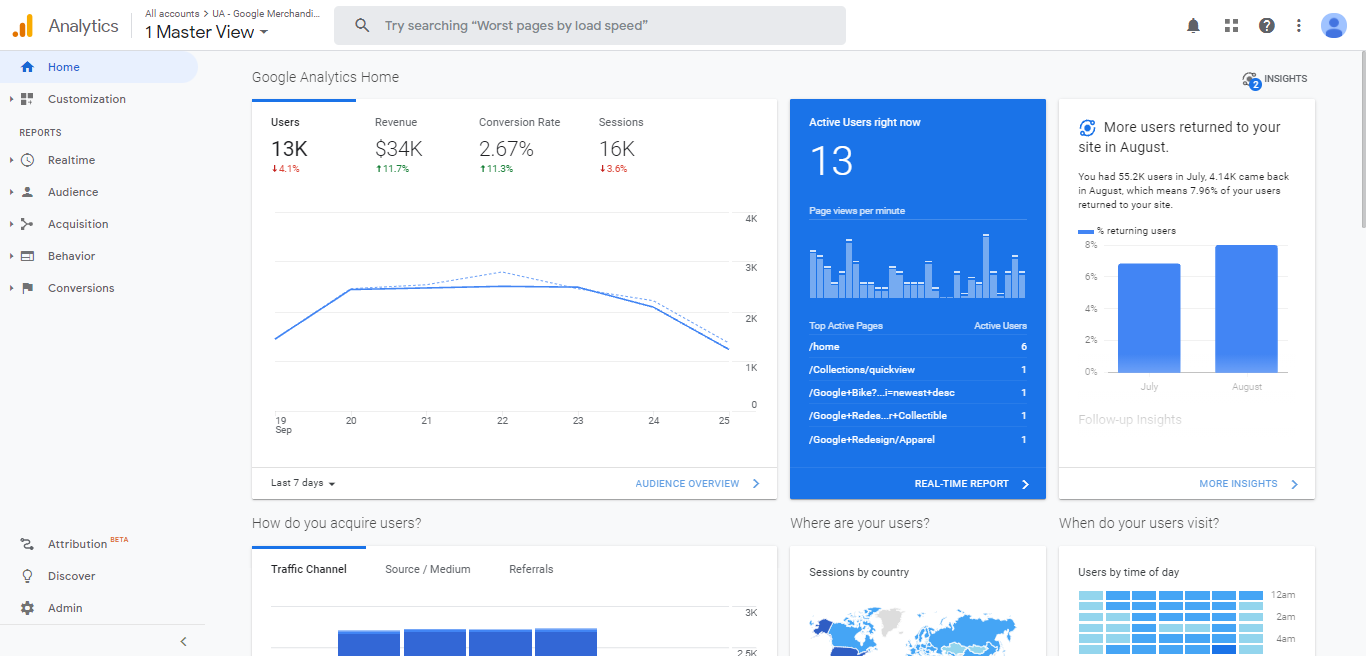 Google Analytics is a powerful tool to improve search performance. It offers valuable data and insights that not just assess the organic traffic but also measures the quality of the visitors.
The GA dashboard allows marketers to track bounce rate, dwell time, time on page, site speed, mobile traffic, organic conversion rate, and several other SEO metrics. Moreover, it allows you to –
Identify low-hanging opportunities to boost organic traffic
Spot high-conversion pages
Optimize landing pages using the internal site search
Automatically track dips and spikes in organic traffic
Set alerts for 404 pages

Google Search Console is a free platform for tracking and analyzing SEO performance. It helps marketers and SEO specialists to spot and troubleshoot technical and page issues, thus empowering them to make their site more search engine-friendly.
The tool can help in the following ways –
Track keyword rankings, organic traffic, and CTR.
Understand index coverage and whether the bots can index the pages.
Submit sitemaps and disavow files.
Make sure that Google sees schema.org, allowing pages to appear in the rich results.
Spot security issues or manual actions identified by Google.
Troubleshoot page experience, Core Web Vitals, and mobile usability issues.
Analyze the backlinking profile.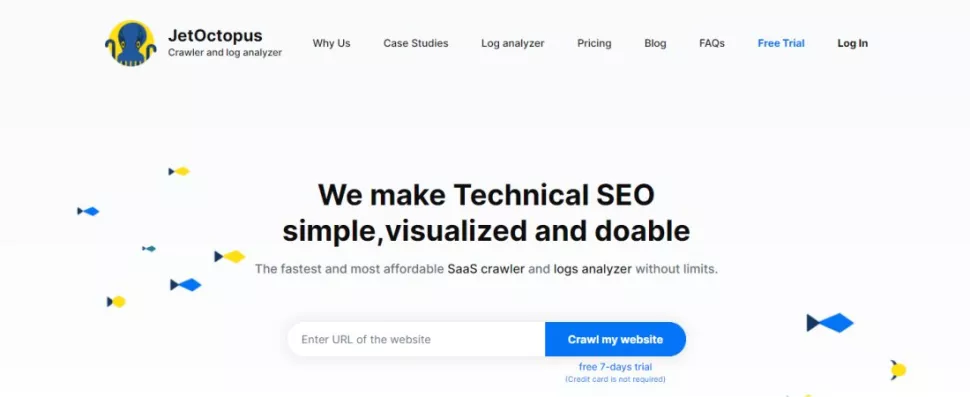 Gathering and analyzing valuable insights from an SEO audit isn't a cakewalk, especially for greenhorn search marketers. That's where a tool like JetOctopus can help because it simplifies your SEO website analysis.
JetOctopus is a versatile tool that offers several analytics services namely, crawl, log analysis, and GSC visualization. The platform offers an intuitive dashboard with well-organized sections and categories. Also, its SEO Crawler, Log Analyzer, and GSC features offer a list of clear actions to improve site performance.
Here are a few features of this tool that make it a useful SEO tool.
It is the fastest crawler that quickly points the errors on your website. This allows you to make massive improvements to your website.
The Log File Analyzer is a great feature for those looking to optimize their websites for Google bots.
You can view GSC data from JetOctopus, allowing you to consolidate all information in a single dashboard.
Clean and user-friendly interface that focuses on covering SEO analytics from varied angles.
The interface is packed with information without making it look cluttered.
Offers awesome customer support. The platform offers a human-user chatbox on the website and the responses are prompt.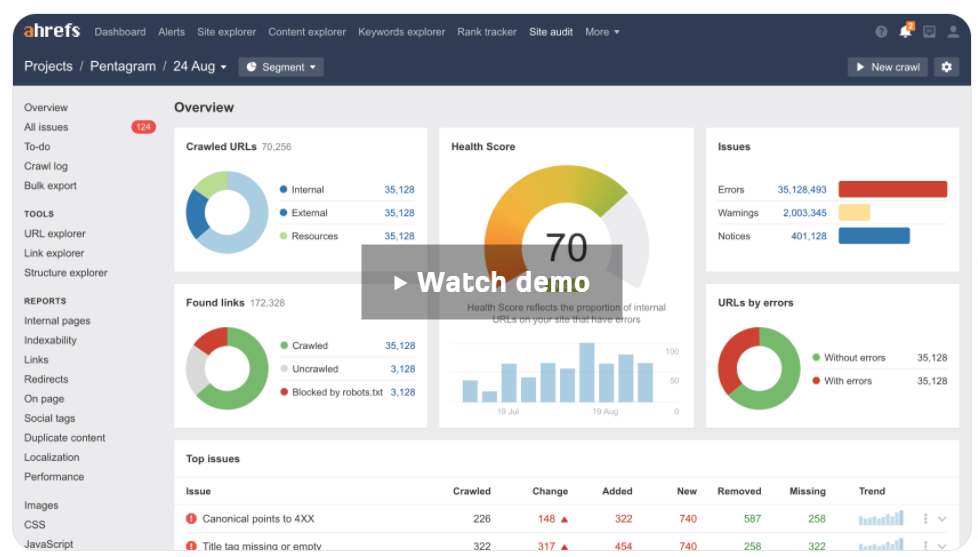 Ahrefs is a comprehensive SEO metrics tool that can help with every aspect of SEO research and analysis. Ahrefs' Site Explorer, Rank Tracker, and Keyword Explorer are popular tools that allow search marketers to grow search traffic, research competitors, and dominate your niche.
Ahrefs can be used for –
Finding low-hanging content opportunities by reviewing competitor pages.
Identify guest blogging opportunities.
Finding how competitors acquire backlinks.
Finding competitors' broken links for linking opportunities.
Determining low-competition keywords that have high search traffic potential.
Spotting critical SEO issues and gaps in a content strategy that may be hurting your SEO.
Keeping track of the ranking (using the Rank Tracker).
Fixing broken backlinks.
Conclusion
You may have built an awesome website with great content and UX. Now it's time to present it to your target audience by investing in the most effective SEO tactics. But you will not be able to assess which tactic is effective and which isn't unless you measure your efforts.
In the coming months, prioritize the KPIs shared in this post and leverage the power of tools we've recommended to get an accurate idea of how your SEO efforts are impacting your business goals.