Being a bit competitive is always a good thing, especially in business. Keeping an eye on your top rivals — what they're doing, how they're doing it, and the output of their efforts — spurs innovation, discourages complacency, and provides inspiration to improve.
The same holds true in SEO.
Whether your website is ranking on the top for your desired keywords or you're yet to achieve first-page rankings for any keyword, frequent SEO competitive analysis is something that all website owners should be doing.
Because if you're already ranking number one, SEO competitive analysis is how you can retain that position and avoid being outranked by competitors. Or, if you're aiming to go from the second page of Google SERP to the first, SEO competitor analysis will tell you what you can do to get there.
In this post, you'll learn how to correctly conduct an SEO competitive analysis to steal your competitors' traffic and rankings, with the help of expert insights. But the first question is…
What is SEO Competitive Analysis?
SEO competitive analysis is a process that involves examining the keywords, backlinks, content, and overall on-site user experience of your SERP competitors to try and reverse engineer their successes into your own SEO strategy.
Conducting a competitive analysis removes much of the guesswork about which keywords to target, what content to create, or how many links to build (and from where) — you can instead see what's already working well, build upon that success, and capitalize on any gaps you find.
So, is SEO competitive analysis a part of your SEO strategy?
"Absolutely. We don't even offer pricing until we've had a chance to thoroughly research the company and their competition," replies Joe Goldstein, Director of SEO and Operations at Contractor Calls.
"An SEO competitive analysis is always part of my SEO strategy. It is eye-opening for clients most of the time since by analyzing the top 5 or top 10 results for a target search term, we are able to see which sites are actually in the competition rather than what the clients perceived as being their competitors," says Juliette Tholey, Senior Technical SEO Analyst at Homefield.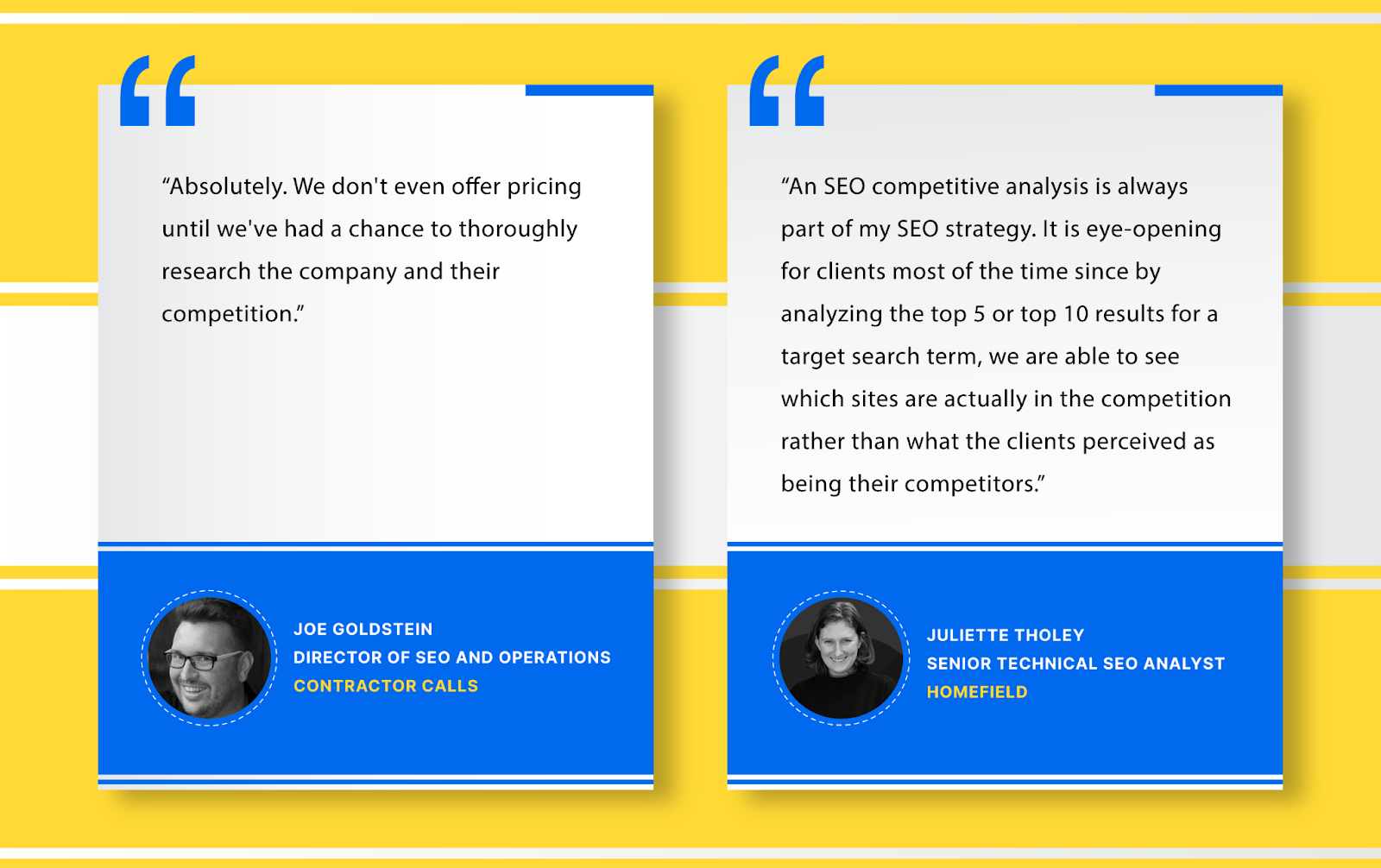 So, if a regular SEO competitive analysis isn't a part of your SEO strategy yet, it's time to fix that.
How Can You Steal Your Competitors Traffic?
Linked closely with website content and user experience, SEO can be considered a bit of an art. And to quote Steve Jobs (or was it Picasso?): "Good artists copy, great artists steal."
Of course, straight-up stealing is wrong. But analyzing your competitor's strengths and weaknesses, and leveraging them to improve your own website's performance is just a very sensible thing to do.
Competitive intelligence about your rivals tells you who you should be looking to outrank on SERPs, and who you should be wary of outranking you. It shows you the most profitable keywords (head and long-tail) for which you should aim to rank, competitors' content gaps you can plug, and where you should look for backlinks.
But the question is: can you steal your competitor's traffic with SEO competitive analysis? It sure is, and here's what the experts say:
"It's absolutely possible to steal traffic from competitors, but to completely overtake all the traffic your competitors' traffic is not very likely. You can build up all the backlinks, optimize your content, target the right keywords, and do all of the things that your competitors are doing, but if someone's already ranking number 1, the odds are they're there for a reason. It's worth it to see what they're doing right and try to do it even better than them, and this could mean you steal some traffic, but to truly overtake your competitor it will take months and months of work," explains Ryan McSweeney, SEO Manager, Electric.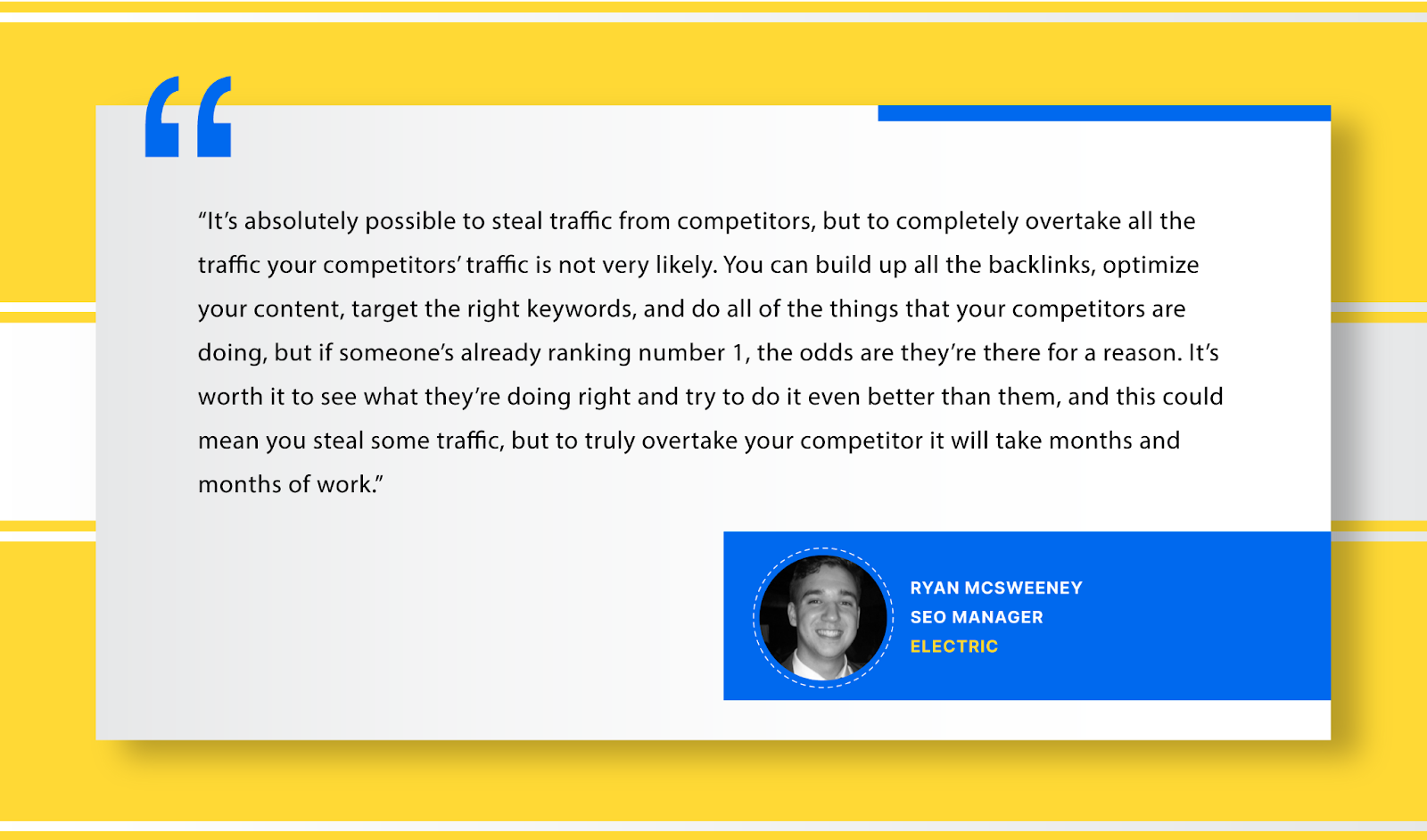 "Yes, you can if you're able to create better content or if you have a stronger domain authority than your competitors. However, this is the main way that bloggers are finding keywords to target these days, so if you're in a popular niche, you may face a lot of competition by targeting the same keywords as everyone else. I have a personal finance blog and it's very easy to see that many other bloggers are targeting the exact same keywords based on competitor research. I'm not saying you shouldn't do it, but I think it's also beneficial to look for some keywords that maybe aren't being targeted by other bloggers. I use KWFinder and Keyword Chef to try to find low competition keywords in addition to targeting keywords found through competitor research," suggests Marc Andre, founder of Vital Dollar.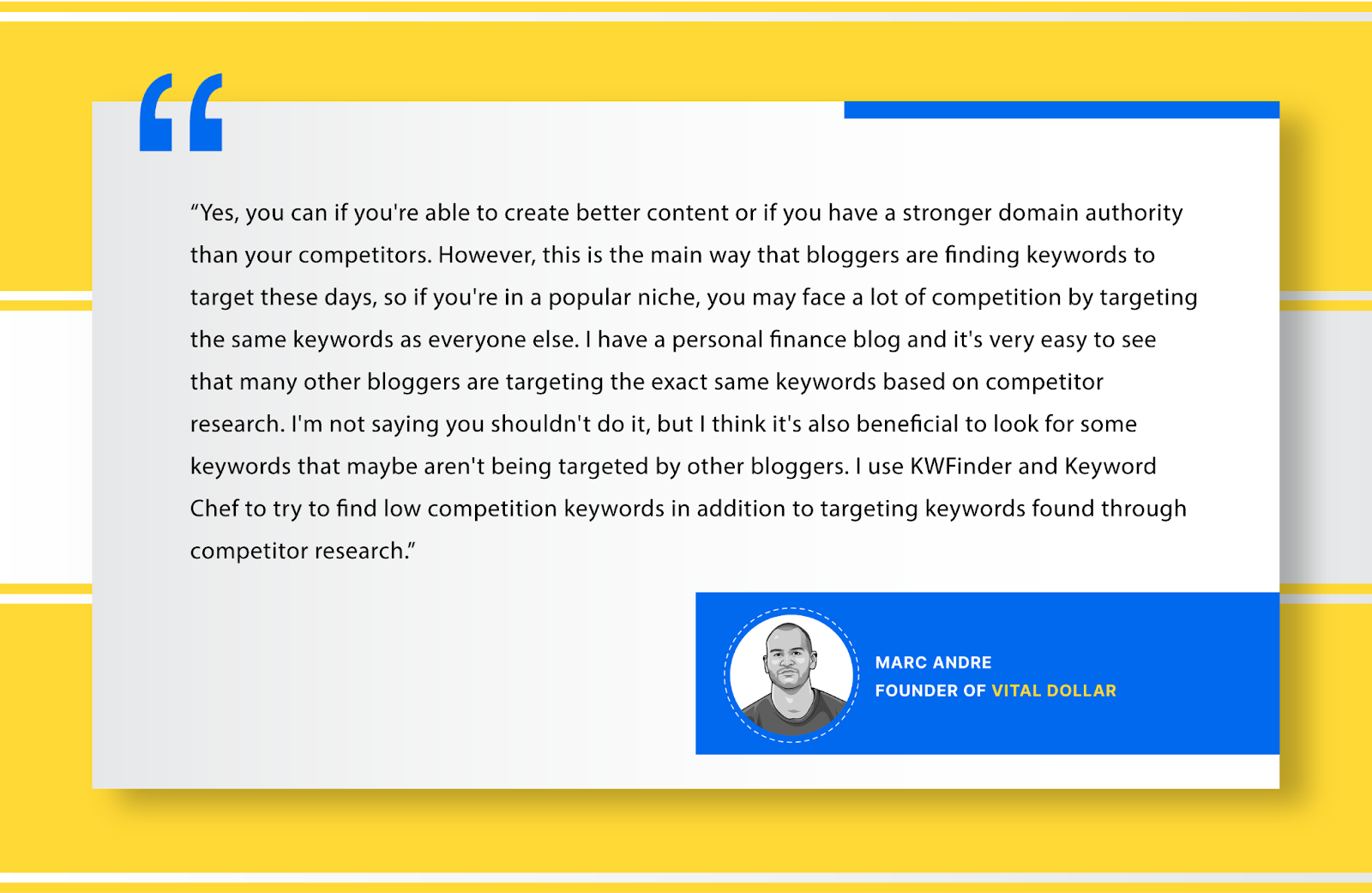 Dan Reeves, Co-Founder & Director at Dandy Marketing, provides a comprehensive answer:
"One of the best things about doing a competitor analysis is you can quickly find what content is working for other websites and put a plan together to steal it. One of the quickest and easiest ways to do this is using a tool like Ahrefs. You can either use their site explorer feature and just get a list of all the keywords that the domain is ranking for, or if you're already competing with them you can use their content gap analysis tool.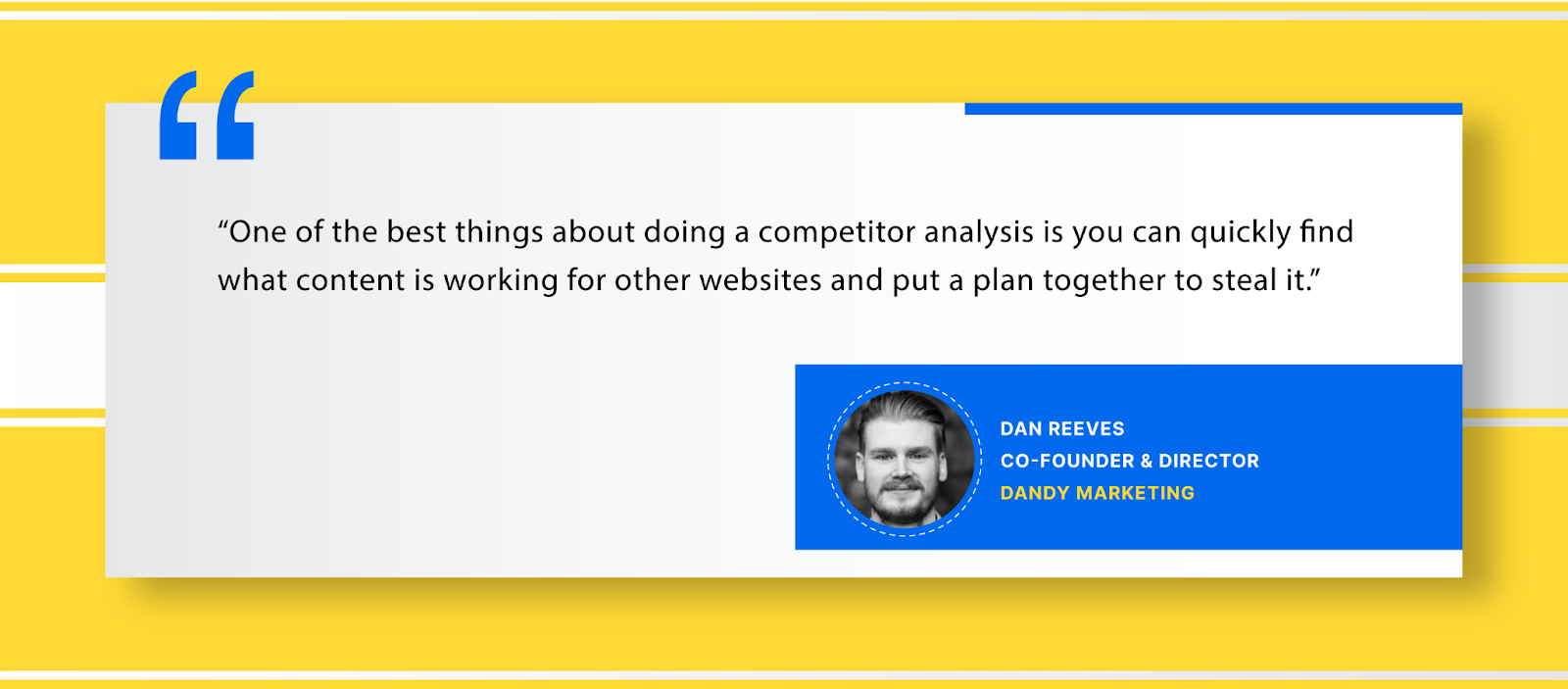 If you're lucky the domain you're trying to steal content from will have a nice URL structure to their blog, for example /blog/article-title or /articles/title-of-article if that's the case you can go ahead and put that prefix and quickly find all the blogs that are trying traffic according to whatever tool you use.
For example, if I wanted to try and get some content ideas from BigCommerce, I can use the prefix https://www.bigcommerce.com/articles/ which shows me the below in Ahrefs.

The next step would be to review the 33K keywords the articles are ranking for and see which ones are relevant to your website and if you can compete."
Thus, you can steal your competitor's traffic with SEO competitor analysis. So, what are the steps involved?
How To Do Competitor Analysis
Before we dive into the steps, which SEO competitor analysis tool should you use? The top contenders include Ahrefs and Semrush.
"I've used both Ahrefs and Semrush competitive analysis tools, and I definitely prefer Ahrefs. While Semrush finds out the difference between you and competitors, I think Ahrefs pulls everything you need to know about your competitor's content and organizes it nicely within the platform. The analysis between multiple competitors, finding out what sets them apart, and giving an easy view to see how you can best compete is what makes it the winner in my opinion," suggests Ryan McSweeney.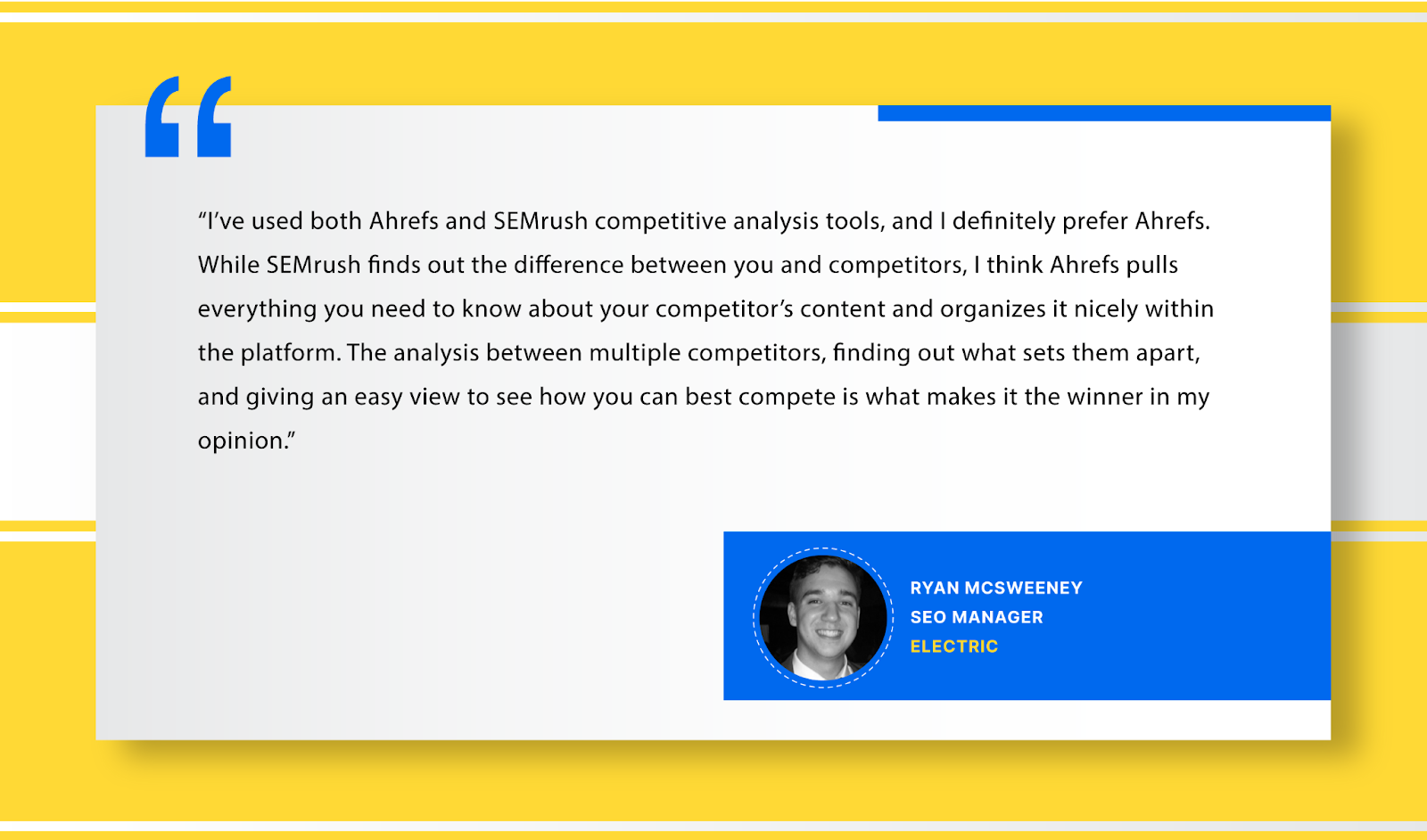 "I've used a few different platforms and honestly, I don't have a strong preference for one over the others. There are a number of tools that do a great job. Of course, Ahrefs and Semrush are both very powerful and effective for checking up on your competitors. The only downside to those tools is that they're expensive. A small blogger may not have the budget to afford them, and also may not need all of the advanced functionality they offer," says Marc Andre.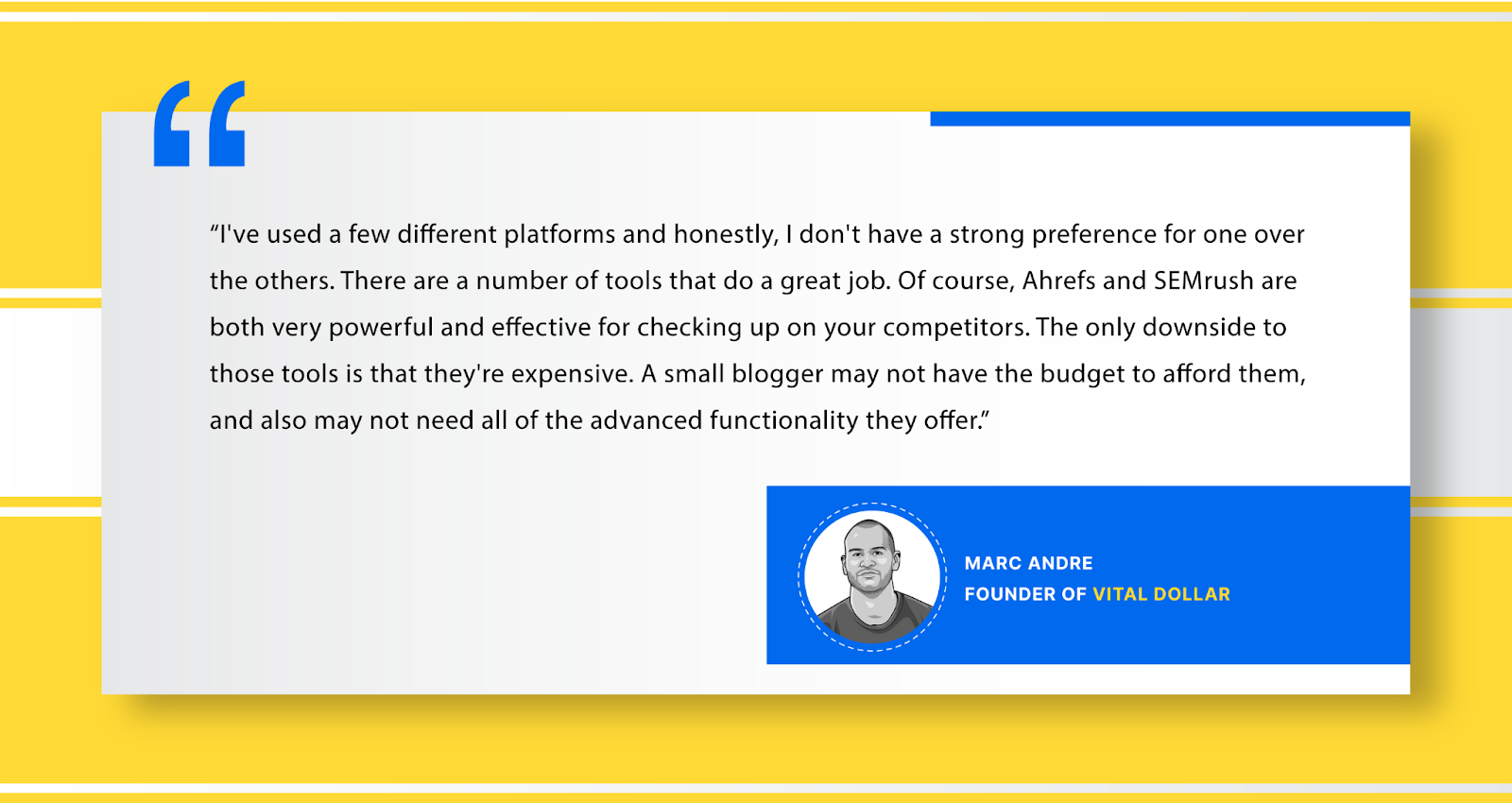 "The main tool I use currently is KWFinder. It's more basic than Ahrefs or Semrush but more user-friendly and cheaper. You can enter the domain of a competitor and see the keywords and phrases they're ranking for. The plan you're on will influence how many results you're able to see. And of course, you can also do keyword research without entering a competitor's URL. If you want to keep track of how you're doing, you can use the rank tracker to see when your rankings are increasing or decreasing," adds Marc.
So, both Ahrefs and Semrush are great for overall SEO competitive analysis, while KWFinder is a good, cost-effective option for finding the top keywords your competitors are ranking for.
Now, without further ado, let's take a quick look at the steps involved in conducting an SEO competitive analysis.
Identify Your Competitors
Not all websites that rank higher than yours for a keyword are your competitors. For example, Pinterest or Wikipedia aren't your competitors, are they?
So the first step is to identify your actual SEO competitors, in terms of both "money" keywords (ones that drive the most conversions) and long-tail keywords (ones that drive brand awareness traffic but not necessarily direct conversions).
Go beyond head keywords to find a subset of competitors (such as high-authority niche blogs) that rank at the top for particular product segments and information-intent keywords.
Moreover, don't forget to decide which websites you shouldn't bother competing with or aren't your true competitors. These include social media platforms and industry giants (such as Nike or Apple) with super-high domain authority — going against such big, well-established brands means you'll likely just be wasting your resources trying to rank for similar product offerings.
For this, you can use the Competing domains report in Ahrefs Site Explorer.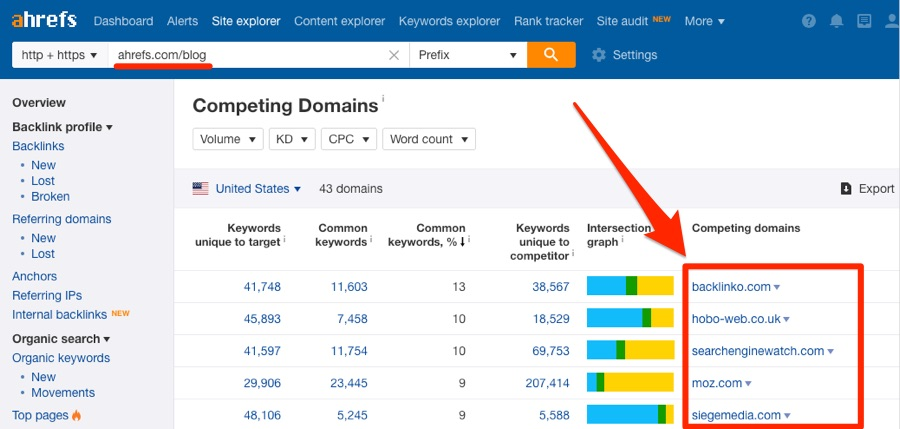 You can also use the free SERP Checker tool to see who currently ranks in the top ten for your desired keywords.
Identify Strengths and Weaknesses
Once you identify your actual SEO competitors, try to figure out their strengths and weaknesses by looking at various aspects, such as:
Authority
For each competitor, check how authoritative are the pages and the domain rating (or domain authority with MozBar). How many authoritative backlinks does the website have?
Content
What is the quality of the website and blog content? Do they have pages with thin content? Which niche topics are they not covering?
Technical Issues
Try to identify major technical issues such as poor mobile usability, slow page speed, or crawlability and indexing issues. (PS: JetOctopus can help!).
Internal Linking Issues
Evaluate their internal linking structure. See how they've interlinked their URLs, used breadcrumbs, and anchor text.
Lost and Declined Keyword Rankings
Using the Semrush Organic Research tool, research keywords that your competitors have recently lost their rankings for, prioritizing those with the highest search volume first.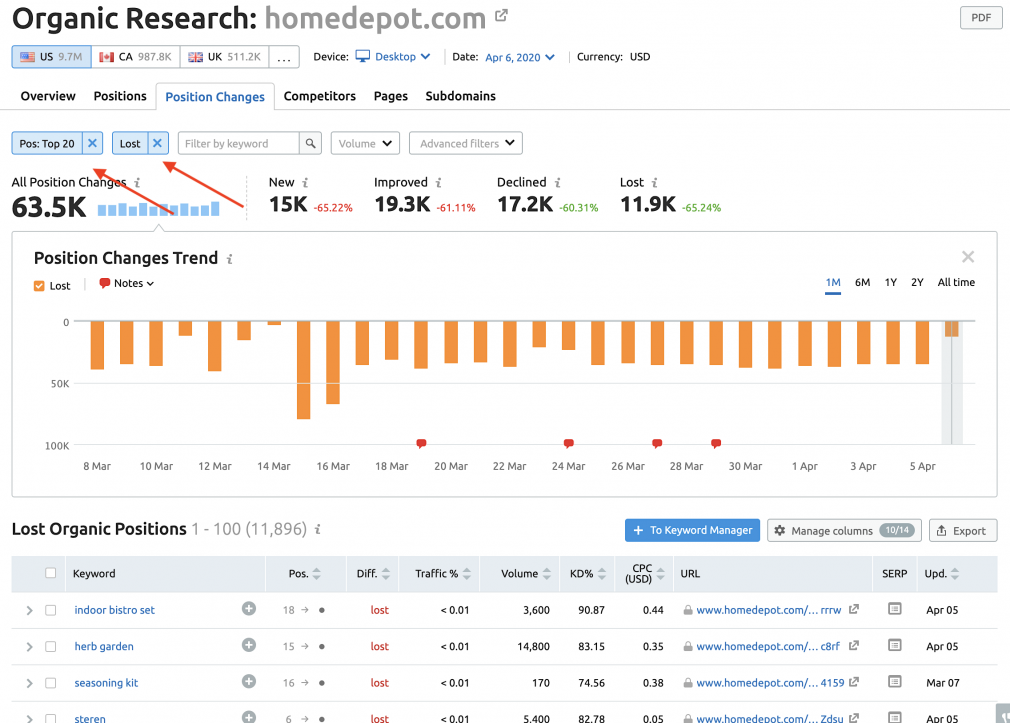 New Keyword Rankings
Similarly, look at what new pages or keywords your competitors are ranking for, to understand if there are new opportunities worth focusing on. For ecommerce stores, this can provide insight into any new products or categories that have the potential to become popular.
Find Keyword Opportunities
Once you have a clear idea of who your competitors are and what they are and aren't doing well, dive deeper into your keyword strategy. Here are a couple of areas to consider:
Keywords Your Competitor's Target
Use the Ahrefs Site Explorer tool to quickly get a list of all the keywords that the competitor domain is ranking for. Determine their "money" keywords (such as "buy", "best", etc.) for product/service pages and informational keywords (such as "how to", "what is", etc.) for blog and content pages. Focus on keywords with higher search volume and medium-to-low competition.
Keyword Gap Between You and Your Competitors
Along similar lines, do a keyword gap analysis. This entails looking at your competitors' keywords that they're ranking for and your website isn't. The Ahrefs Site Explorer has a Content Gap tool to identify keywords that rank for the domains you specify.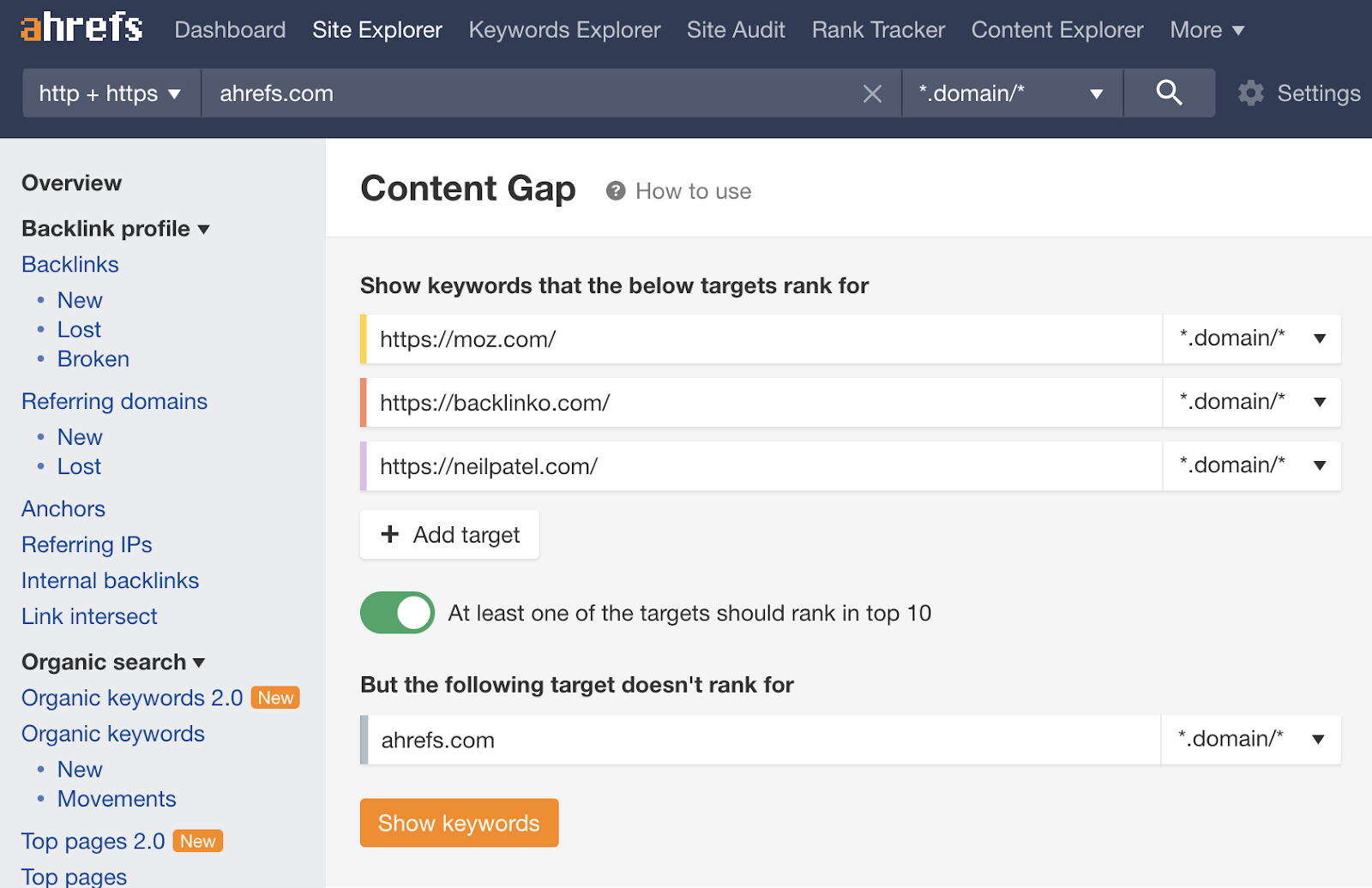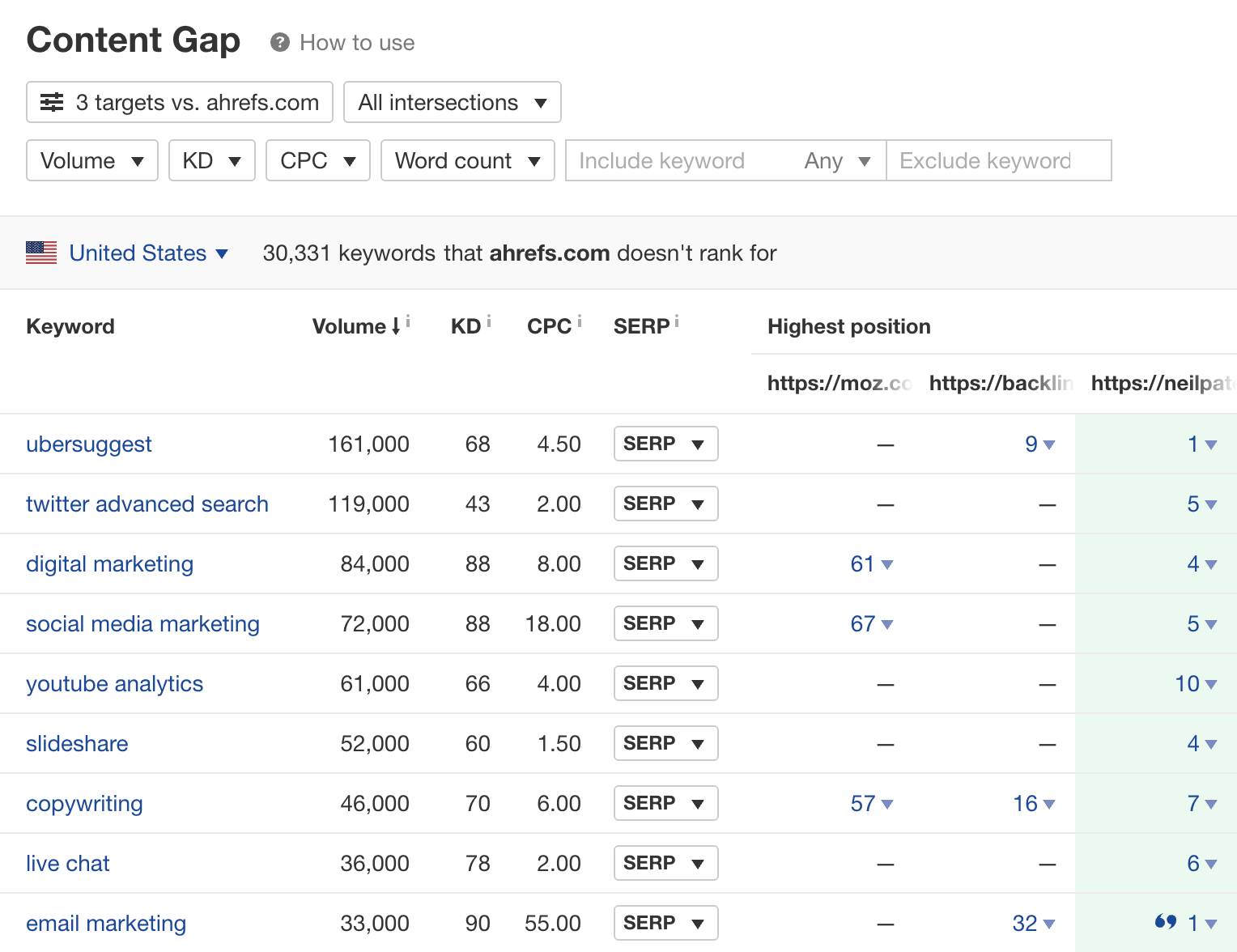 Besides search volume and traffic potential, check how many backlinks the competing pages that are ranking have, and whether they're from high authority publications.
As you uncover relevant keywords that also apply to your business, you can plan dedicated high-quality content pages to cover those keywords contextually and lead visitors to your site instead of the competition.
Analyze Page and Content Insights
After figuring out the most important competitor keywords you should be targeting, the next step is to pinpoint their most popular pages and content.
Discover Their Most Popular Pages in Terms of Traffic
Which competitor pages rank for the most keywords? Which pages earn the most traffic? Which pages have the highest percentage of their total domain traffic? These are some questions you need to answer. Use the Top Pages report in Ahrefs Site Explorer.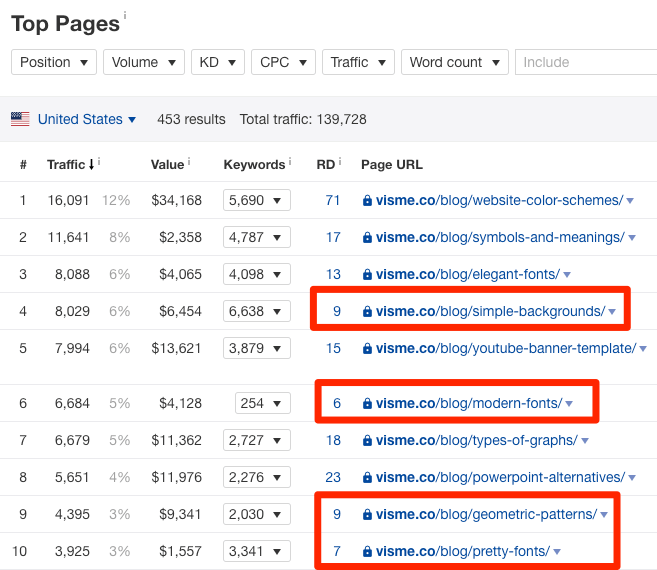 Find The Type of Content Your Competitors Create
In many cases, the most popular competitor pages would be blog/content pages. Figure out the type of content that's working well for your competitors, is it:
How-to posts
Listicles
Infographics
Videos
Also consider competitor content that is doing well in other Google Search features, such as the featured snippet, people also ask, images, etc.
Create and Execute a Content Plan
Based on the above analysis, refine your content strategy to include the topics and content formats that are working well for your competitors. When executing your content plan, be sure to improve upon your competitors' content by covering the topics in more detail, using recent data, sharing better examples, and structuring your content for easier consumption and engagement.
Analyze Page by Page Basis
Besides looking at their most popular content, it makes sense to also compare on a page-by-page basis to learn the exact areas of improvement that can lead you to outrank them. Some specific areas to look at include:
Titles
Even if Google rewrites your title tags to better describe your page's content, reviewing your competitors' title tags is a good idea, as a good title is what drives click-throughs. Look at both, the title displayed in the SERPs and on the actual page.
Meta Description Tag
Check the meta description displayed in the SERPs. Does it include the target keywords? Does it cover the top features or benefits? Take inspiration from well-written meta descriptions for your own pages.
Meta Keywords Tag
Meta keywords are a specific type of meta tag that appears in the HTML code of a page to tell search engines what the topic of the page is. These can be useful when found on competitors' sites to see what keywords they optimized their pages for.
H1s and other Headings
Using header tags (H1, H2, H3,…, H6) to structure your page content is an SEO fundamental. See how your competitors' top-ranking pages are using header tags and if it has any impact on their search features performance, such as ranking in the featured snippet.
Breadcrumbs/URL Structure
Using a coherent URL structure and breadcrumbs is essential to building an SEO-friendly website architecture. Look at your competitors' pages to learn their breadcrumbs usage and URL structure, and see if you can do it better.
Content & Keywords
Of course, you can't forget the most important aspect of a page: content. Carefully examine things like:
Does their content tend to be comprehensive and long-form or shallow and short-form?
What's their content's readability score?
How are your competitors incorporating keywords within their content?
Have they included LSI keywords?
How are they interlinking their content?
By answering these questions, you can create better content that outranks your competitors.
Analyze Backlinks Profile
As you know, backlinks are the heart and soul of SEO, which means understanding your competitors' backlinks strategy is an absolute must. If a competitor has a notably better backlink profile (the quality mix of domains linking to them), with high-quality links from reputable websites, you will have a tough time outranking them and will need to invest more into building your backlink profile.
Here are four key things to look at when studying your competitors' backlinks profiles:
High-Quality Referring Domains
When checking a competitor's backlinks profile in Ahrefs Site Explorer, don't just look at the total number of links but focus on the number of high-quality links — from well-established blogs, business magazines, news websites, big non-competing brands, etc. — and also on the relevancy of the referring domains.
Having plenty of low-quality links from spammy domains pointing to your website might actually do more harm than good. So, focus on the quality of referring domains over quantity. Furthermore, check if the links are dofollow or no-follow. While the latter isn't helpful for SEO, they do help in driving traffic and brand awareness.
Anchor Texts
Dive deeper into the top pages that are linking back to your competitors. What are the anchor texts being used? Are the links placed in content or from the author's bio? Answers to these questions would better guide your content outreach strategy.
Backlink Gaps
As with keywords, hunt for crucial gaps in your backlinks profile. In particular, links that many of your top competitors have from the same referring domain. If that domain has linked back to multiple competitors, it might be relatively easy to get a link from them.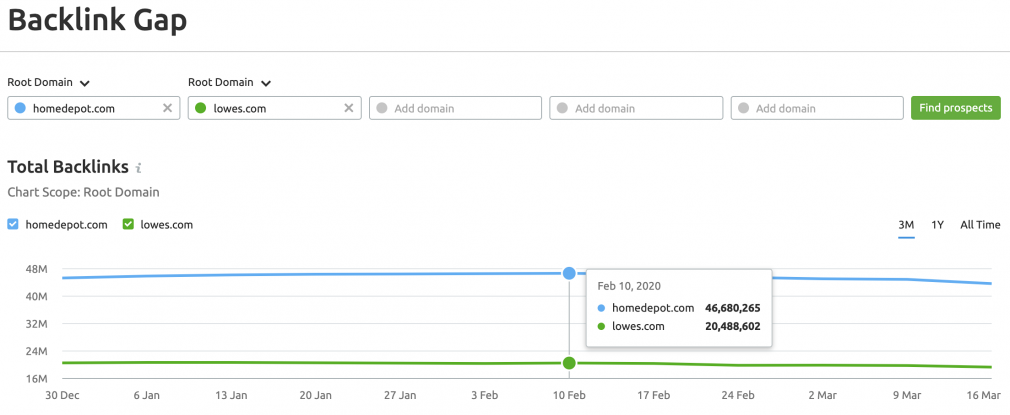 You can use the Semrush Backlink Gap tool for this. It'll analyze your competitors' websites' backlink profiles, uncover untapped backlink opportunities, and share a list of domains to target in your link-building campaigns.
Target via Guest Posts
Guest posting is still one of the most effective ways to earn high-quality backlinks. So, once you're through with backlinks profile analysis, chart out a guest posting schedule to target high-authority publications with high-quality content with contextual backlinks to your website.
Create an Action Plan Based Upon Insights
With all the keywords, content, technical SEO, and backlinks data, it's time to create an action plan that you can implement in your overall SEO strategy.
For this, you can gather the keywords, content ideas, title tags, target referring domains, etc. into a spreadsheet with separate tabs and check them off as you implement them. Alternatively, the Ahrefs' Site Explorer tool also lets you export keyword ideas, referring domains, content ideas, and other such data into a spreadsheet so you can quickly create an SEO competitor analysis report.
Track Your Progress
Without tracking the results of your efforts, you're shooting arrows in the dark. But how exactly do you track your SEO competitive analysis progress? With metrics, of course.
So, which metrics do the experts measure for SEO competitive analysis?
"We measure our metric performance on an absolute level where we check conversions, traffic, and the average rank of each of our pages," says Karthik Sridharan, Founder of Flexiple.
"In terms of metrics we look at DA/PA, the number of referring domains, keyword rankings, and CrUX data," replies John Morabito, VP of SEO at Stella Rising.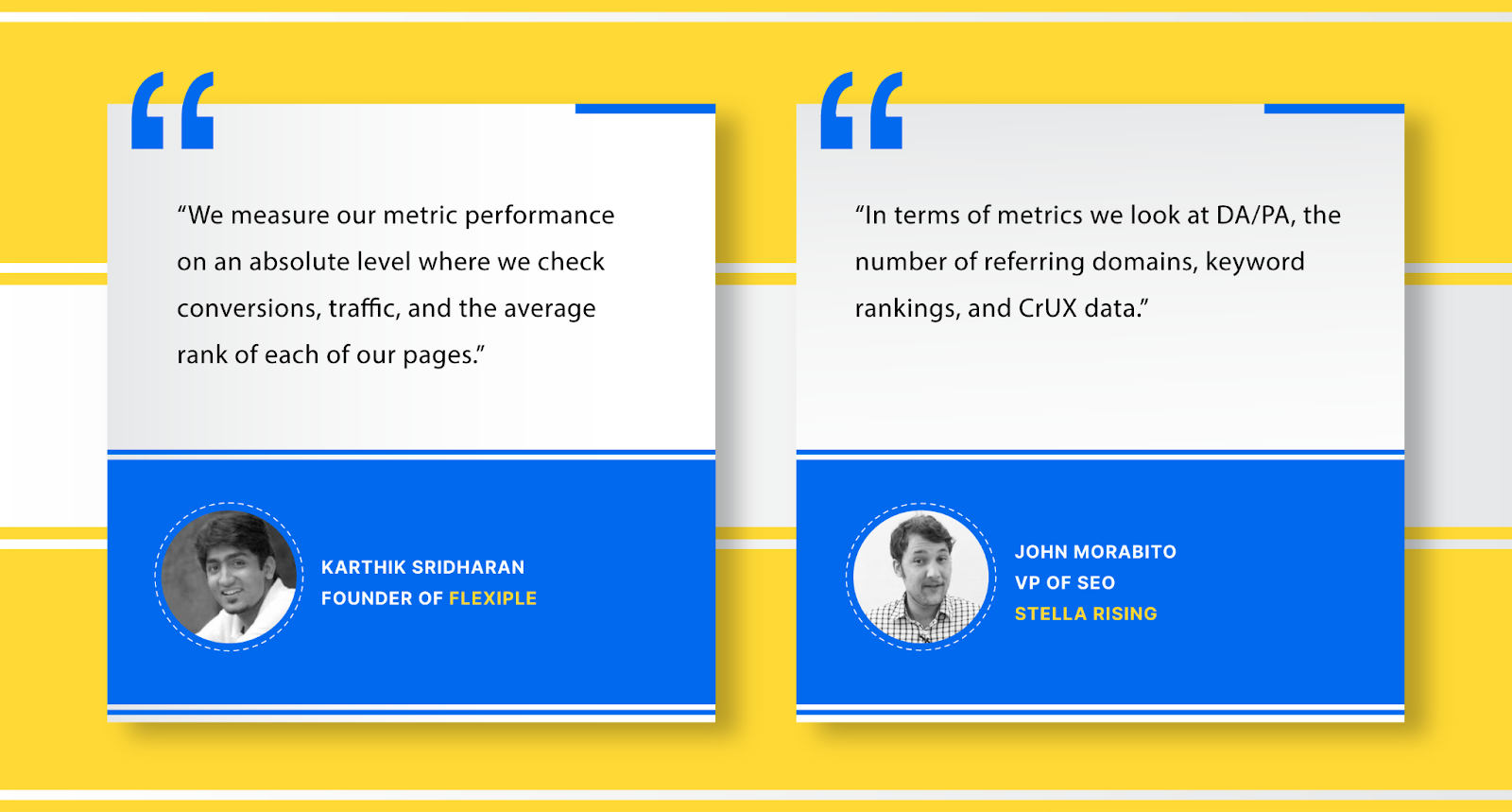 Rob Powell, an SEO Expert shares a truly comprehensive answer illustrating the use of Semrush and Moz:
"I use three metrics to filter the results in my competitor keyword analysis.
1. Keyword Difficulty
Click on the 'keyword difficulty' filter and choose 'possible', 'easy', or 'very easy' (depending on how high or low your website's DA is):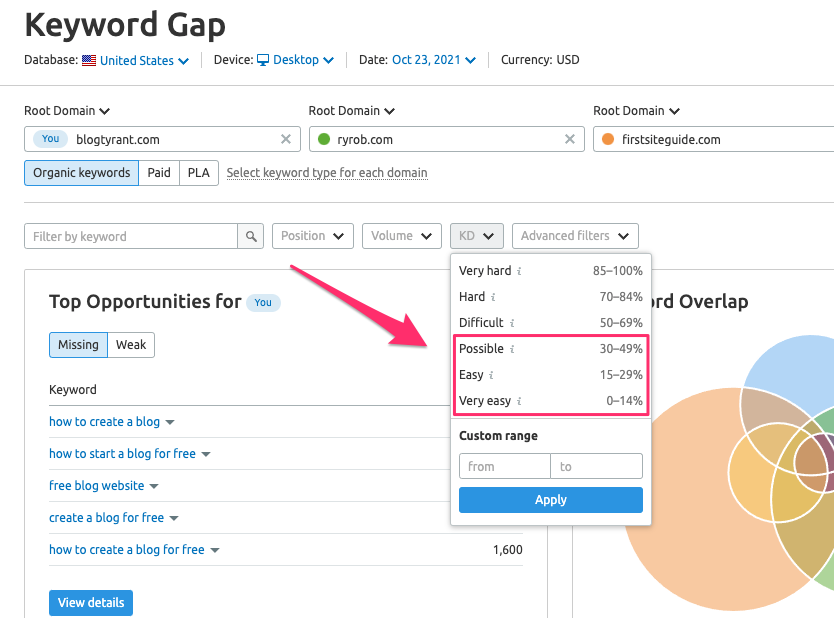 2. Number of Search Results
Another way to ensure that you only see keywords you can rank for is to filter for a maximum number of search results.
The more results there are in organic search, the more competitive the keyword is going to be.
For example, a keyword with 275,000,000 results will be more competitive than a keyword with 75,000,000 results. To find less competitive keywords, place a limit on the number of search results that a keyword has.
To do this, click on 'Advanced filters' and set the conditions to 'include results with less than x number of results':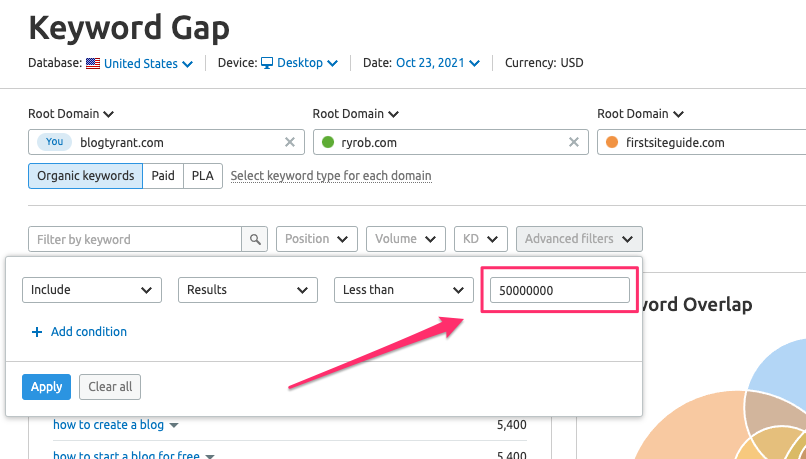 In this case, I've set it to 50,000,000 but that number will depend on what sort of niche or industry you are operating within.
3. Lowest DA in the SERPs
The other metric I use is 'lowest domain authority (DA) in the search results'.
The idea here is that if the search results contain a web page with DA that is close to your own
DA, you have a good chance of ranking for that keyword.
Unfortunately, you can't do this in Semrush.
This is how I do it:
Export your competitor keywords into a spreadsheet and then install the free MozBar Chrome Extension.
Then type each keyword into Google and look for the lowest DA in the search results for that keyword: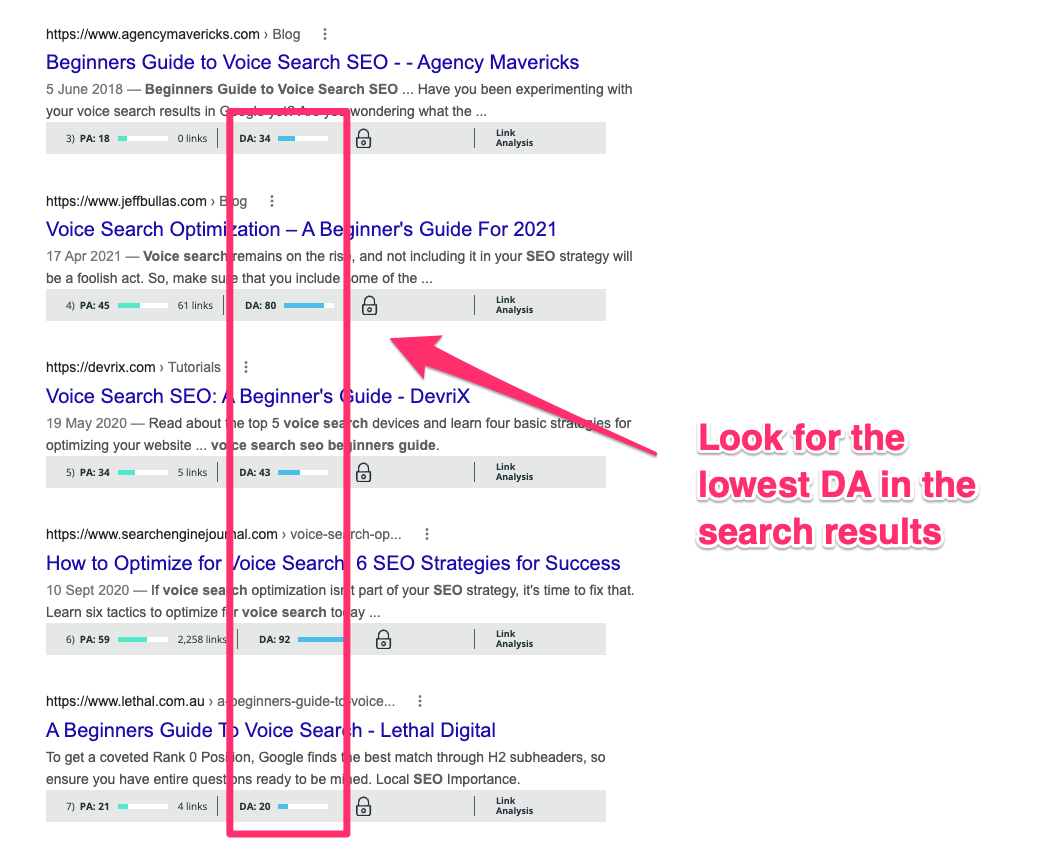 Create a new column in your spreadsheet and record the lowest DA in the search results for each keyword.
Then sort your 'lowest DA' column from high to low. The competitor keywords that you can rank for are the ones where the lowest DA in the SERPs is close to the domain authority of your website."
Fili Wiese, an SEO Expert at SearchBrothers, responds:
"A number of potential KPI can be directly compared against each other, including all technical setup signals, site speed performance and infrastructure indicators as well as to a large extent on-page content quality. On the other hand, off-page metrics such as backlinks, their volumes and/or their quality can not be accurately measured from a PageRank perspective, because there is no way of confidently measuring how much of a backlink profile has been discounted on Google's side or to check for an existing, submitted disavow file."
"It is however possible to measure visibility with users and check if the link-building activities of the competitor are set up for success and find missed opportunities for your business to tap into," elaborates Fili.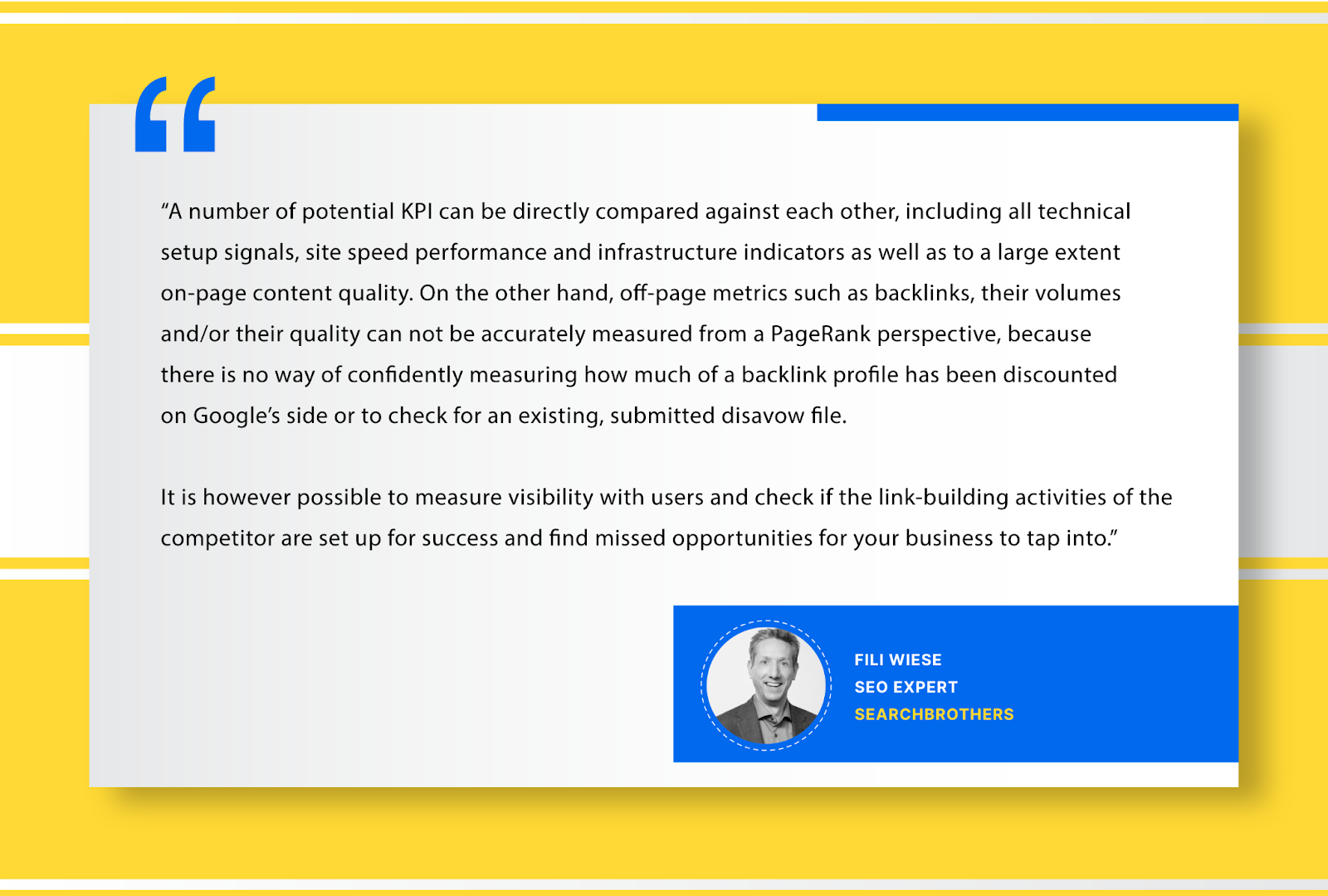 Last but not least, John Locke, an SEO Consultant at LockedownSEO, also shares his detailed answer:
"The metrics we measure always revolve around traffic for our target pages, whether we improved a page or created a new one. We're looking at traffic for organic Google search, which we look at All Traffic > Acquisition > All Pages > Organic/Google then filter by Landing Page. We look at rankings, but we look at the SERPs as well as the rank trackers. Some tools count the People Also Ask and Knowledge Graph boxes as a ranking position."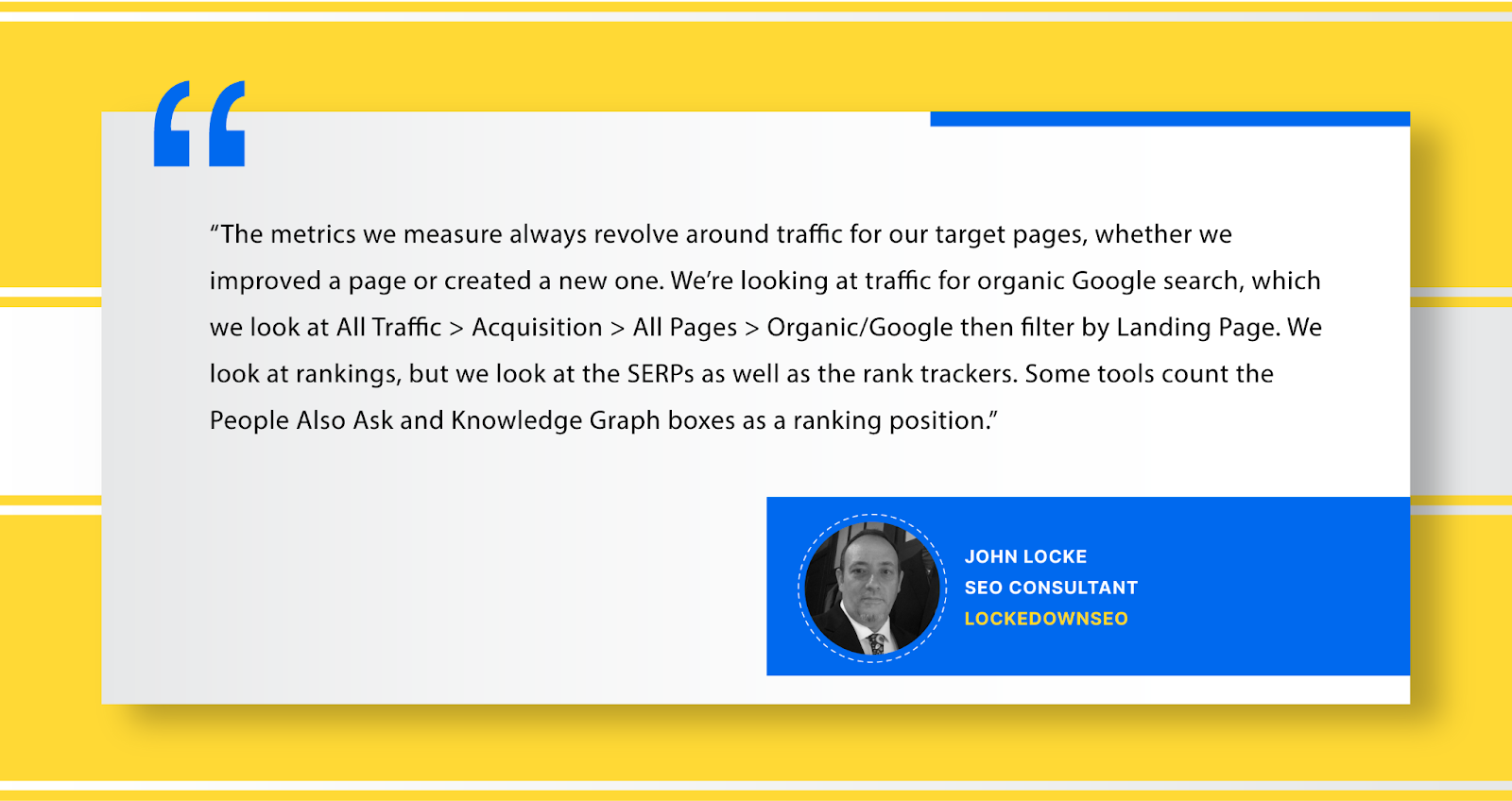 "For any local SEO clients, we want to make sure they are on the 3-pack map as much as possible in their service area. If we're doing our job right, they should be getting more contact form submissions, service calls, or orders. On a client basis, they may have different goals set up in Google Analytics, which we also track, usually conversions based on a form submission or order completion," explains John.
How to do competitive analysis for SEO: Best practices from experts
We compiled some more actionable advice from SEO experts around the world on how to nail your SEO competitive analysis. Here are the best practices they follow.
"The key of a good SEO competitive analysis is to use Google itself to analyze the search engine result page. Type in Google the target search term and analyze the first search result page. Try to understand not just 'how' but 'why' Google is ranking these websites," suggests Juliette Tholey.
"Make sure to inspect each competitor's websites to see what type of structured data they have on their page, so you can replicate and make your own research to have more comprehensive structured data on your website," she adds.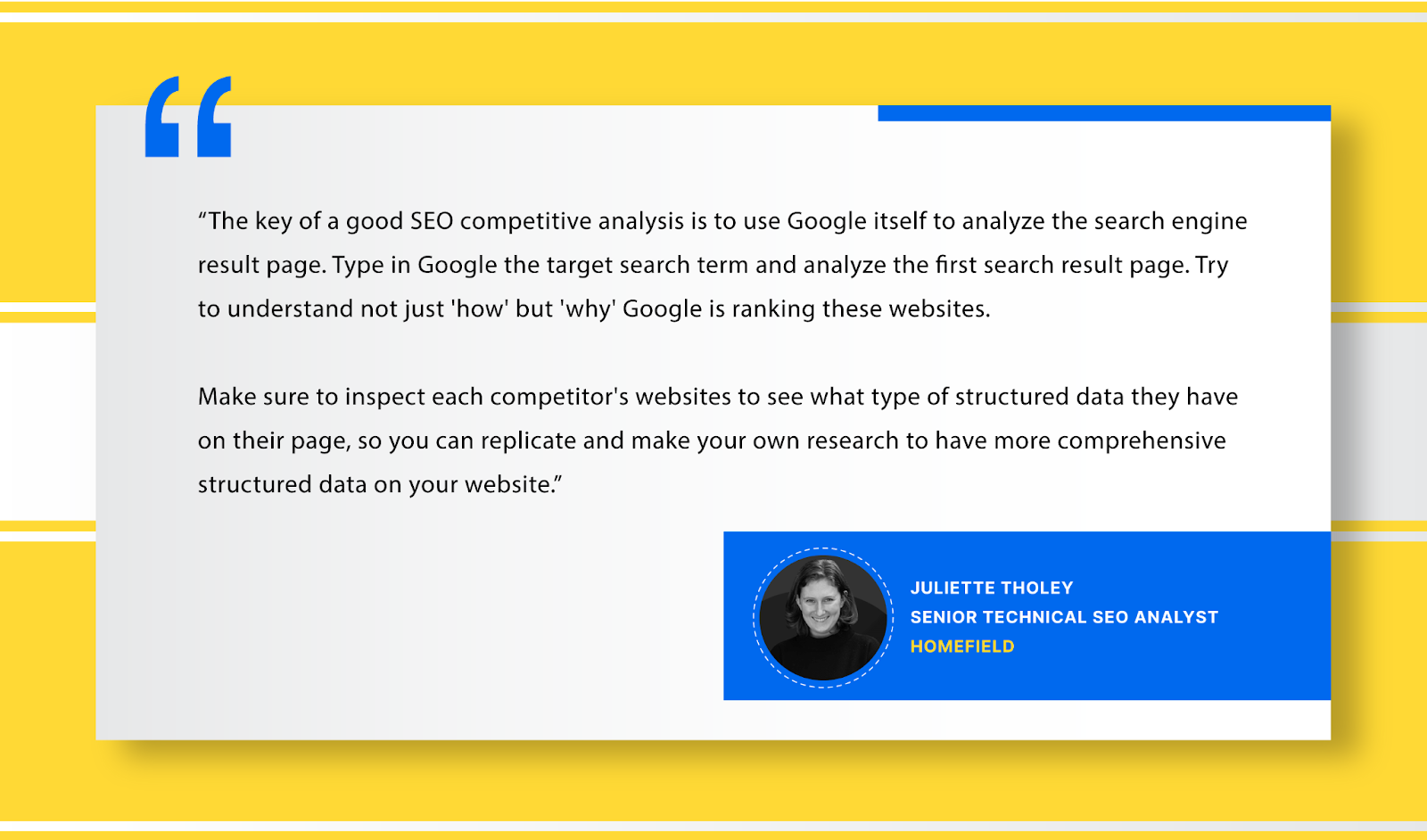 "I would recommend readers focus on their target visitors before focusing on their competitors (at least every so often). Instead of going after keywords that your competitors rank for, put yourself in your target visitors' seats and think about what they would be searching for and how you can best answer their questions. If your competitors rank for infrequently used keywords or questions, let them have it. Instead, you should be focusing on the plain language terms that your target visitors will be searching for where your website could help," advises James McGrath, Co-Founder at Yoreevo.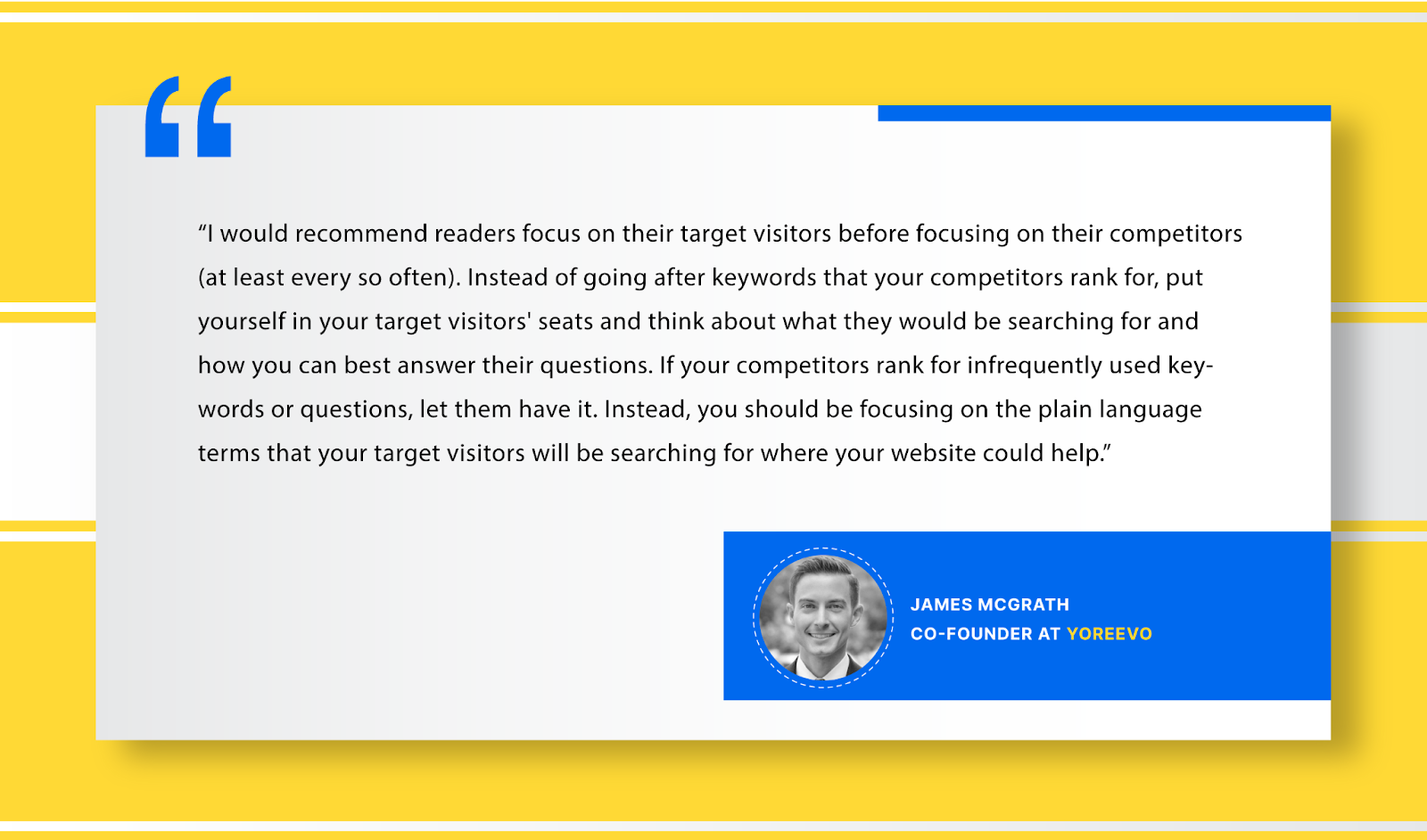 "It's easy to get mired in the output of the hundreds of tools out there and compare yourself strictly to your competitors but you need to lift your head every now and then. Take a step back and think if there have been shifts in your industry – maybe terminology is changing or new questions have popped up. These are the real opportunities, not trying to swap rankings with a competitor on an infrequent or outdated search," he explains.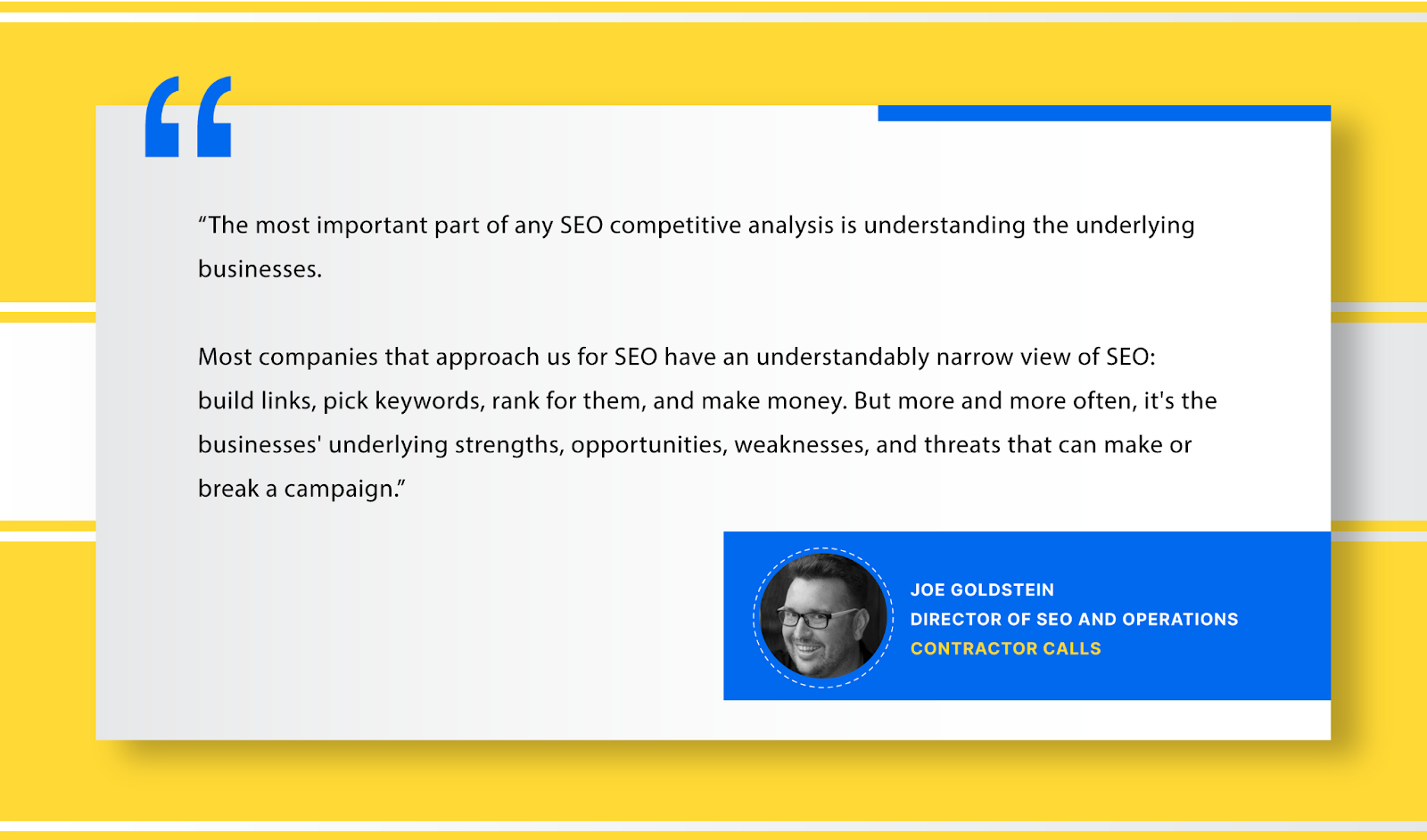 Joe Goldstein goes beyond SEO to touch upon the business side of things:
"The most important part of any SEO competitive analysis is understanding the underlying businesses.
Most companies that approach us for SEO have an understandably narrow view of SEO: build links, pick keywords, rank for them, and make money. But more and more often, it's the businesses' underlying strengths, opportunities, weaknesses, and threats that can make or break a campaign. For example:
Pricing can play a huge role. If the top-ranked company charges twice as much as the second-ranked company for comparable products or services, then rankings alone won't make the difference. In that case, it makes more sense to focus on demographic and psychographic content to build a brand. That can also help you reach the part of the target market that isn't explicitly searching for what you offer but is still open to it.
Reviews/quality can make or break a campaign. If a company has enough bad reviews, they can surface and undermine your rankings, or even just sabotage your branded search. Likewise, if a company has next to no reviews, buying into the latest and greatest review acquisition software isn't going to make a difference unless it comes with a small shift in company culture to support its ongoing use.
Offline activities can also make or break an SEO campaign. If a competitor advertises heavily offline, such as buying a billboard, it's going to have a big impact on their branded search volume, which also tends to translate into dominance in competitive searches. But from an SEO perspective, it's not always easy to find these offline components that drive branded search volume. As a result, it can look like an under-optimized site is ranking incredibly well for no good reason. There are several ways offline activities can impact SEO performance, and it's worth asking about them when building any new campaign.
So the best practice for SEO competitive analysis is to sit down with the company's stakeholders and try to understand their business from a holistic perspective. The more you know about how their business operates, the better your chances are for running a successful campaign."
Here's Karthik Sridharan's three-step approach to keywords in SEO competitive analysis:
"We use an SEO research tool like Ahrefs and key in our competitor's website into the search box.
Then, we shortlist all the keywords the website ranks for by applying two filters: Volume > 500 (can vary it), Keyword difficult < 20 (can vary it)
Then we sift through the keywords and find those keywords we feel are a good fit for us."
Here's John Morabito's approach to SEO competitive analysis for their clients:
"At Stella Rising, we perform both on-page and off-page competitive analysis for our clients. For on-page analysis, we're looking at 3 competitors and analyzing at least 3-page types. For example, homepage, category, and product pages. We are looking for on-page optimizations, UX/UI elements, and conversion-oriented elements that either drive rankings, user engagement, or conversions. We then make recommendations for how our clients can apply these same ideas to their site. For off-site analysis, we are focused on finding replicable strategies vs lists of sites to target. We start with a link intersect but then look for common themes and try to get to the bottom of what it is that led to that link being created,"
Rob Powell illustrates the use of Semrush to conduct effective keyword research based on competitor analysis:
"For competitor keyword analysis I use Semrush.
This is the process I use to discover the keywords that my competitors are ranking for but I am not.
In Semrush go to 'Domain Overview' and type in your website URL. Then click 'Search' and scroll down and to the 'Competitive Positioning Map'. This is a graph that shows your main competitors: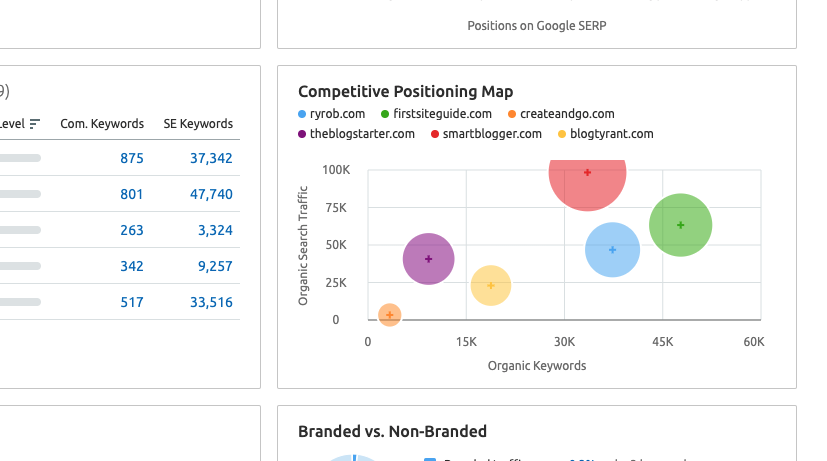 These are the sites that Semrush considers to be your main competitors. However, you need to check that these are in fact websites that you regard as your competitors.
Next, click on the 'Keyword Gap' tool in the left-hand margin of Semrush: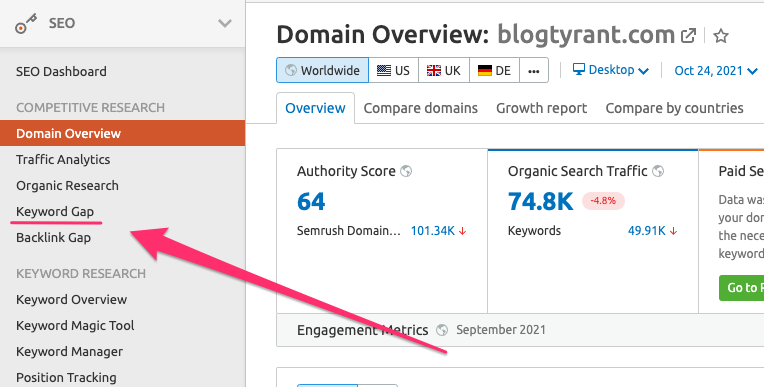 You'll see four text fields, each with a dropdown containing your four main competitors. Choose a website for each of the four fields.
Semrush will now show you seven categories of keywords, based on competitor analysis. The two categories we are interested in are 'missing' and 'untapped':

'Missing' keywords are keywords for which your domain doesn't have rankings but all of the other competitors do.
'Untapped keywords' are keywords for which your domain has no rankings but at least one of the other competitors do."
So, in this way, you can use Semrush to find keywords gaps that you should be filling based on data from your top competitors.
"In markets with relatively few, roughly equally sized websites competing against each other, a competitor analysis can provide relevant insights to the underdog website. Crawling two or more websites, including a competitor, can shed light on important performance indicators which can help to explain the impact on user experience and thereby on organic search rankings. Competitor analysis has the potential to uncover technical flaws, such as spider traps or egregious Google Webmaster Guidelines violations, like user-agent cloaking. That having said, it is important to be aware of the limitations of a competitor analysis and weigh carefully the associated cost against the possible benefits a competitor analysis can offer," recommends Fili Wiese.
Finally, John Locke of LockedownSEO elucidates how they tackle SEO competitive analysis for their clients:
"With SEO clients, we always look at what high-ranking competitors are doing right, and why they might be outranking our new clients. We use Ahrefs to look at the link profile for top competitors: what are common linking sites that most of them have in common? We should probably get a link there too, if possible. What types of sites are in our competitors' link profiles? Can we earn links from similar places if we build up the content?
One of the most critical things to look at is the overall content of top-ranking competitors. They usually have a dedicated page for each of the keyword sets we're trying to rank. So if our client sites have a deficit there, then we put that page-to-be-created on our to-do list. Something we look at in our agency is supporting content. We're big on looking for patterns that the ranking algorithm might see as a reason to rank a certain web page over all the others. Certain keywords rank for competitors where they seem to have certain other pages that aren't directly for that target keyword but in that same topic. So that's one more thing we put on the to-do list. We also look at the layout of top-ranking competitor pages on a page-by-page basis for each keyword set. What things do these pages have in common? Google likely has data that says specific layouts with certain elements or content in certain places satisfy searchers, so those also become part of our recommendations to change on a page-by-page basis."
Final Thoughts
Are you even data-driven if you don't account for your competitor's SEO data?
Put simply, don't overlook the importance of conducting a frequent (every three to six months) SEO competitive analysis — it's not a one-and-done deal. With Google algorithm updates and new search features being rolled out every few months, not to mention new SERP competitors, it is vital to revisit frequently to stay on top of things.
We hope this post helps you conduct an effective SEO competitive analysis for your website. A big thanks to all the experts for contributing their valuable insights!
FAQ: SEO Competitor Analysis
What is SEO competitive analysis?
SEO competitive analysis is the process of thoroughly reviewing the keywords, backlinks, content, and user experience of your SERP competitors with the purpose of emulating their successes into your own SEO strategy and capitalizing on any gaps.
Why is competitive analysis important in SEO?
An SEO competitive analysis can give you actionable insights into what's working well for your competitors and what you can do to outrank them (in terms of keywords, content, links, etc.).
So instead of working your way up from scratch with trial-and-error, you can quickly get a concrete idea of the SEO aspects you need to prioritize for quicker results.
How do you do SEO competitive analysis?
Using a tool like Ahrefs or Semrush, you can identify your SERP competitors, analyze their websites' strengths and weaknesses, find keywords and backlinks opportunities, and ultimately create an executable action plan to work on.