The topmost challenge faced by inbound marketers today is generating traffic and leads. Hence, growing their organic presence/ SEO is their number one priority.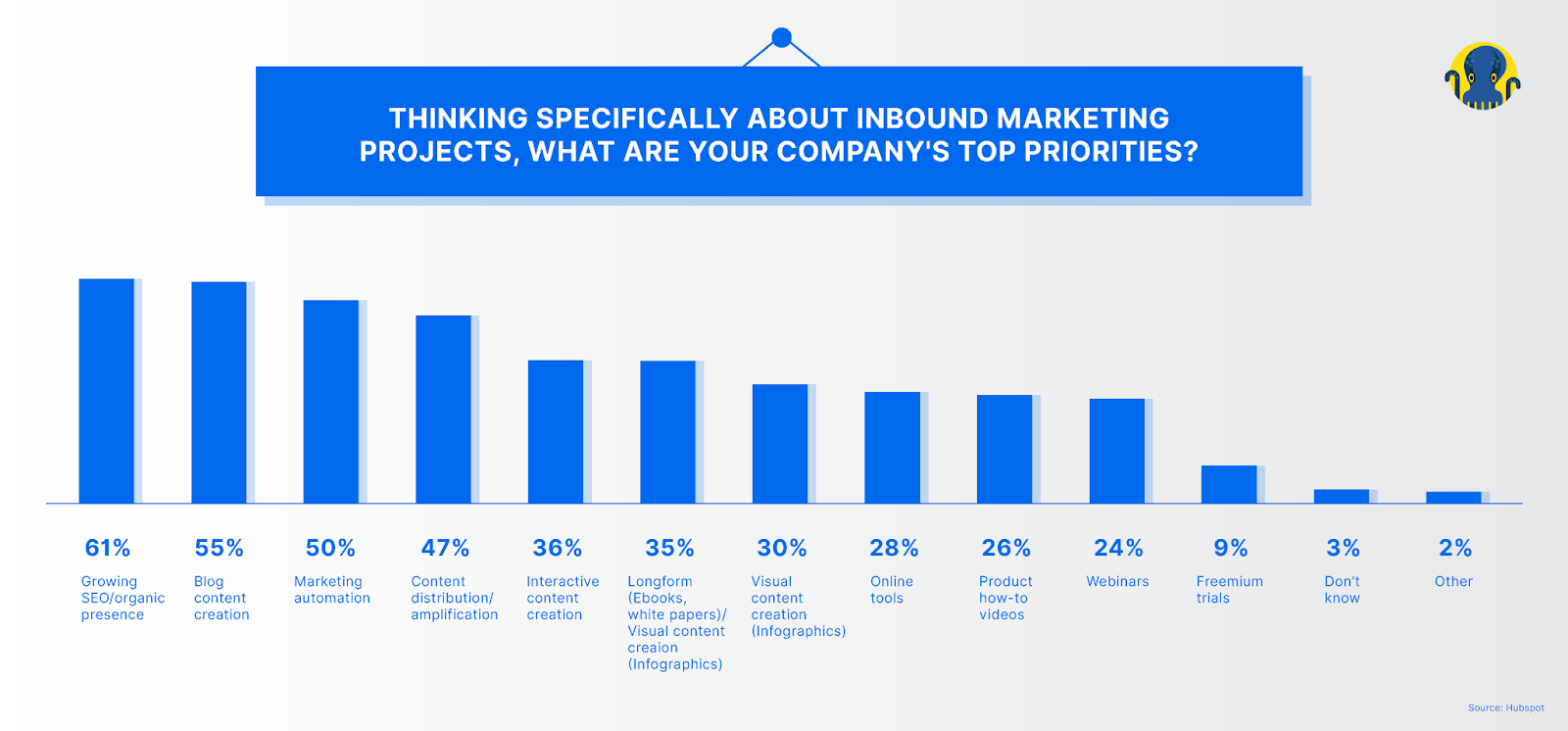 But when it comes to optimizing a website with thousands or even millions of pages, SEO can be challenging. Though the SEO fundamentals remain the same irrespective of the size of the site, the scale, and scope of work differ.
For instance, the large collection of unique content, images, videos, and comments among other assets needs the same level of attention. Moreover, spotting technical issues with crawling and indexing can be pretty overwhelming.
That's where enterprise SEO helps.
In this post, we will discuss everything you need to know about enterprise SEO and how you can leverage it to take your SEO to the next level.
What Is Enterprise SEO?
Enterprise SEO is a set of search engine optimization efforts aimed at improving the organic presence of large enterprises.
So, enterprise-level SEO will be needed by Fortune 500 companies, large ecommerce firms, and businesses with multiple locations. It will also be required by enterprise businesses having multiple websites.
For instance, Target, the American retail corporation, has more than twenty million pages indexed in Google.

Large websites like Target –
Need an advanced level of project management and collaboration for site maintenance.
Have a phenomenal impact on the business's bottom line and online reputation.
Need automation for performing tasks across millions of web pages.
So, unless large firms use enterprise SEO, they don't stand a chance to rank well in the SERPs.
But it's not always about the number so URLs. A smaller website bringing in huge revenue and offices in multiple locations also fit the bill when it comes to enterprise SEO.
For instance, Berkshire Hathaway is an American MNC with barely a thousand URLs but is among the top five public companies by revenue.

So, such businesses will also need to plan an enterprise SEO project.
Thus, when we talk about the scale
How Is Enterprise SEO Different from "Normal" SEO?
The sole purpose of SEO is to boost Google rankings. Thus, any organization, small or big, can benefit from SEO. However, enterprise SEO is a whole lot different from traditional SEO.
We will discuss each point in detail below; however, we need to remember that for large enterprise websites crawl budget optimization is a priority.
Hence, the biggest difference is that these sites need an enterprise SEO tool that can track crawl budget, zombie and orphan pages, accessibility errors, areas of crawl deficiency, bot behavior by distance from the index by content size, and inlinks, most active pages, and more.
Now let's see why SEO for these large websites is different and tricky.
1. Scaling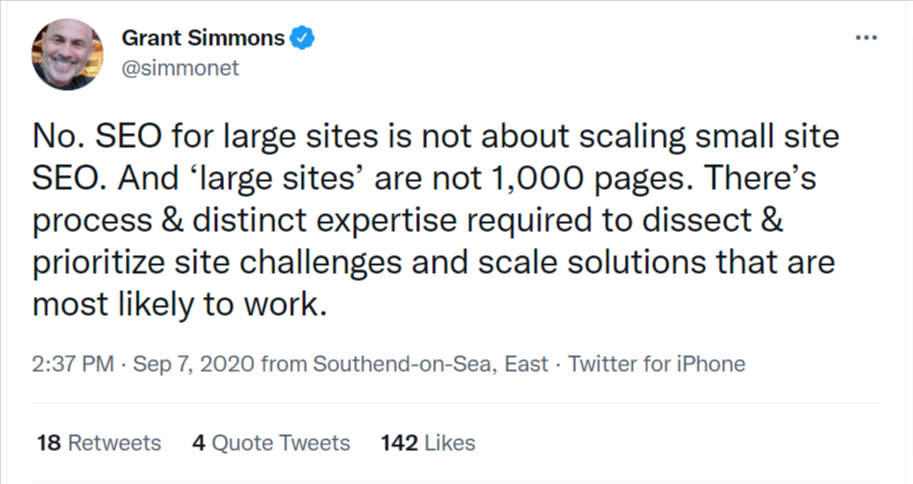 Moving the organic search needle for large organizations demands more than just a regular SEO strategy. It deserves a sophisticated and scalable approach to SEO. It involves taking on a lot of responsibilities in terms of the scale of traffic and conversions while managing a whole host of potential problems.
So, in enterprise SEO you need to scale everything you do.
For instance, internal linking is a core aspect of traditional SEO practices. Even a few internal links on small websites will make a significant difference to its SEO.
On the other hand, this tactic of linking a few pages will not help large websites. You need to scale it up by maybe setting up a crawl-friendly site structure or creating a script that helps with internal links to the top pages of the website.
No wonder, enterprise websites demand enterprise SEO tools.
For instance, JetOctopus offers plenty of data, features, and plans for enterprise websites. The cloud-based tool is the fastest and most affordable Enterprise SEO Platform with a phenomenal crawling speed, real-time log analysis, and detailed 3D SEO reports on website health.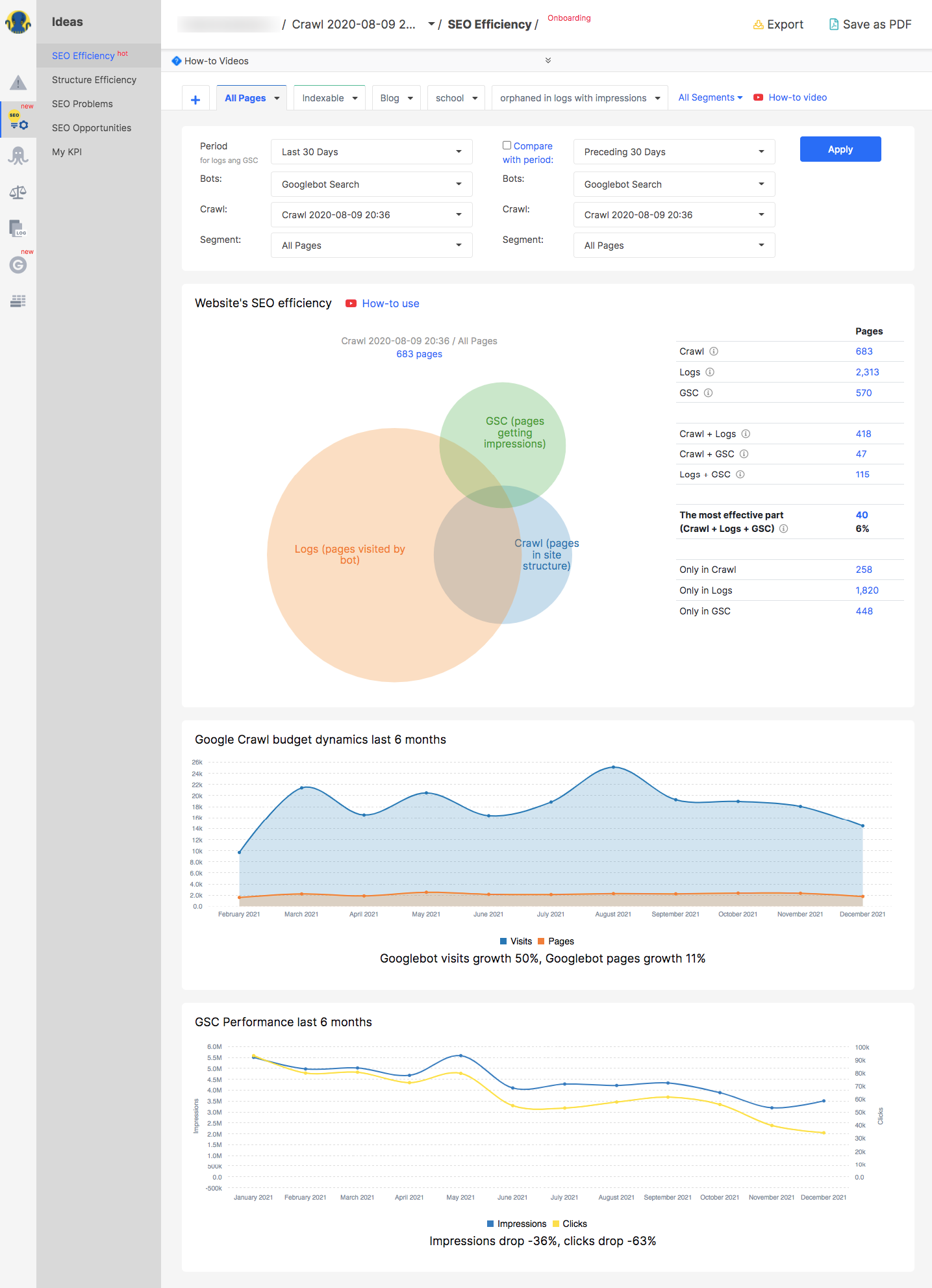 Finally, the scale of enterprise sites relates to the existence of fundamental technical errors that multiply many times, making it tough for SEO crawlers to detect issues.
Most SEO crawlers are unable to crawl the complete website, leading to an incomplete or partial site audit. However, a partial crawl isn't a great idea as it doesn't locate all the errors, leading SEOs to make harmful SEO decisions.
Hence, you need an enterprise SEO tool like JetOctopus that can monitor everything from crawling and indexation to logs and detailed content analysis at a reasonable price.
2. Team Buy-In
Whether you are an agency working with an enterprise SEO client or an in-house SEO, your number one priority is getting people to see the value of SEO. If that doesn't happen your strategies will lose resources and prioritization to other business priorities.
At the enterprise level, there usually are a lot of stakeholders and departments working on the website. Further, most enterprise sites run on custom CMS. So, a simple change needs several approvals because any change will impact several parts of the site.
Therefore, the smallest SEO recommendation will require buy-in from various stakeholders and departments like design, development, and SEO.
Hence, your messaging has to include hard-hitting stats and facts to help build a strong case.
Further, you need to address the WIIFM (what is in it for me). For instance, show them how the change will impact metrics like percentage of traffic from organic search, number of conversions, and revenue.
This will help you get buy-in and encourage people to care about enterprise SEO.
3. More Pages
Enterprise websites are known to have millions of web pages. That's good for their domain authority; however, the large number of pages comes with the risk of several technical SEO issues going unattended.
For instance, thin and duplicate content is the top issue faced by large ecommerce SEOs. Duplicate content stems from several technical issues in the CMS or code-related aspects of the website.
Moreover, on enterprise sites, several teams and departments are adding content. This leads to page bloat, a situation when a site has multiple pages that aren't required.
For instance, a company news article that's no longer relevant.
Regardless of the cause, issues like orphan pages, duplicate content, and page bloat hurt the ranking of priority pages and lead to crawl budget waste.
This is especially true for enterprise websites because they have large page volume, thereby demanding a huge SEO crawl budget. It takes time for crawlers to figure out what to crawl, when, and how many resources the hosting can allocate to crawling.
4. Keyword Research and Selection
One of the biggest misconceptions about enterprise sites is that they can rank for any keyword. This myth exists because these large websites enjoy a high domain authority. And Google always favors high DR websites with many backlinks pointing towards them.
Apple, for instance, has a domain authority of 97 with millions of backlinks pointing to their website.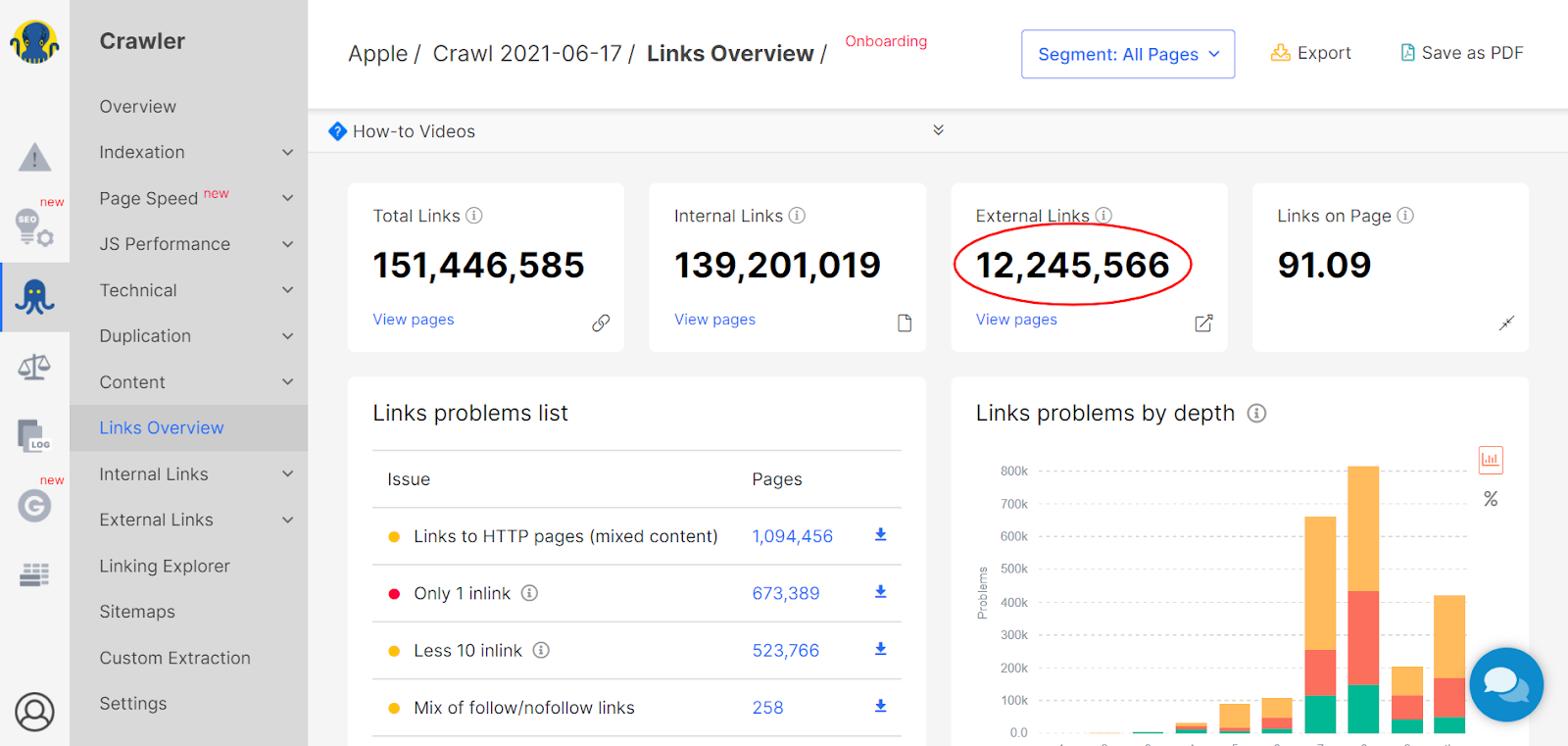 But you'd be surprised to know that the site doesn't rank for 'smartphone.' Most of its organic visits come from branded keywords.
Thus, unlike small websites, enterprise websites tend to target competitive and branded keywords.
5. Drive Backlink at Scale
Enterprise websites enjoy several link-building opportunities that smaller websites don't.
For instance, enterprise sites like Apple and Amazon get a lot of unlinked brand mentions.

In comparison to them, smaller sites do not enjoy so many brand mentions.
6. Marketing Teams with Specialized Roles
Unlike small businesses, enterprise-level firms have a structured team for each marketing task, namely SEO, social media campaigns, content marketing, and others. Each team specializes in their respective area and with some coordination can help achieve the firm's marketing objectives quickly and efficiently.
7. Quality Content Creation at Scale
Without a doubt, quality content creation is a critical component of every website. But at the enterprise level, this content creation process needs to be scalable.
For instance, SEOs should spot new keywords for the domain and hand them over to the content team to make the content competitive enough. Further, they should consistently share secondary keywords, image alt-text, snippets, and more to help the content rank better in the SERPs.
Thus, unlike small businesses, enterprise-level firms need a dedicated team to create specific content guidelines and perform keyword research at scale.
8. Keyword Selection
Keyword research and selection tend to become challenging when the content team has written a lot on a topic. That's usually the case with enterprise-level firms.
Hence, in enterprise SEO you need a dedicated team to select new keywords and perform a content gap analysis to come up with new topics in the niche.
9. Automation
In enterprise SEO, we keep talking about 'scale.' But scaling processes can be challenging if the SEO team fails to use automation.
Automation helps in tasks like keyword research, identifying crawl issues, monitoring backlink quality, and more. Moreover, it simplifies the workflow for large enterprises where SEO and website needs keep changing.
10. Optimized Templates
When businesses add new pages to their websites, SEO is impacted. Hence, SEOs in enterprise-level firms can create templates that developers can use and replicate with the changing enterprise SEO requirements.
What Are the Benefits of Enterprise SEO?
Enterprise SEO is being used by large enterprises to achieve a variety of objectives, namely revenue growth, cost savings, improving brand image, and more. Here are a few other benefits we have highlighted for you.
Reach Customers at Every Stage of the Buyer's Journey
Enterprise SEO combines on-page optimization, high-quality content creation, and targeted outreach to help organizations reach their customers at every stage of the buyer journey.
The respective teams join forces to achieve the business objectives.
The marketing team collates product data that target user intent.
The SEO uses that data to come up with the most relevant keywords.
The content team generates content based on these keywords.
Thus, each team can work in collaboration with the other to deliver the expected results.
Improve Your Reputation
Branded searches happen at every stage of the customer journey. People use the brand information available online (reviews, testimonials, news articles, and more) to get an idea of a brand's reputation. Hence, it's critical to control these branded search results.
Enterprise SEO focuses on generating positive reviews for your business. Further, producing tons of high-quality content that targets your audience's problems will indicate to Google that you are an authority in the industry, thus improving your trustworthiness.
All this not just improves brand reputation but also helps brands combat negative reviews and bad press.
Dominate Your Product or Service Category
Enterprise SEO allows brands to improve their trustworthiness and position themselves as a go-to resource for all customer problems across the purchase funnel.
When executed well, enterprise SEO can help big brands boost their reputation, thus giving them an edge over the competition.
How to Do Enterprise SEO?
1. Improve Crawlability and User Experience
With millions of pages on a website, crawlability, indexability, and UX can become an issue.
Large websites are tough for search engines to crawl and index, especially when their crawl budget isn't optimized.
Further, the pages that lie deep in the structure tend to have issues like duplicate content, canonicalization issues, keyword cannibalization issues, crawl errors, orphan pages, and more. The scale of these issues is extrapolated on large websites, thus negatively affecting its crawlability, UX, and ranking in the SERPs.
Working with large enterprise-scale sites can quickly get challenging when it comes to site audits. Hence, it's wise to run a crawl using tools like JetOctopus that will help you identify and fix crawl issues.
One of the top tips here is to split your large site into sections and crawl them frequently. This will help you monitor core KPIs across crawl errors, broken links, non-indexable pages, and more.
2. Target 'Striking Distance' Keywords
One of the low-hanging fruits when improving the performance of your enterprise website is to target keywords that rank at striking distance. In other words, target keywords that rank in 11 to 20 positions.
Targeting these keywords makes it easy for pages to rank on Page 1 of the SERPs.
Ahrefs is a great tool to spot these keywords.
Just enter your domain and go to the Organic Keywords. Enter 11 to 20 in the Position and you will get a list of striking distance keywords.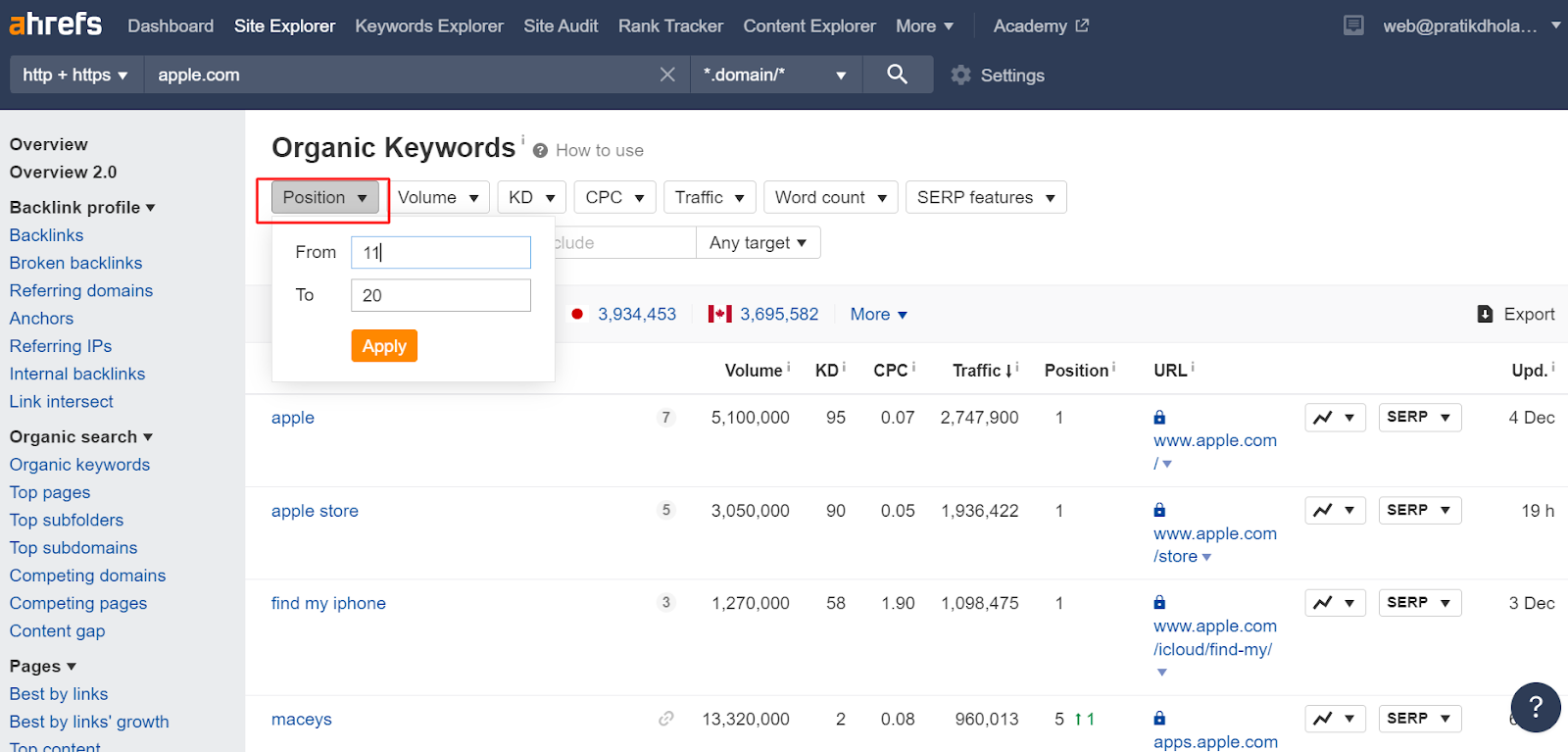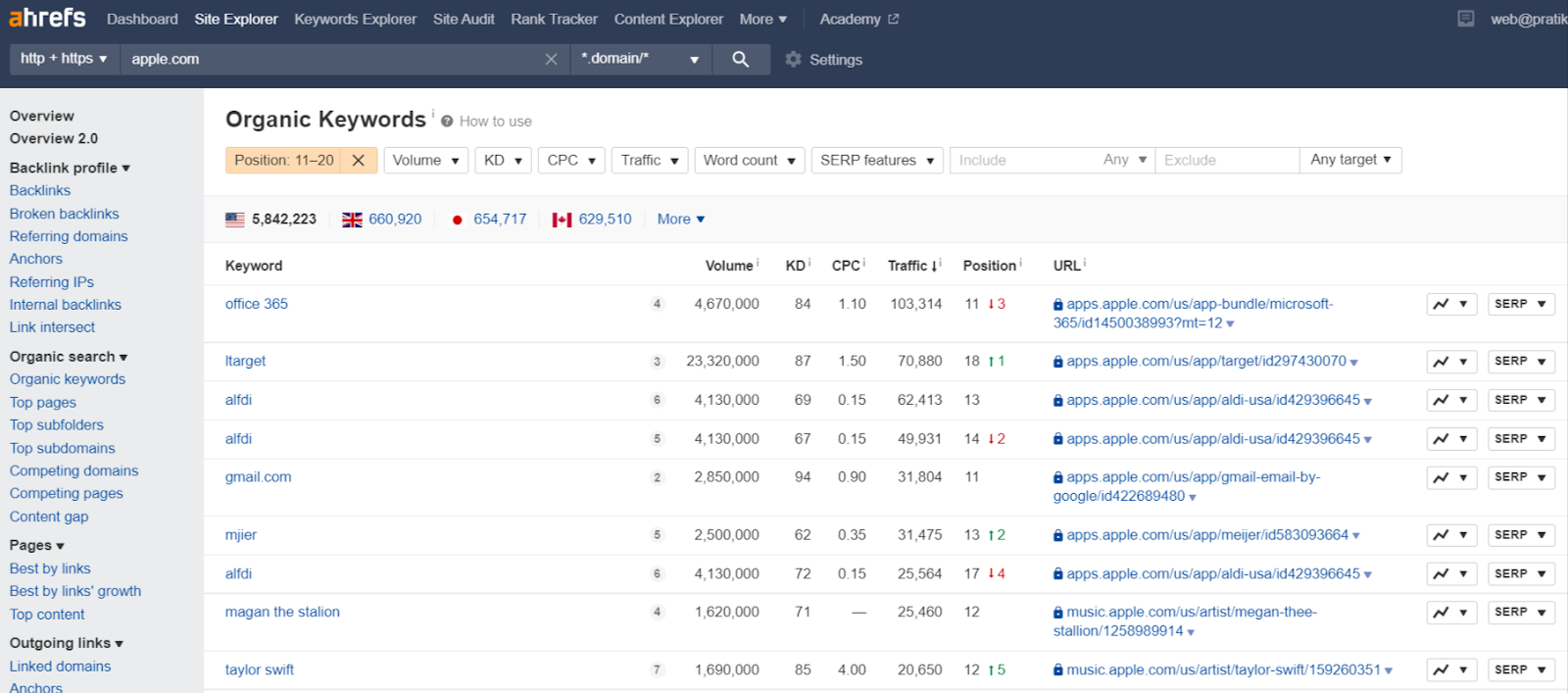 Targeting keywords at a striking distance will help you get incremental traffic and boost visibility and conversions.
3. Focus on Enterprise-Level Link Building
At an enterprise level, a lot of link building happens without SEO or a full-fledged linking strategy. Large organizations invest in commercials, social media campaigns, paid advertising, content syndication, influencer marketing, events, partnerships, and more. So, most of the link building happens without the need for SEOs.
Yet, here are a few best practices for building and creating quality links.
Leverage Unlinked Brand Mentions
Enterprises have the advantage of getting brand mentions in various posts and news articles. In most cases, the writer is aware of the brand and doesn't link back or forgets to link.
These links are easy to fetch as the writer is already familiar with the brand. Ahrefs' Content Explorer gives you a detailed overview of the mentions over time.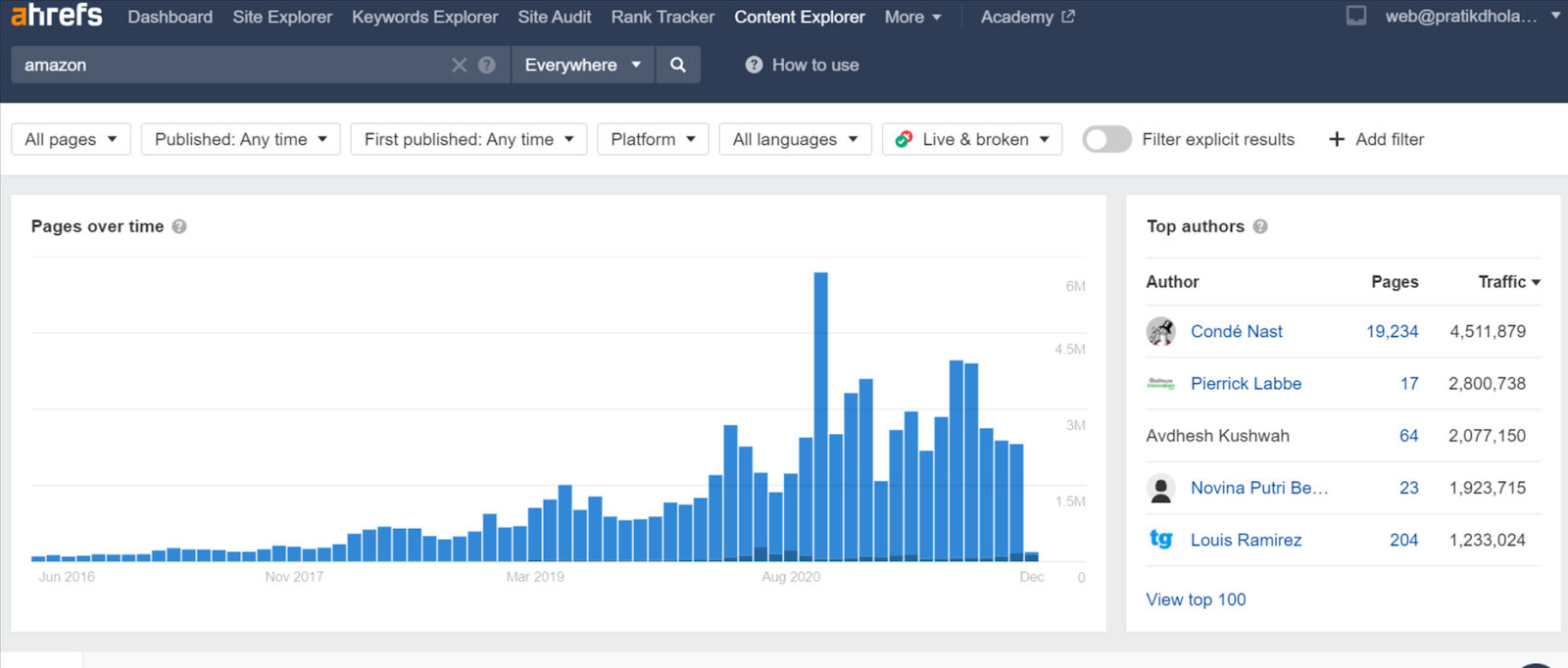 Invest in Influencer Marketing
Enterprise-level link-building campaigns can be strengthened by collaborating with specific influential publications and influencers in your industry segment.
Use tools like BuzzSumo to identify the top content written in your segment and connect with specific bloggers and influencers.
Interlink among Brand Sites
Most enterprises have multiple brands and websites for them. Linking these sites to each other will not just improve your linking performance but also create an awesome experience for your target audience.
4. Don't Ignore Internal Linking
Internal linking is one of the most powerful ways to help pages rank higher. It's a known fact that Google's crawlers use a website's internal linking structure and the anchor text to derive contextual meaning and discover other pages on the site.
Prioritizing internal linking is especially important for enterprise ecommerce sites that keep adding new products and deleting out-of-stock ones.
However, in enterprise-level sites such links are tough to get because different teams are responsible for different parts of the website, making internal linking convoluted and time-consuming.
Further, owing to the sheer volume of pages they hold, creating a crawl-friendly internal linking structure is tough for these websites.
Therefore, before you add more pages to your site, it's advisable to audit its internal linking. When you crawl your website site in JetOctopus Site Audit tool, you will see two reports of internal linking in the dashboard.
The Internal Links Report
This will give you a detailed view of your site's internal linking health.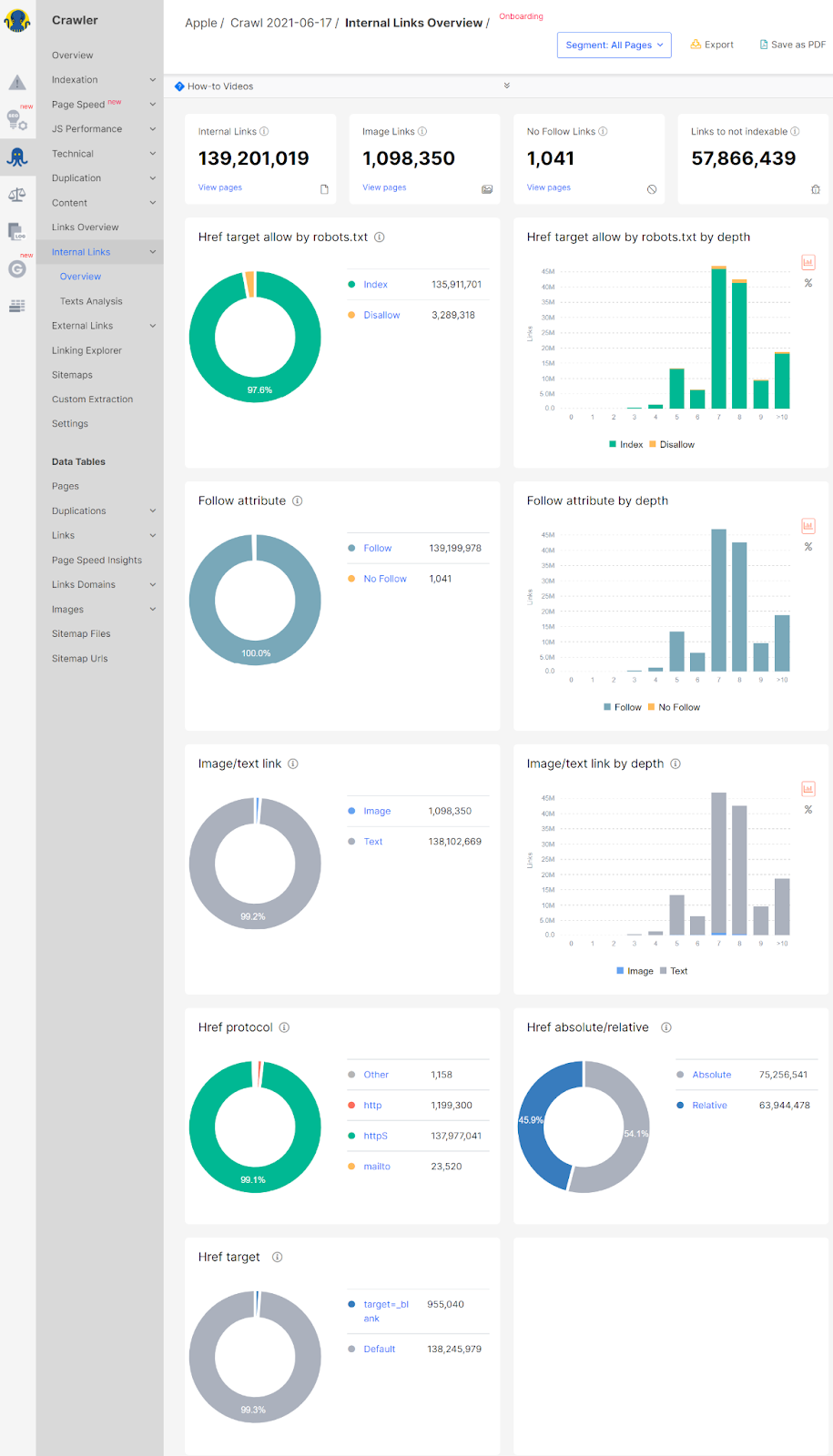 Internal Links Text Analysis
This dashboard gives a detailed overview of anchor texts.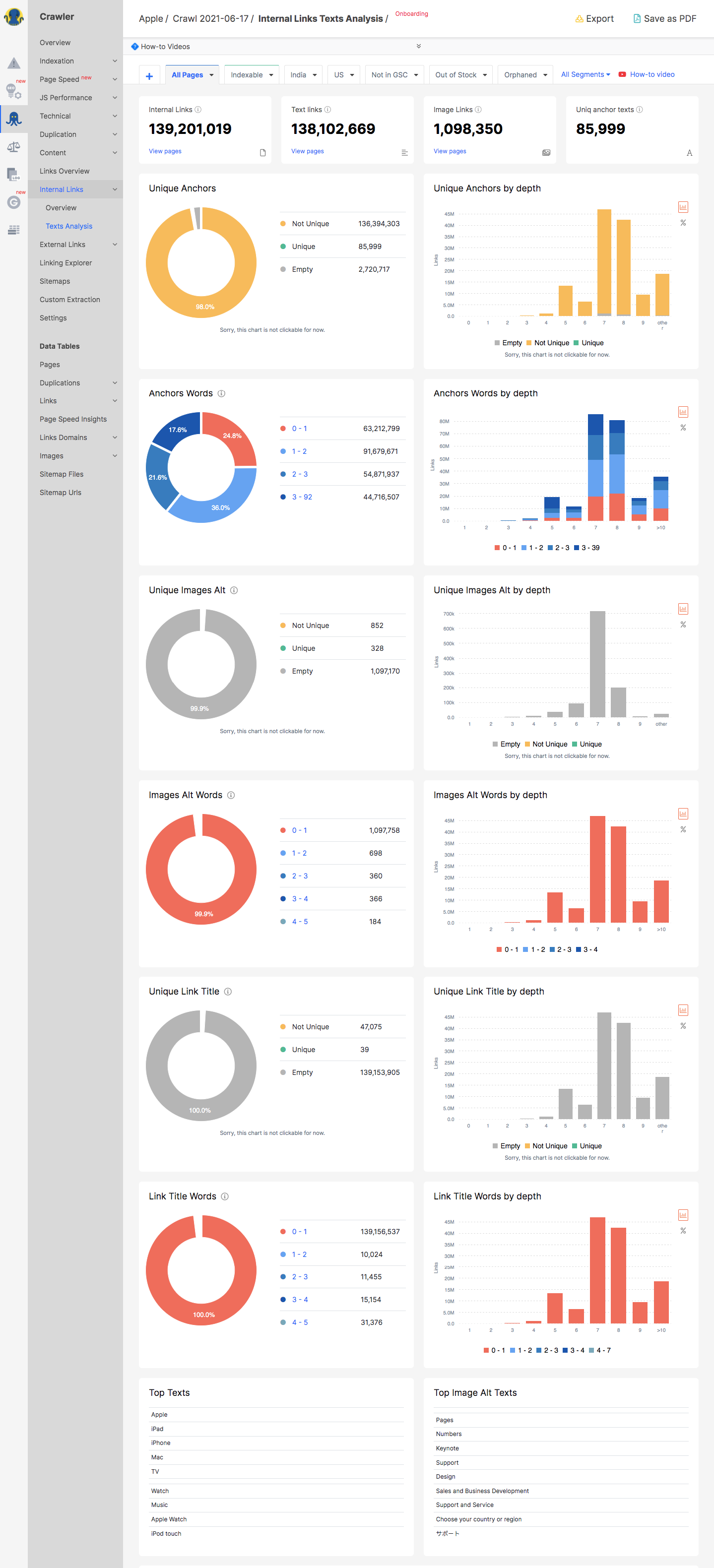 These reports can help you find internal linking opportunities from other relevant pages and content pieces on the website.
Further, JetOctopus' latest product update Interlinking Structure Efficiency helps webmasters understand structure efficiency within the directories.
This screenshot below shows the list of directories present on the website, the pages in this directory, the percentage of indexable pages, the average number of internal links to a page within this directory, bot's behavior here, SERP impressions, and clicks. It also shows the SEO efficiency by directories to analyze and multiply the positive experiments.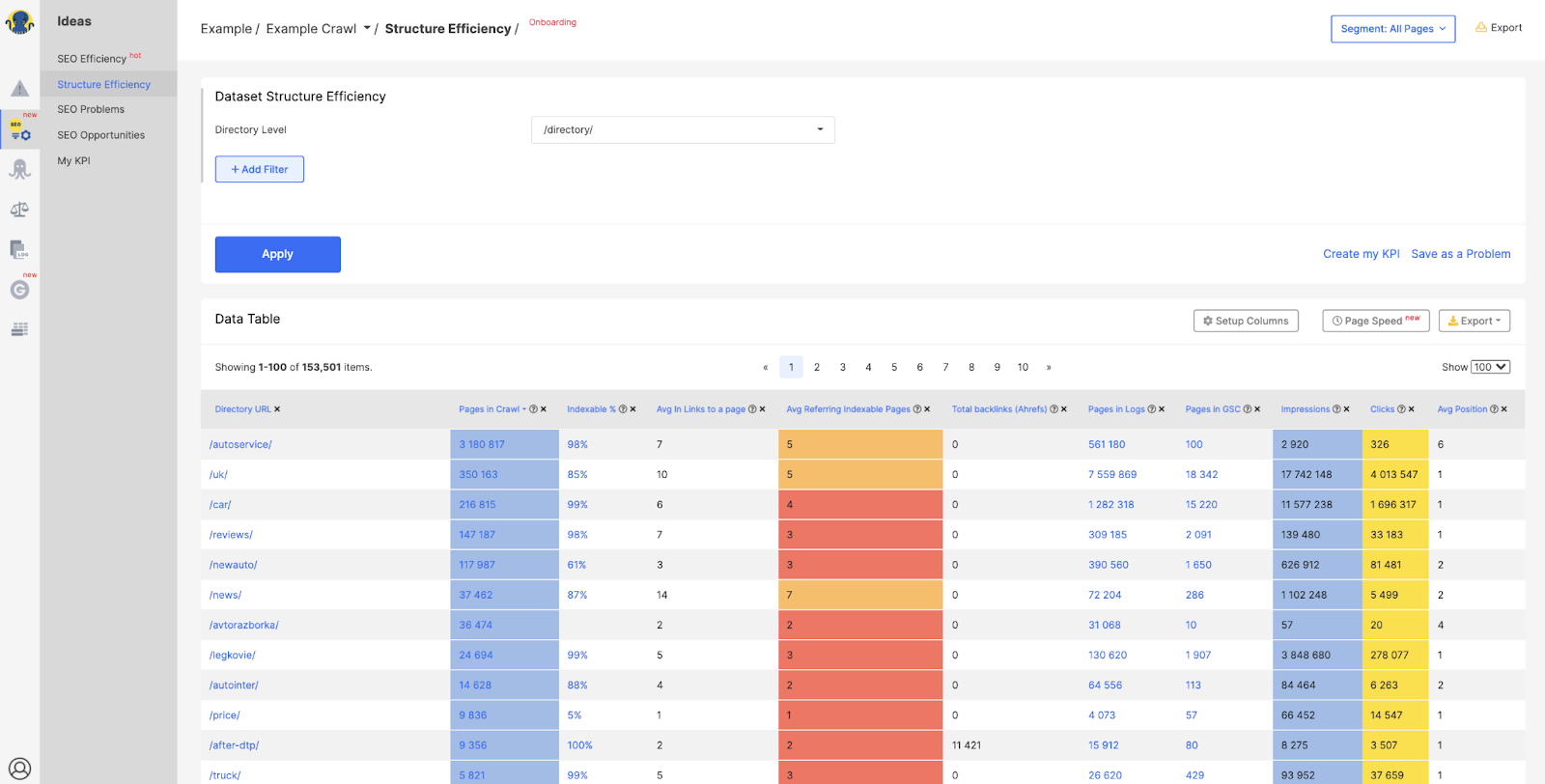 5. Maintain Page Speed
Page speed is a critical factor that helps websites, big and small, boost traffic and maximize revenue. It is the single most important factor that impacts the time visitors spend on your website, the conversions, the bounce rate, and where you rank in organic search.
Here are a few quick tips to improve your site's page speed.
Go for browser caching that eliminates the need for the data to be downloaded again. This leads to faster loading times and improved UX.
Clean up your site's code, thus allowing search engines to easily access and crawl the content on your site.
Enterprise sites tend to have a long digital history or foundational coding that slows the website.
Assets like content and media in their original form can bog down your site, leading to long loading times. Make sure you enable server-side compression for these assets, thus decreasing the upload time for HTML, CSS, and Javascript files.
Invest in a CDN that can help you deliver site content while reducing load time and bandwidth consumption.
Opt for lazy loading that prioritizes content based on what users see first.
6. Refresh Old Content
Content decay is a big issue with enterprise websites. After investing a lot of time and resources in creating content, several pages tend to just sit idle without driving notable organic traffic. That's because over time interest dies and the relevancy of the content changes.
The result: enterprise website with an overload of outdated content.
Here are a few ways to keep fresh and updated content on your site.
Refresh Content to Get Better Than the Competitors
Review the top 10 Google search results for the keywords you are planning to rank for. Check what makes them popular. Is it original research? Is it a detailed guide? Use this information to refresh your content.
Improve Content Relevance
A few topics lose relevance with time. This could be because the topic has evolved or has fallen out of favor. Such outdated content can negatively impact ranking and reputation.
Make sure you replace such content with updated and relevant topics.
7. Don't Forget about Technical SEO
Enterprise sites often have a convoluted infrastructure and a plethora of legacy systems. Plus, as mentioned earlier, each marketing task is managed by a different department.
All this means a tricky technical environment. One issue can affect the crawling and indexing of millions of pages. However, the enterprise scenario requires you to work with different teams to get work done. Plus, when you do a site audit there are an unlimited number of issues fighting for your attention.
That's what I like about JetOctopus. It brings forward the most pressing issues, allowing you to prioritize them and ignore the ones that aren't important.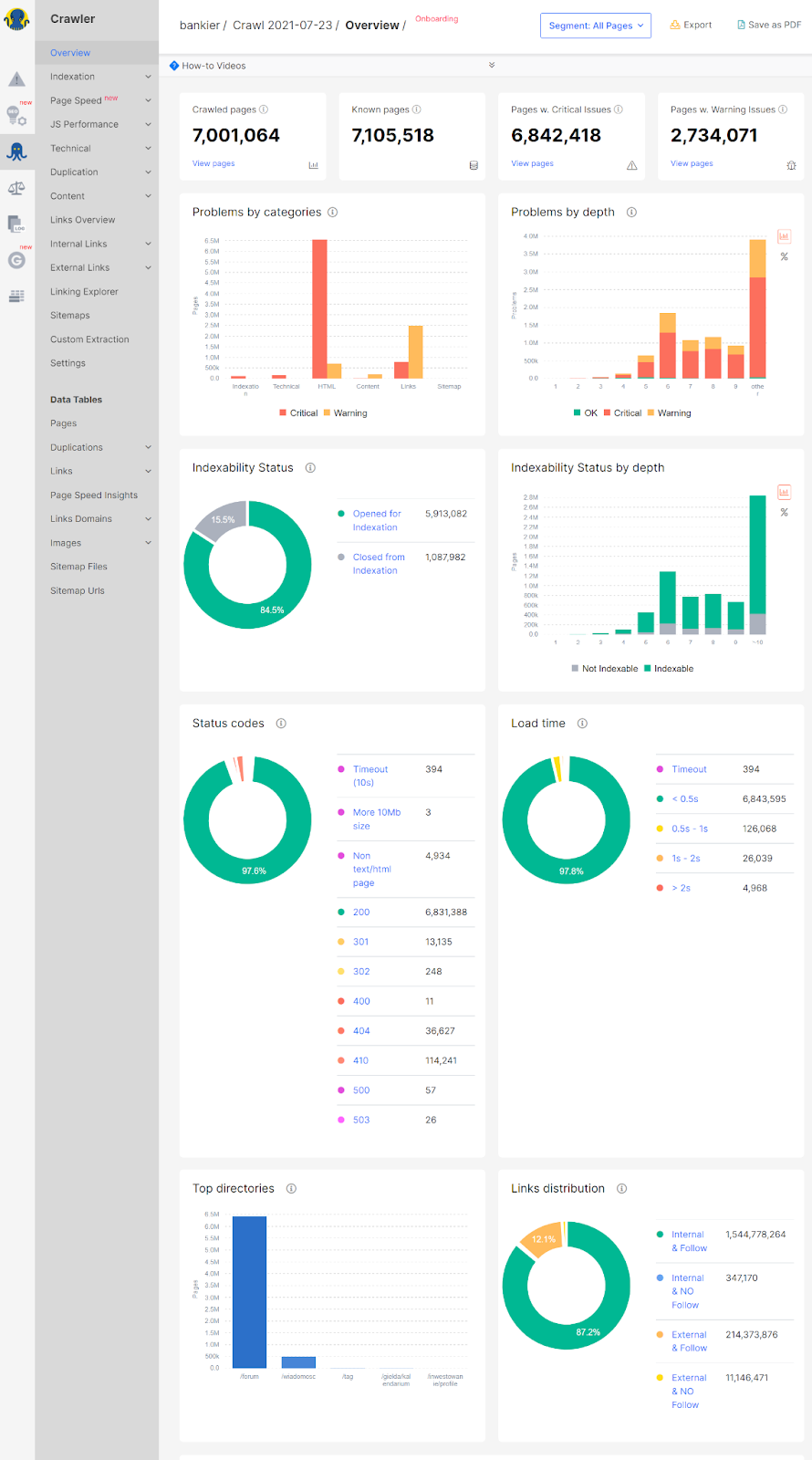 A detailed technical SEO audit using this tool will help you get rid of issues that hamper crawlability and page speed and incorrect robots.txt.
Further, the data available in raw logs can eliminate critical errors right after a product update. This fixes issues before the Google bots visit them.
Notice how Raw Logs in JetOctopus spots the priority issues.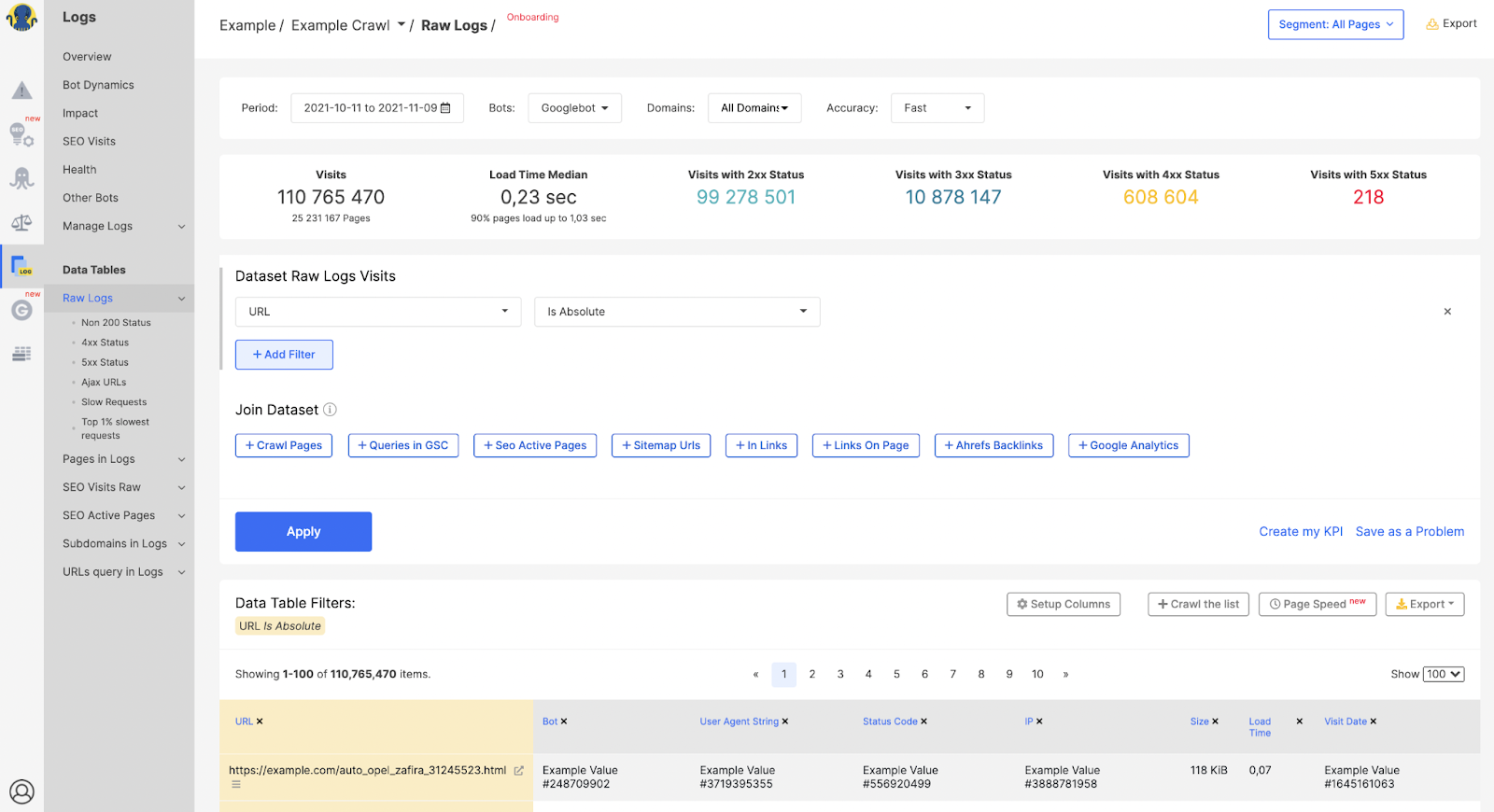 It also identifies the pages with 2XX, 3XX, 4XX, and 5XX status codes.
Further, the team gets timely alerts that gives them control, ensures SEO safety, and offers an opportunity to eliminate errors and fix them before the bots come to your website. These alerts are received through email, SMS, messenger, and other user preferences.
Here's a list of the alerts received.
Crawl budget change
Index page down
Robots.txt non-200 status
Increasing of pages with non-200 status code
An increasing amount of slow pages, >2 sec
Not working shopping card
And a lot of others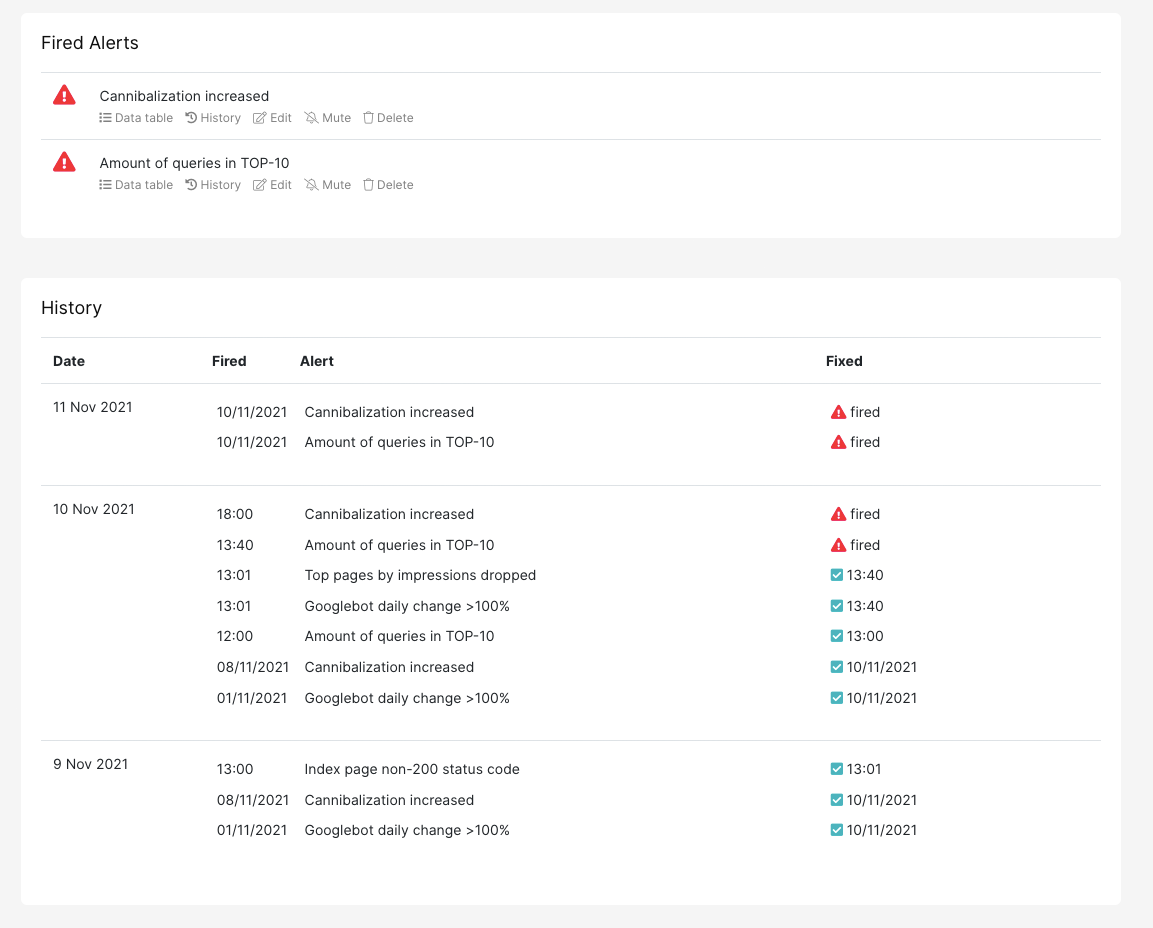 8. Internal Pillar/Cluster Content Linking
Google reviews several factors like internal linking, content, and site authority to determine rankings in the SERPs. When relevant pages in a large website are interlinked (topic clusters) to provide specific information about a general topic (pillar page), Google's crawlers are better able to understand the context of the content.
With each topic cluster, a website offers a specific page that answers specific user queries. When these pages are linked to a pillar page, Google sees that you are offering satisfying answers to queries asked and even those they haven't.
Google wants to prioritize the best, most authoritative, and relevant results. So, executing topic clusters effectively will help your site rank better.
Make sure you adopt the topic cluster SEO strategy to boost your authority and legitimacy in the eyes of search engine crawlers.
9. Create Templates for Your Pages
The sheer size of enterprise websites makes it tough for webmasters to individually code them. That's where templates come into the picture.
When designing a template for your web pages, pay attention to these tips.
The templates you use should be responsive.
They should be built using well-written code that weighs less. This will significantly reduce the load on the server.
Optimize the templates for speed.
Enterprise SEO Examples
Salesforce
Salesforce is a popular cloud-based CRM platform with a whopping 384,854 pages and annual revenue of 21.25 billion U.S. dollars. Optimizing thousands of pages on its website isn't manually feasible.
In all probability, Salesforce runs on a CMS that allows bulk management of pages. The CRM brand started with website auditing to spot and eliminate technical issues in the website. Later, they focused on earning links from relevant websites.
As a result, the company enjoys a strong backlink profile and increased its traffic by around one million in a year.
Zapier
Zapier, a well-known app integration platform, leveraged enterprise SEO to drive millions of searchers to their website. The platform filled its pages with unique and value-adding content and worked on generating high-quality backlinks.
The result: Early this year, Zapier announced a valuation of $5B and annually recurring revenue of $140M. The platform used enterprise SEO to generate 7.3M visitors per month.
Conclusion
If large enterprises want to protect their backlink profile and domain authority, investing in enterprise SEO is critical. A dedicated enterprise SEO team will not just improve their online ranking and reputation but also keep their content fresh and free of technical issues, across the millions of pages on their website.
The more pages your website has the tougher and more complex it is to manage them. Maintaining SEO across large enterprise-level websites can be pretty overwhelming. We hope the scalable strategies shared in this post will help you improve your organic presence and revenue.
FAQs: Enterprise SEO
1. What is Enterprise SEO?
Enterprise SEO is a large-scale strategic approach adopted to optimize large websites, enabling them to achieve their business goals.
It is a critical part of a business's marketing strategy because it helps enterprises reach their target audience, boost sales, and improve brand awareness, thereby maximizing impact on its marketing mix.
But SEO at that scale can be challenging because the stakes are high. A small enterprise SEO failure can have a huge impact on brand revenue and reputation.
2. Is Enterprise SEO necessary?
Absolutely! Though the SEO fundamentals are the same, large-scale websites have several layers of complexity. Thus, the traditional fixes don't work in such cases.
Enterprise SEO can help large businesses and websites achieve their marketing goals. Here are a few direct benefits offered by enterprise SEO.
It delivers impact at scale, thereby protecting your brand's existing search footprint against the ever-changing Google algorithms.
It helps firms manage large volumes of search data.
It automates reporting and analytics for the marketing teams.
It collates all the top and relevant search terms used by people, thereby targeting the user intent at each stage of the buyer journey.
It provides a holistic approach to quality content creation and on-page optimization alongside scaled link building. All this boosts a brand's online reputation.
A well-executed enterprise SEO strategy also protects brands against the frequent fluctuations in Google's algorithms. Simply put, it builds an effective response in event of a change or crisis.
3. What is an Enterprise SEO platform?
An enterprise SEO platform is an arsenal of SEO tools that helps firms manage their entire online marketing strategy. It encompasses everything from keyword research and social media management to content creation and analytics.
Marketers using this platform can also seamlessly integrate all these components into one interface.
That's where this platform differs from the traditional SEO platforms. An enterprise SEO platform possesses the right SEO capabilities to manage the scale and complexity of large websites.
Very few tools have the ability to offer in-depth insights for enterprise sites. For instance, with Core web vitals and Page Speed becoming important technical SEO metrics, it's imperative to track site performance by page.
The free tools available today fail to offer a detailed picture of the page speed issues or the overall SEO health of the site.
JetOctopus, on the other hand, is an enterprise SEO tool that does more than being a SaaS Crawler or Log Analyzer. It offers a comprehensive content and SEO audit toolkit that ensures your website metrics are in line with your goals.
It allows you to prioritize the most pressing issues. With its excellent data visualization, you can get clear insights into bot behavior within seconds.
It offers preset reports, automatic data overlapping, and vivid charts with valuable SEO insights. It also visualizes the data from GSC, allowing you to better understand what GSC is telling you and draw the right conclusions.
Finally, enterprise site owners can leverage segmentation through dataset joining. This allows them to do a quick analysis of SEO issues and identify the next action steps.
Further, they can experiment with complex segments (get data from different data sets in one selection) to find new ways to improve organic performance and conversions.
All this hugely reduces manual efforts and errors commonly encountered with large websites.
4. How do I succeed in enterprise SEO?
Enterprise SEO is not just about getting your website rank but also ensuring that you are reaching out and engaging with your target audience who are looking for products in your niche.
Here are a few quick tips to consider when getting started with your enterprise SEO strategy.
Consistently create awesome content for your readers. This means research that satisfies search intent and hiring experts who can help you with content creation.
Invest in content marketing to build brand trust and long-lasting relationships. Offer information that solves problems and helps them make the right decision.
Identify the top-performing keywords in your niche. Ideally, go for low difficulty and high-volume keywords to help you get that incremental traffic and visibility.
Engage in social listening to understand what your audience is talking about your brand. Dedicate a team that listens to people active on social channels. This is a great way to connect with the audience.
Don't miss out the SEO best practices like conducting a regular SEO audit, having a healthy internal linking structure, optimizing title tags, and optimizing for featured snippets.
Count on SEO crawlers like JetOctopus that can crawl your website within seconds and point out the top crawl issues in your website.
5. How does Enterprise SEO work?
Enterprise SEO is a strategy planned and executed to improve organic search traffic for enterprise-level websites that hold thousands or millions of pages. It is a large-scale version of all the optimization strategies you would use to catch the attention of search engines, boost visibility, and increase conversions.
Enterprise SEO allows marketers to look at search data and trends and arrive at actionable search insights, thus improving revenue for large organizations.