It was a fruitful, very dynamic and eventful 2020 for JetOctopus.
Yes, it is not a common start when talking about 2020 as it usually starts with a "dramatically tough year… COVID… pandemic…crisis, etc. Yes, it's all true but I want to talk about another side of 2020 for JetOctopus. It was a great adventure and I invite you to go through all we've done once again.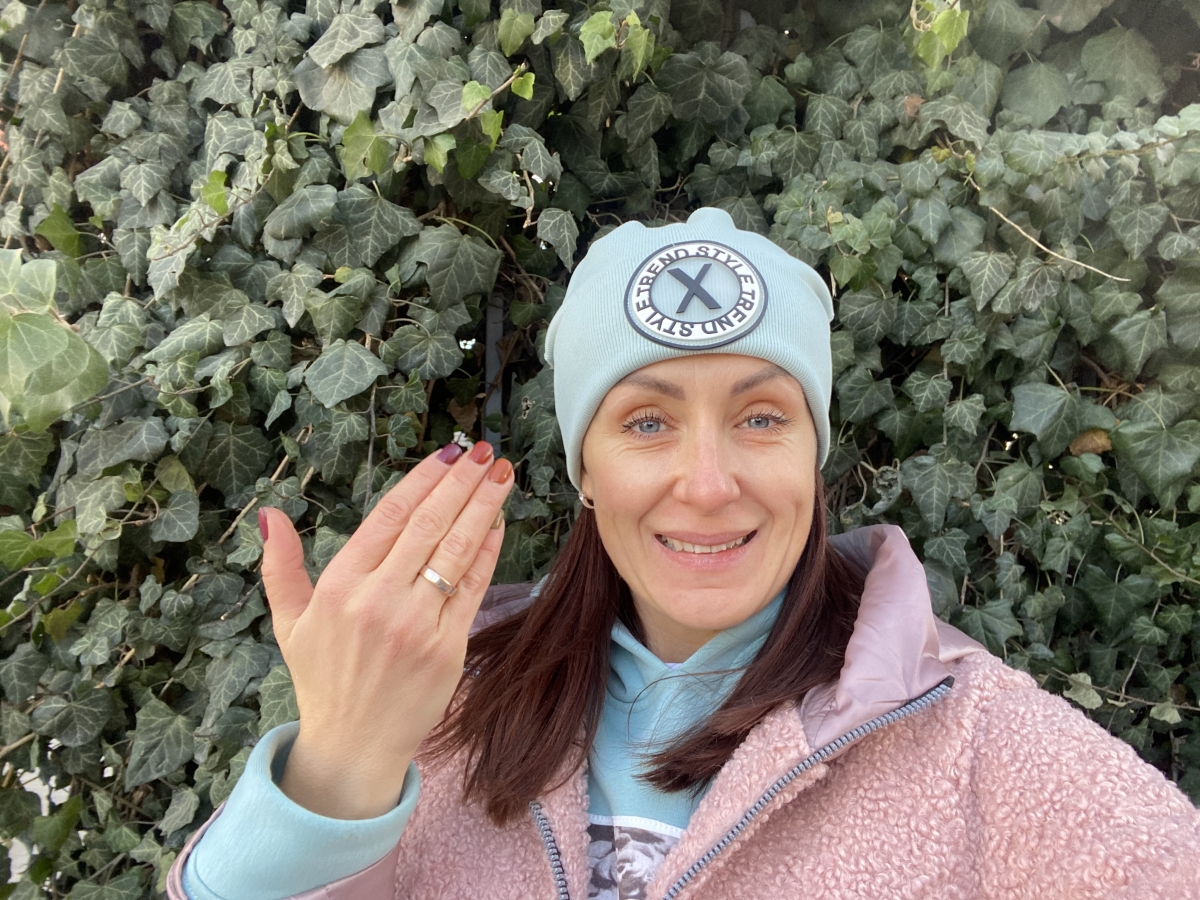 What's inside:
Massive update of Google Search Console module, January.
Full data from GSC, not sampled
Able to download 16-month history
Upload up to 100 projects just for 30 Eu/mo
All the data is shown in dynamics: you are able to eliminate dramatic deviations and fix it
Winners/Losers list: groups of pages with a dramatic increase or decrease over the given period (by impressions, clicks, CTR, rankings)
Active pages by groups: how many pages bring you the most traffic and what these pages are
Positions: this chart reflects all the rankings your website is getting in SERP
Insights: how many rankings you have at each position such as 1st, 2nd etc.
Cannibalization: how many urls compete with one and the same query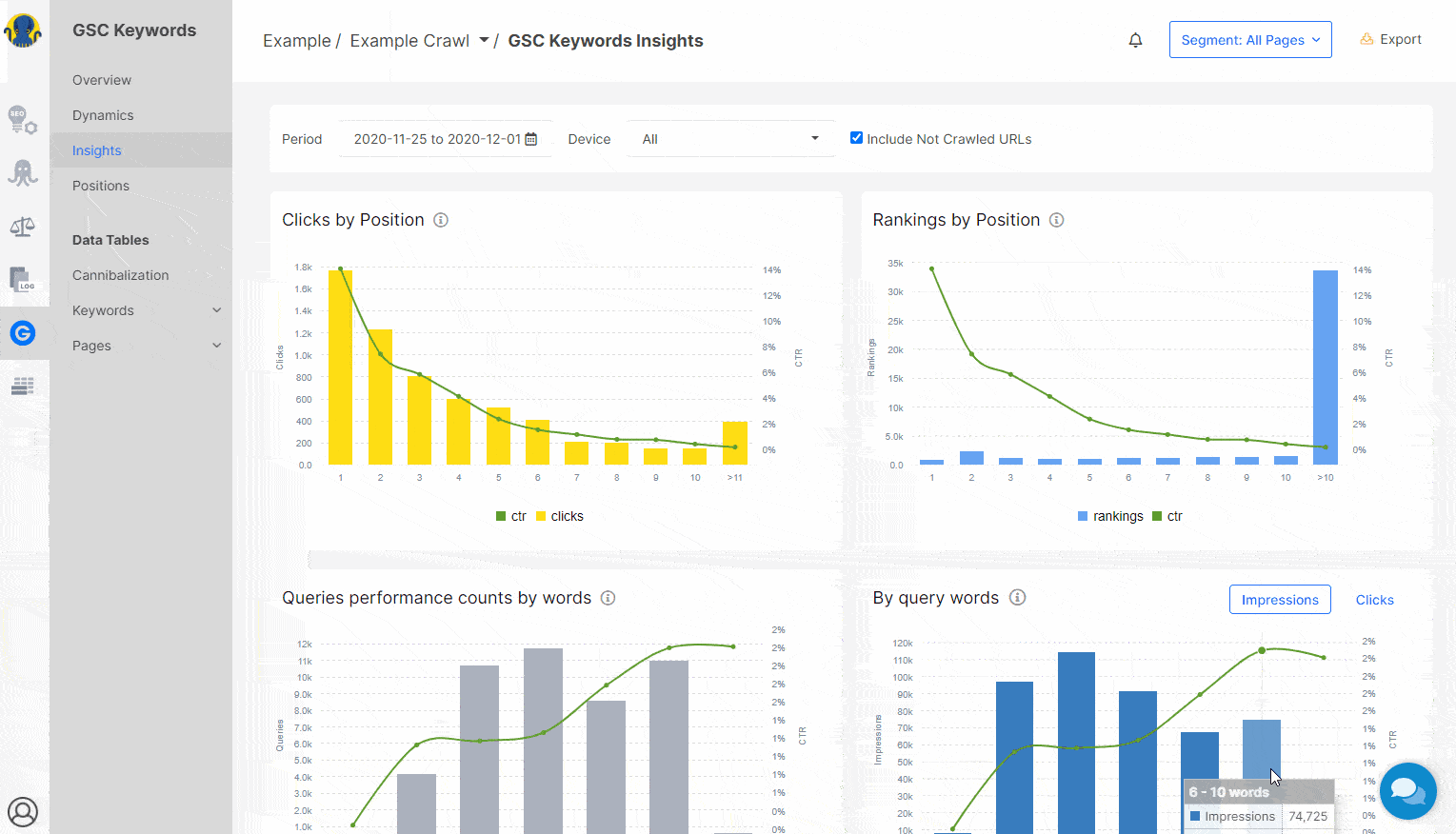 Custom extraction, February.
When you start your crawl you can now set additional criteria which you want to analyze in crawling report. Here are just several Use cases with additional value. There can be any of yours:
Get the number of products by categories
Get the number of internal links at the category page
Get the number of words in your SEO texts
Get the products which are not in stock
Check the element at the page (ex: the main image at the Product page)
Get the number of comments at a page
What you should do read here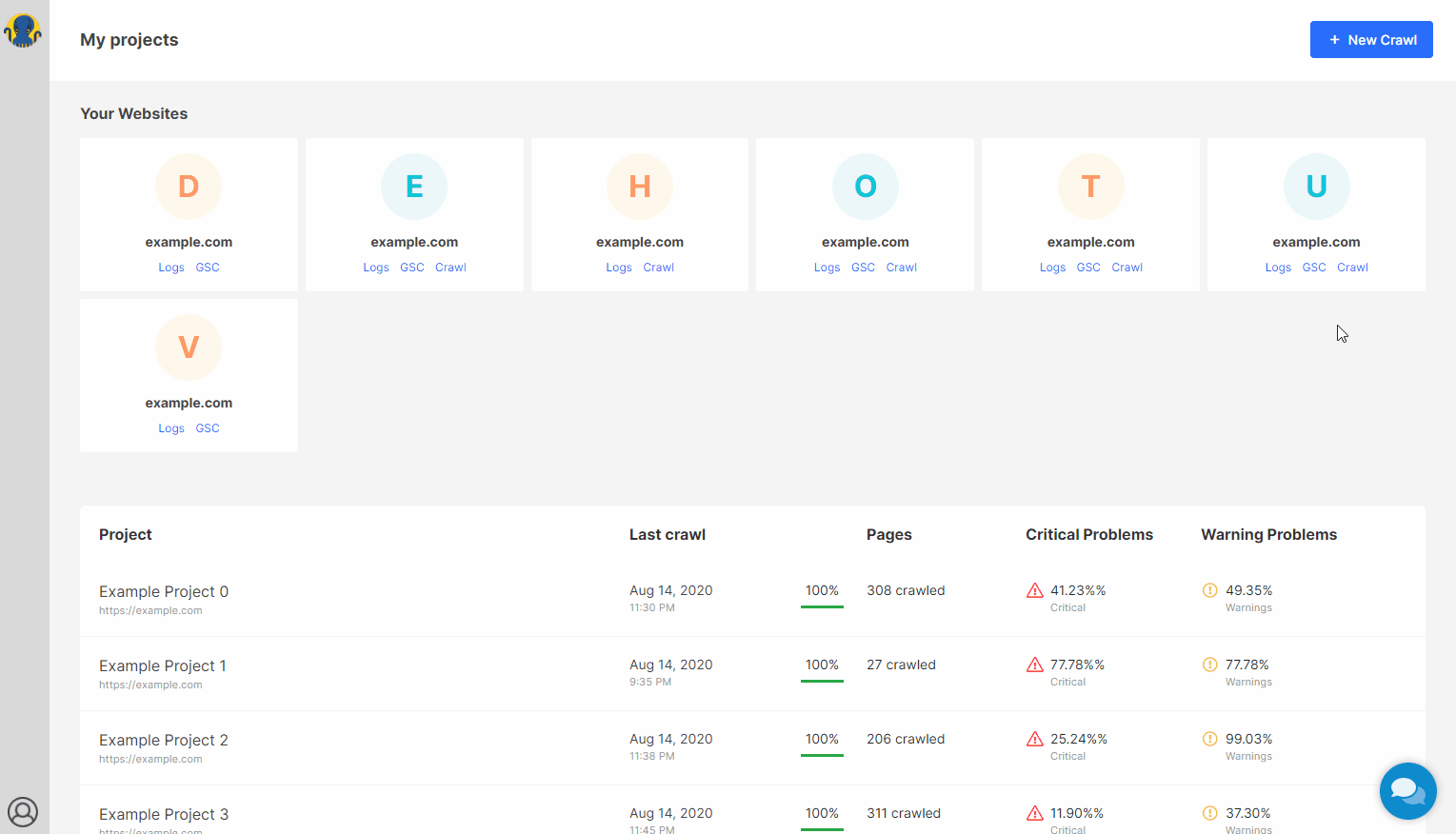 New pricing policy, March.
The world was shocked! COVID hit every other person on the Earth and of course it had and has a negative impact on all the businesses. Everybody started to cut the costs and it was obvious and logical. We couldn't stand aside and leave online businesses blind, without necessary tools for valid SEO marketing. And we've decided to re-design our pricing policy totally. The main goal was to make Tech SEO affordable to all, not just to Enterprise clients.
So, since March 2020:
You can buy each module separately (crawl, js crawl, gsc, log analyzer)
Or choose All inclusive which has 20% discount. Starts at 80 Eu/mo for 100K crawl, gsc, log analyzer.
If you don't like limits, forget about them. Choose NO limits package for your site size
The most affordable Log analyzer on the market, starts at just 50 Eu/mo
And for our users the need for cutting the costs and becoming blind has just disappeared.
Ideas section, May.
? How can I save my time with SEO audits?
? Can I get a full list of my tech SEO issues in one place?
? Where should I start first?
? Can I create my own KPIs and Problem types?
4 questions – 1 answer!
NEW Ideas report at JetOctopus:

– Issues found by the Crawler
– Issues identified with help of GSC Keywords
– Issues retrieved from Logs
+
– Problem prioritization
– Changes in time (new/solved issues)

If the list of issues given is not enough – create your own and maximum customized ones.

Do you need KPIs to keep your eye on every day? Easy!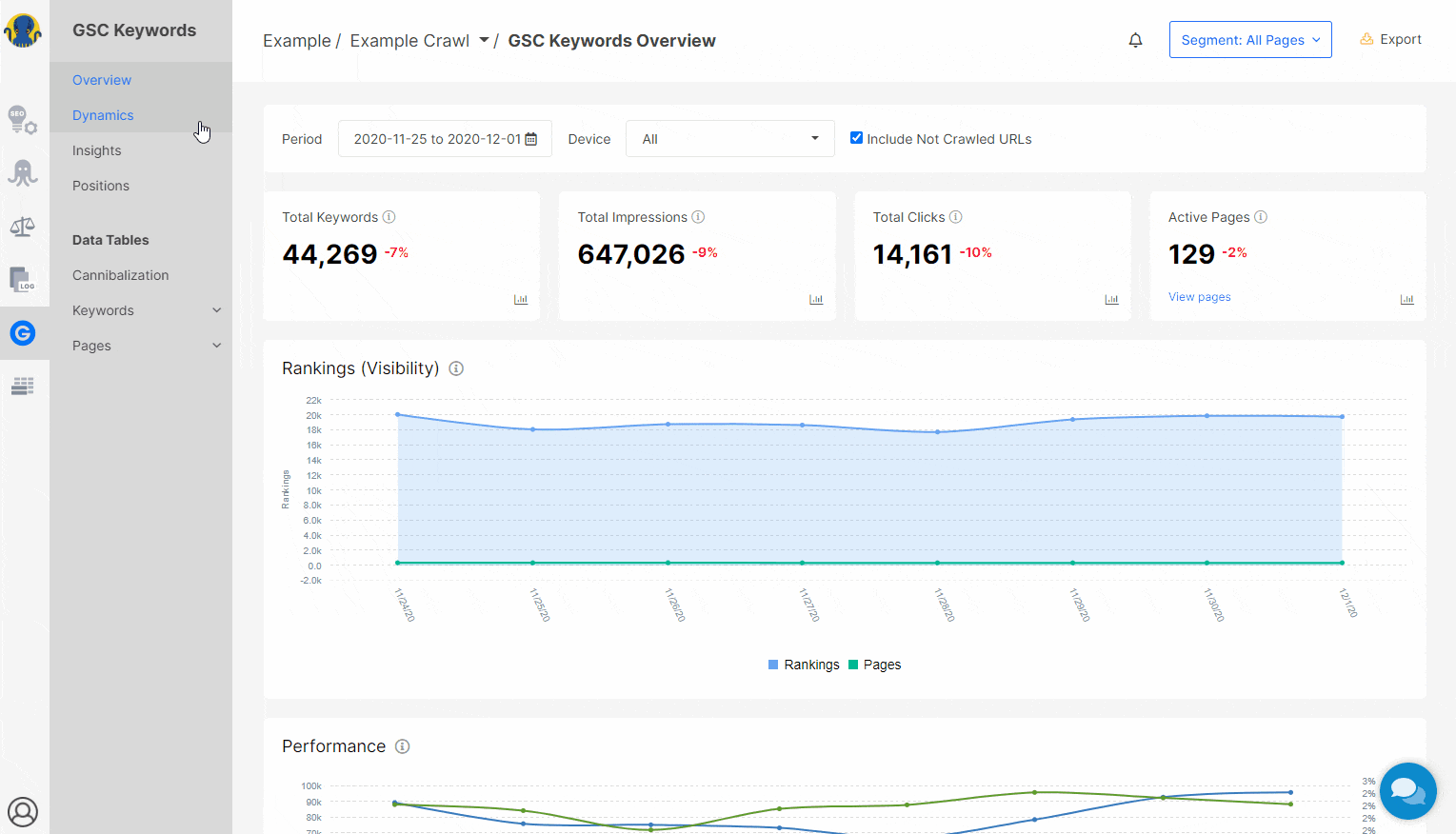 Upgrade of Links overview report. Interlinking analysis by quintiles, June.
Interlinking structure of a website divided by quintiles. It helps to visualize what % of your website is effectively interlinked (dark blue column) and to prioritize your interlinking optimizations correctly.
This chart gives you opportunity not just to watch general number of inlinks on a website but to know the average number of links on a page and make your interlinking more organic. Which plays a great role for search bots.
The average number of InLinks to a page by depth. It reflects again how organically your interlinking structure is organized.
Setup your Logs manually, July.
Finally, you can upload your logs yourself without the help of our dev team. Just pick up your files, choose the mode, import files, and watch your Logs section in a moment!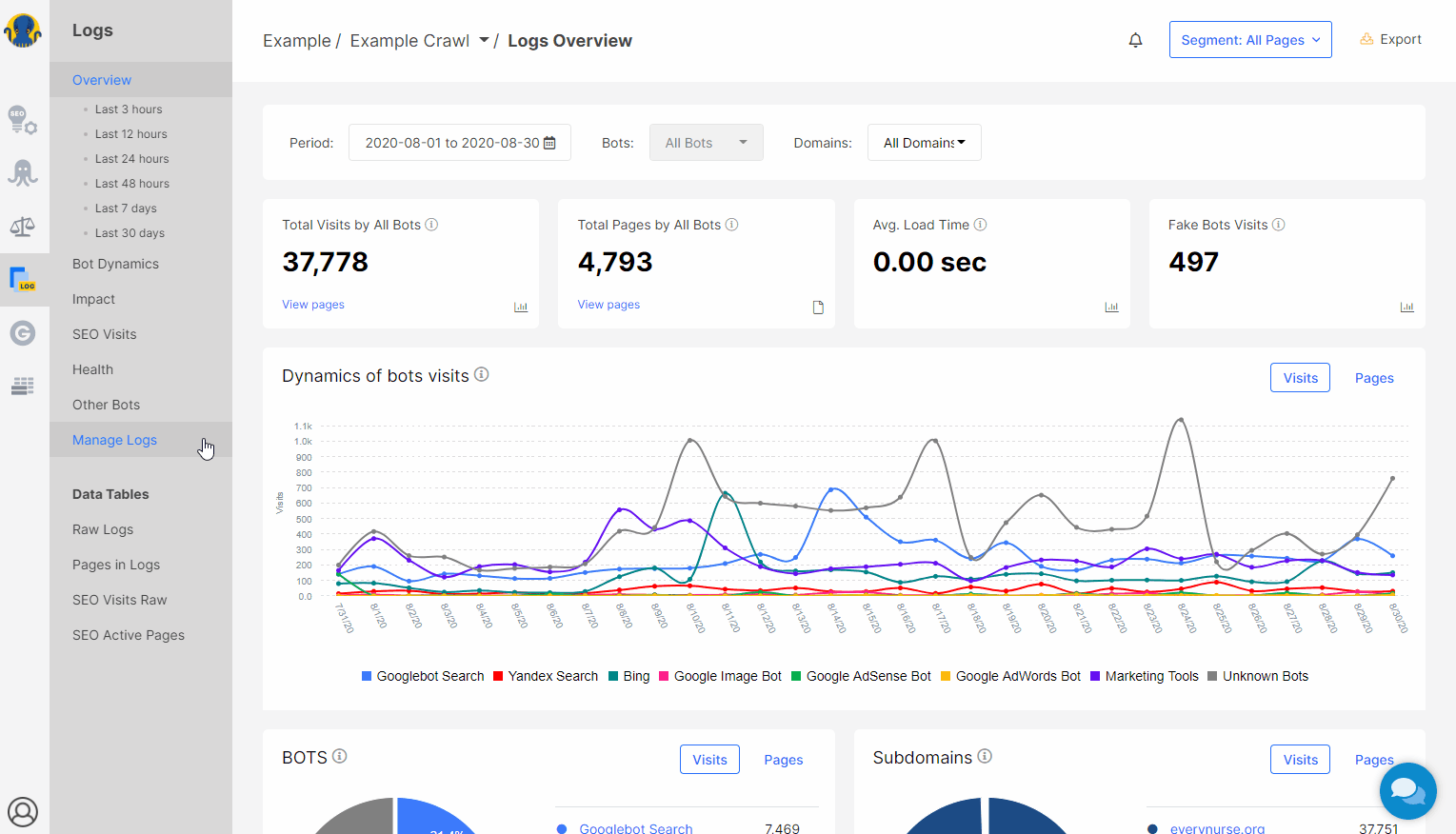 The Ultimate Log Files Analysis Checklist, July.
Grab this Checklist and leave the rivals behind!
What they say about Logs analysis:

…Log files analysis looks appealing but tough…
…We don't know how to work with it. It's for techy geeks…
…It's not safe. Data security… Personal data..
Etc. etc.
We've heard these arguments hundreds times and felt sorry as
Log files analysis is the most effective way to know how Googlebot perceives your website and What to change so to increase your rankings in SERP and boost your SEO traffic.
We've managed to attract many Tech SEO experts to create Absolutely Awesome Log Files Analysis Checklist which was even featured by Aleyda in her SEOFOMO newsletter.
Now you know where to start with Logs Analysis, what to check, what that means and what to fix watching the positive dynamics after improvements.
Ahrefs integration, August.
In August 2020 we were delighted to announce our next Product Update. Since then you can easily integrate your Ahrefs backlinks information into JetOctopus and overlap this data with Crawling, GSC and Logs to get the most effective SEO insights.
All you need is to integrate your Ahrefs into JetOctopus. Takes seconds.
No extra charge for this.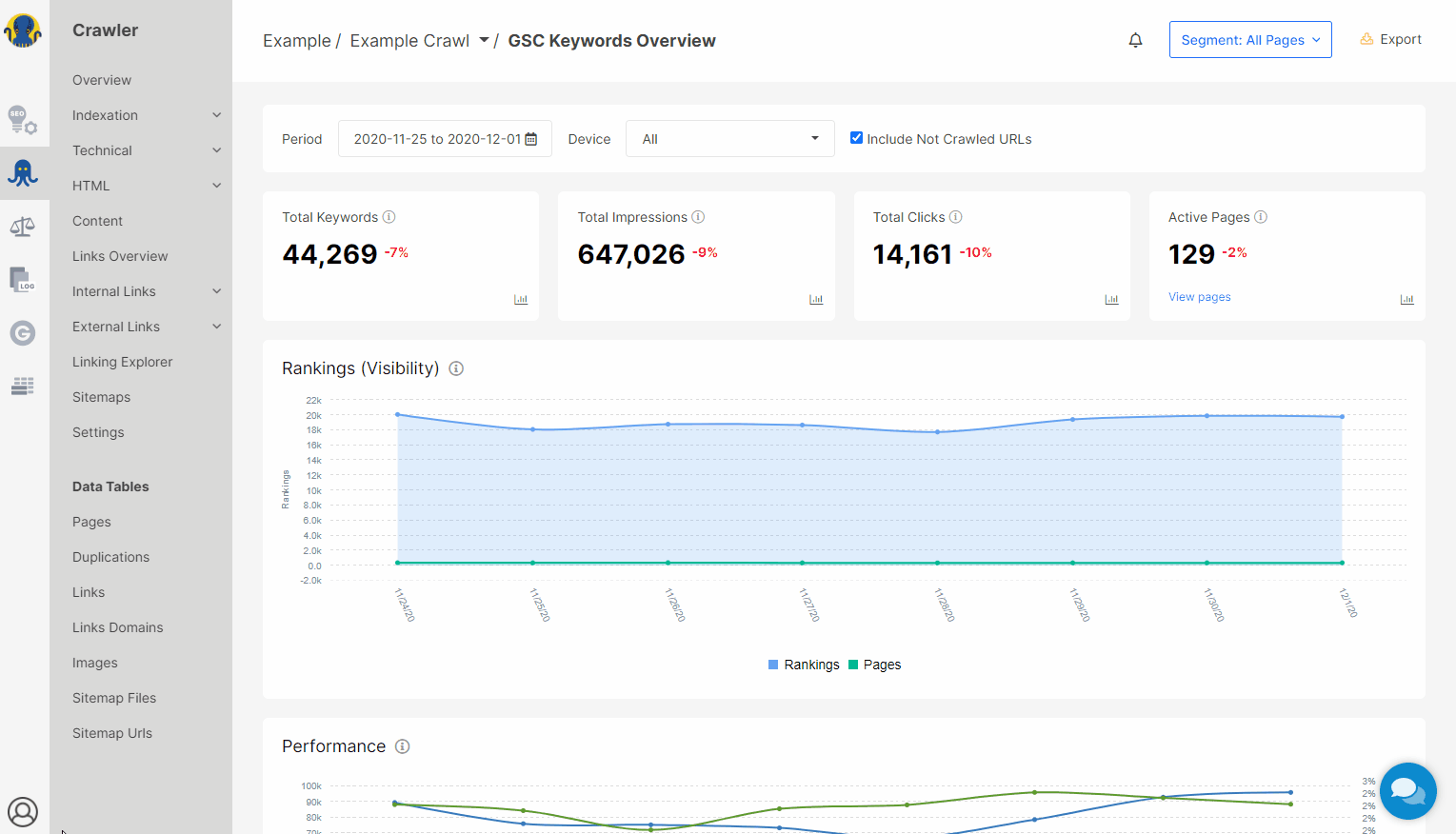 Http/Https checking, September.
Check if your website is secure. Even if it downloads with httpS it doesn't always mean that everything is secure! Your website can have legacy http elements on pages.

There can be:
– http words
– http forms
– http images! (which is really vulnerable!)
– links to http pages

Since September our users can easily eliminate any http element and fix it right away. Visit Crawl/Content section
Short video tutorial is here
Hoooraaaayyyyyy, JetOctopus is re-designed! September.
Our team will never forget the day when it was live. So much pain was in this re-design and finally it was over!
First 2 years after JetOctopus was launched we were spending all our efforts and resources to elaborate the platform and to integrate more tools for SEO managers. And now we finally were able to spend enough time for improving UI/UX of JetOctopus. We do hope that you find a new version of the dashboard exciting and easy-to-use.

Some facts:
– we've spent 6 months for it
– we've updated all the charts (~300)
– we've changed the logic of navigation
– we've added Info descriptions to all charts and SEO problems
– we've lightened color palette (it was tough!)
– Datatable is now a separate section in each dataset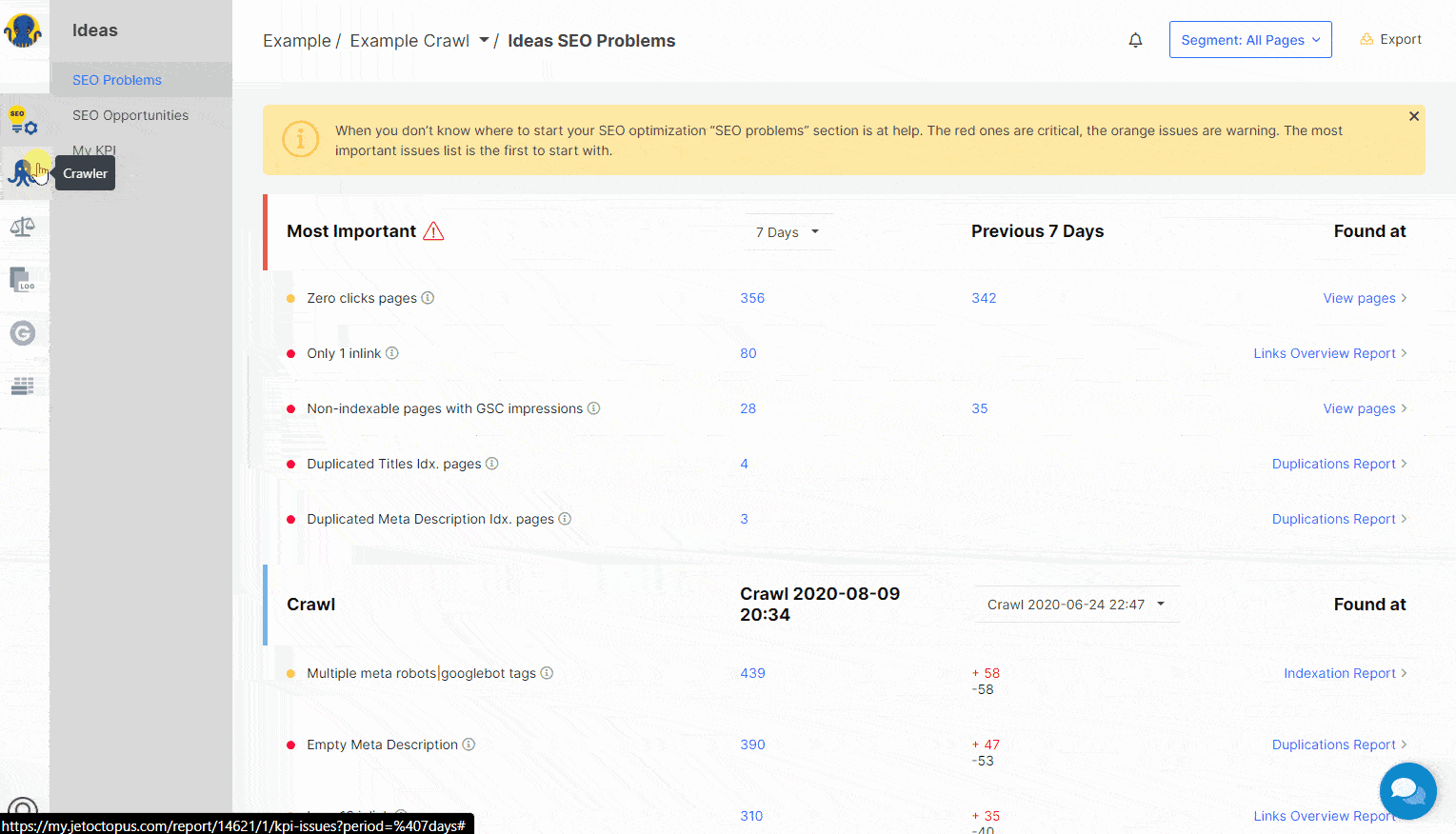 Upload my data, October.
Now our users can upload any additional datasets they need for getting more insights from site analysis. For example:
You can add PPC visits, social Ads visits and understand the impact of paid traffic channels on the SEO visits.
Create complex segments of any type not just a segment by the filter of the URL. It can be "The important pages", "The pages with content experiment" as far as your imagination lasts. And watch all the reports of JetOctopus by this particular segment!
When you need to upload a huge CSV and your excel is stuck because of data volume "my data" option can easily manage millions of lines on the fly (literally).
My favorite Use case of My data is to monitor the conversions on a website. When you overlap crawl with logs adding conversions from GA you can easily say What impact TechSEO has on the final conversions which bring you money!
Images, duplications, links domains datatables, October.
Images datatable – all the images of your website are gathered here. You can easily find the ones with empty titles or find your images on external domains.
Duplications datatable – it's a separate datatable for deep work with duplications (many ways to play with it). There is even an option to find duplications at the data gotten via custom extraction. Let's say you've exctracted Names of products from the whole website and want to know if there are duplicated names. Easy!
Links domains datatable – now you can easily analyse domains of all the links placed at your website and maybe find the harmful ones. Which could have been placed at your website even without your knowing.

It can be:
?- Links from not relevant websites
?- Links from 404 pages
?- Links from betting, gambling and even porn sites

It is SEO safety of your website. Video tutorial is here.
?
JavaScript Crawling, November.
You've been asking us for JS crawling so long and this day has come in November!
Pricing is simple: 1 JS crawl page = 2 HTML crawl pages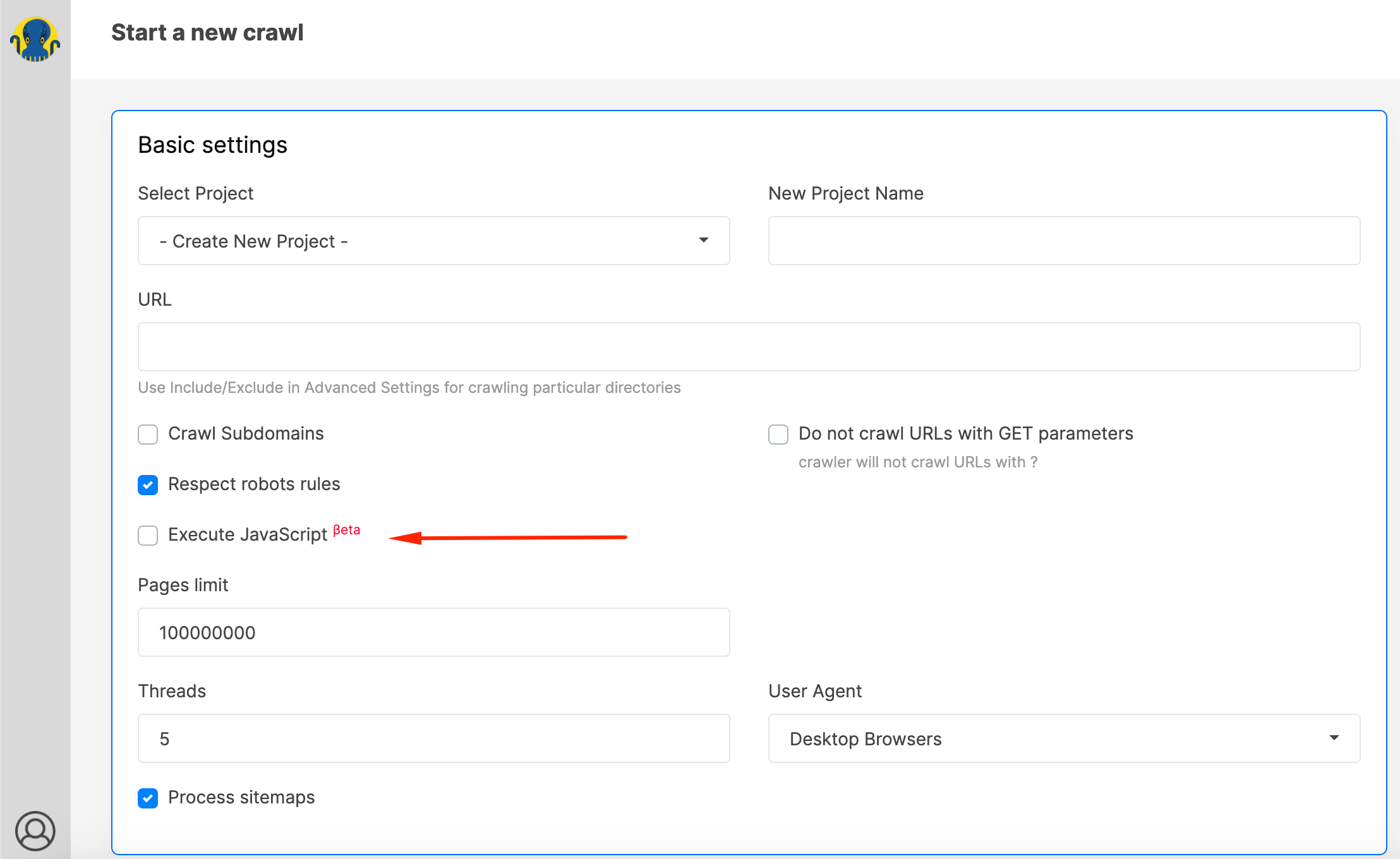 Onboarding, Tutorials, FAQ, How-tos, all year long.
User experience was a TOP priority for 2020! We know that we've built a spaceship and wanted so badly to make your life easier! Results:
re-design of navigation inside JetOctopus
every other chart in JetOctopus is described (282 charts)
FAQ section is launched (finally)

To be continued.
We've invested a lot in content marketing, all year long.
We are proud to have expertise TechSEO articles published on high-tier websites and get more and more mentions of JetOctopus in media of different countries
6 ways to Use Log File Analysis to Optimize your Crawl Budget
The Only Internal Linking Strategies You'll Need to Build Site Authority
Interview of Serge Bezborodov with Craig Campbell about Server Log Analysis
JetOctopus review at fatrank.com
The Most Obscure Tool for SEO and Digital Marketing Sector 'Opinions About Turkey in Turkey – jetoctopus
European Search Award, Global Search Award.
It was our first test of a pen and it was successful twice!!! JetOctopus from the first trial, after just 2,5 year being public, was shortlisted in both awards in the category "The Best Global SEO Software Suite". Let's bet when we get the main prize☺
I can not help but share it with you because it is your achievement as well. We just love to get your feedback concerning our tools. What you like and what you lack. What else you want to have in our platform. We are 100% client-oriented and our product roadmap depends a lot on our clients' needs. That's why our live chat is very responsive and always will be!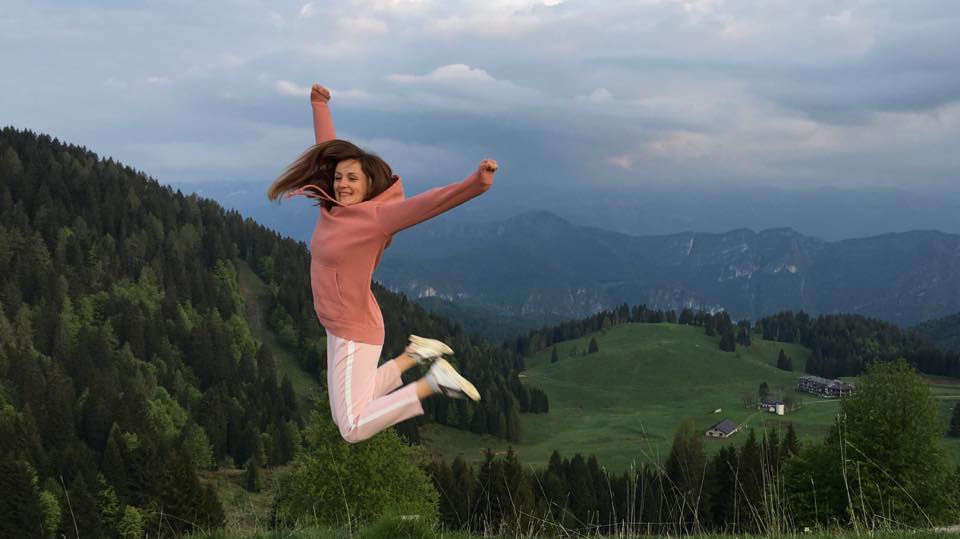 Why we've invested so much efforts and resources in JetOctopus in 2020:
To make JetOctopus many times more powerful for exhaustive TechSEO analysis
To make full-fledged TechSEO analysis affordable to all and to make SEO world a better place☺
To make user journey as pleasant and intuitive as possible (but there is no limit to perfection when we speak about UI:) to be continued)
To increase brand awareness of JetOctopus globally
All JetOctopus team was working truly hard and passionately on the main goals of 2020 which were not just Techy ones but a lot of strategic, client-oriented upgrades had place. And I am really proud of what, we guys, have succeeded! Thanks to the work of the team!
T – together
E – everyone
A – achieves
M – more
That's definitely about JetOctopus Team. I am proud of you all!