JetOctopus is a comprehensive tool for SEO that has many advantages and cool features. We would like to remind you about several cool features that will help you use JetOctopus more effectively. Thanks to these tools, you will be able to analyze the website in less time. And you will be able to find technical problems, the solution of which will have the most results! Let's go!
1. Linking Explorer
The "Linking Explorer" tool allows you to analyze internal linking on your website. But this tool shows not just the number of internal links but allows you to get complete information about the type of internal links, their value and their hierarchy for each page/pages segment or for a website in general.

Explore internal linking for the entire website:
use the mask to find out which pages have the most internal linking (and internal linking is important to search engines!);
analyze which anchors are used the most (are these anchors effective? Do users understand where they are clicking? );
find broken internal links;
explore the structure of internal links for a specific page or segment of pages.

As you know, internal links are still very important for search engines. Therefore, we recommend that you carefully approach the analysis of internal links. Using the "Link Explorer" tool, you can create an efficient internal linking strategy to get more traffic.
Read about how to use the Linking Explorer tool in the article: How to use the Linking Explorer tool.
2. Core Web Vitals analysis
Website performance and page speed are of great importance to users. According to recent research, the longer a page is loading, the less likely the user is to make a purchase. Search engines support users in their desire to use fast websites, so Google takes into account various metrics related to loading speed when ranking pages in SERPs.
There are two types of data taken into account: lab data (the ones you use when analyzing the current state of the page) and real user data (you can see this data in Google Search Console). Lab data and user data can be very different, so both need to be monitored. The JetOctopus team has been looking for a solution for a long time: how to make the analysis of Core Web Vitals convenient? How to make it possible to test many pages at once, instead of testing each one in Page Speed? And we found a solution!
We have created a convenient tool for analyzing Core Web Vitals metrics. As a result, you will get a convenient visualization for each of the metrics separately.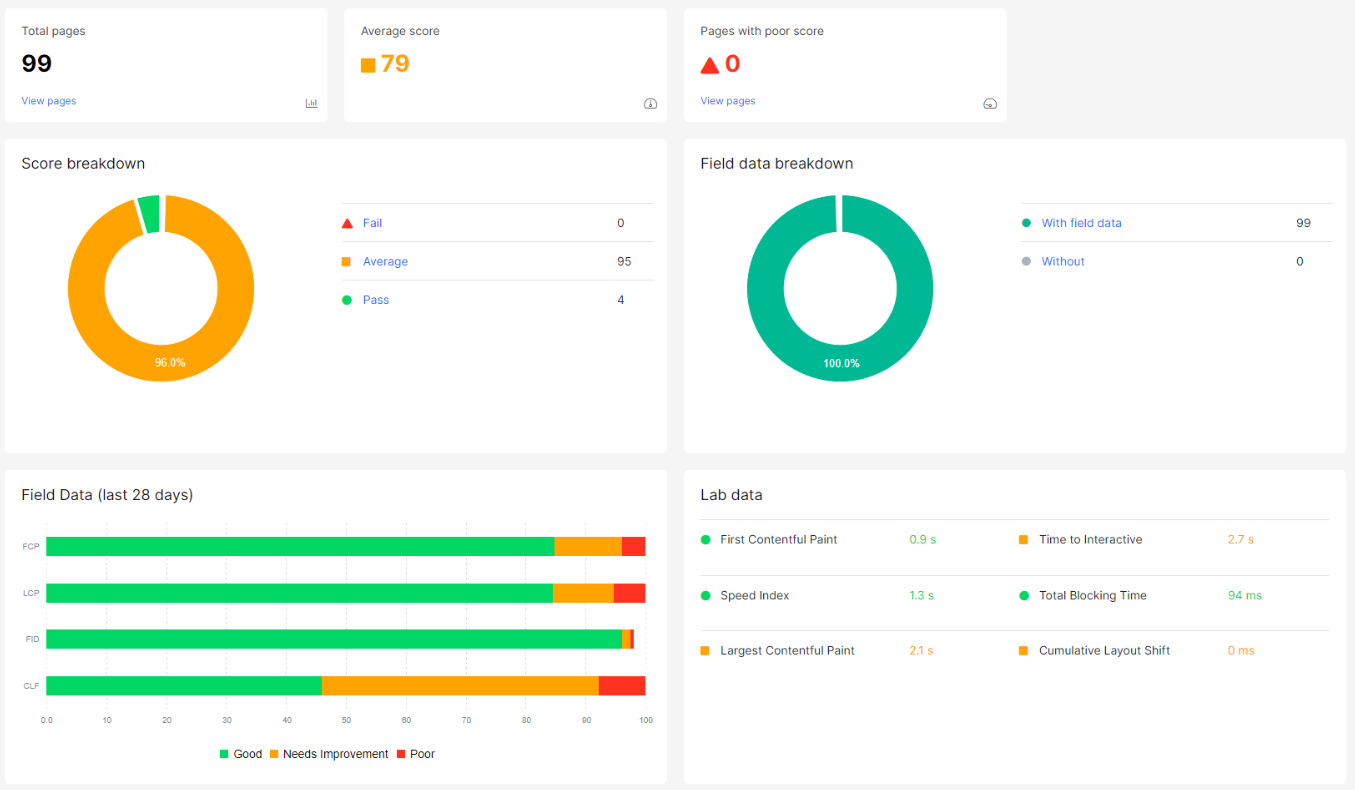 You can check any sample pages. Select the desired pages from the crawl results or the logs, click the "Tools" button and select "Cor Web Vitals" from the list. Done! No more manual boring checks!
And you can set up a regular check of selected pages on Core Web Vitals metrics. And of course, you can set up alerts! Find out as soon as possible if pages start to take longer to load or if any metrics fall outside the green zone.
More information: How to analyze Core Web Vitals with JetOctopus
Guide to creating alerts: tips that will help not miss any error.
3. Seo Active Pages report
Have you ever looked at the "Seo Active Pages" report? Report usage statistics at JetOctopus say that not many of our customers use this report. And in vain, because this report contains very useful insights and data!
The report is available in the "Logs" section. Go to the data table and select "Seo Active Pages". In the drop-down menu, you will find several additional reports.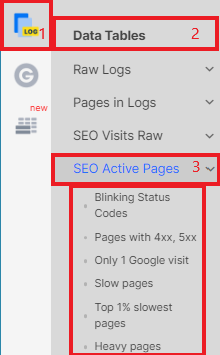 What information is in this report? All the pages for the selected period that received traffic from Google or another search engine you selected are collected here.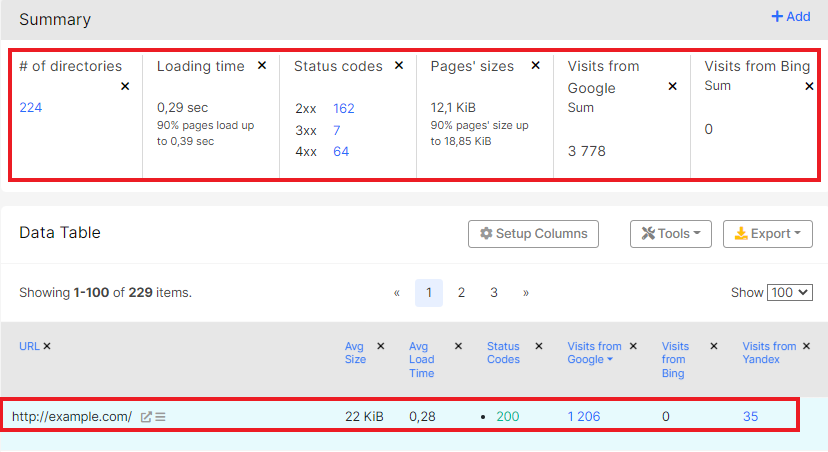 Pay attention to the status code of these pages: if the page did not return a 200 status code, then the user did not receive the desired information. This can negatively impact conversions and bounce rates. Also, important indicators are load time and page size.
4. URL Inspection Tool
The URL Inspection Tool is one of our most anticipated updates of 2022. With this tool, you can:
bulk check whether URLs are indexed or not;
quickly receive information about the coverage status of pages in Google (600 URLs per minute);
analyze mobile usability status;
check whether there were errors during the indexing of Google pages.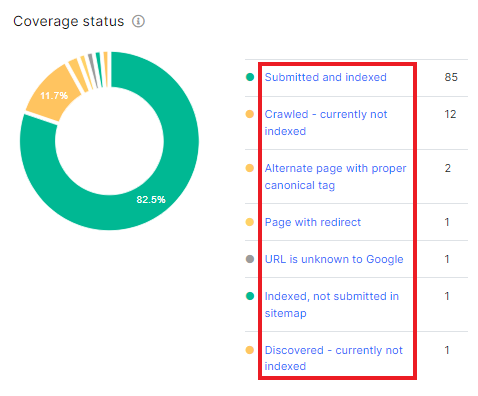 You can analyze any sample pages in just two clicks. To do this, filter the desired pages in the data table, click the "Tools" button above the table and select "URL Inspection Tool" from the list. And in just a few minutes you will get the result.
More information: Product Update. GSC URL Inspection Tool.
5. Creation of sitemaps
Sitemaps are an effective way to provide Google and other search engines with information about new and unscanned pages on your website.
During crawling, you can find many unindexed pages that, however, have high potential in search results. Therefore, these pages should be submitted to Google.
With JetOctopus, you can create a sitemap with any pages in just a few steps.
1. Select the required URLs: they can be those that search bots have not crawled for more than 3 months, orphaned pages, pages that are not in current sitemaps, etc.
2. Click the "Export" button and select "to Sitemap".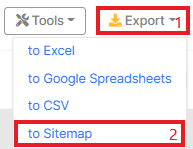 3. Configure "Date lastmod" and other elements of the sitemap, and export it.
4. Add a sitemap to the root of your website and submit it to Google.
It's very simple, isn't it?
More information: How to generate a sitemap with JetOctopus and how to submit it to Google.
6. URL Explorer
Very interesting and useful feature. Go to any data table and click on the icon with lines next to the URL.

Select the desired feature from the drop-down menu:
check whether the URL is indexed in Google;
check the page cache in Google;
check page performance;
analyze effectiveness in SERPs and keywords;
check the frequency of page scanning by search engines;
check internal links, etc.
But the most unique is the ability to view the page as a Googlebot: you can view the page as a standard Google or view the page as an evergreen rendering Googlebot!
We recommend using this feature for page-by-page analysis.
JetOctopus has many more interesting features, which we will talk about in the next articles of our blog. See you!