With each update, Google's ranking algorithm is becoming increasingly smarter in determining the quality of content and user experience on websites.
Sure, time-tested SEO tactics such as link building and keywords optimization aren't going anywhere anytime soon — and you must continue working on these as usual — but there are certain SEO trends worth your attention as we step into 2022.
In this post, we distill the top trends in SEO with the help of twelve experts. Let's dive right into it!
Trend #1: Google's E-A-T Remains the Driving Force Behind Rankings
Unless you've just entered the field of SEO, you've likely heard about Google's E-A-T, which stands for expertise, authoritativeness, and trustworthiness.
While this concept has been around since 2014, it's still one of the most pivotal factors affecting a site's rankings, and will only continue to gain more importance.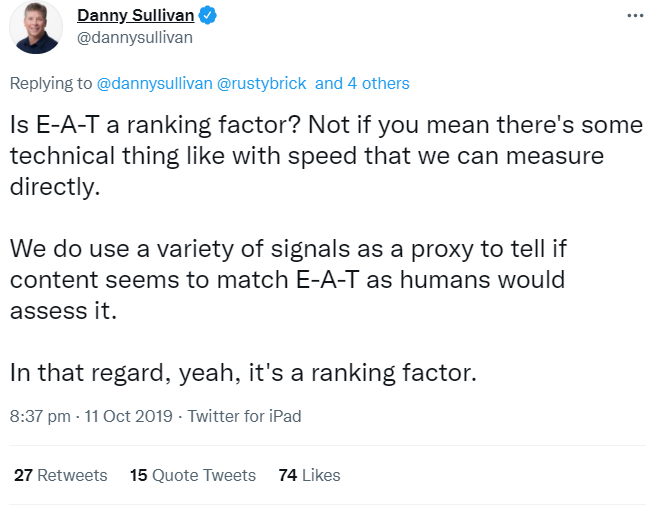 Google focuses on these three elements (E, A, and T) to determine the content quality of a web page. E-A-T is made up of a combination of the creator, the content, and the website:
Expertise: Your content should ideally be created by subject matter experts, be it you or hired professionals. Don't provide inaccurate or outdated information that may impact people's well-being negatively.
Authority: Prove your page's authority with links and mentions from high-quality websites in your niche. The more reputable citations you earn, the more authority you build.
Trustworthiness: Google wants to rank websites and content that's reliable. Boost your trustworthiness by showcasing the credentials of your content creators and the team behind the scenes. Also try to garner and showcase reviews, awards, testimonials, endorsements, and other trust factors.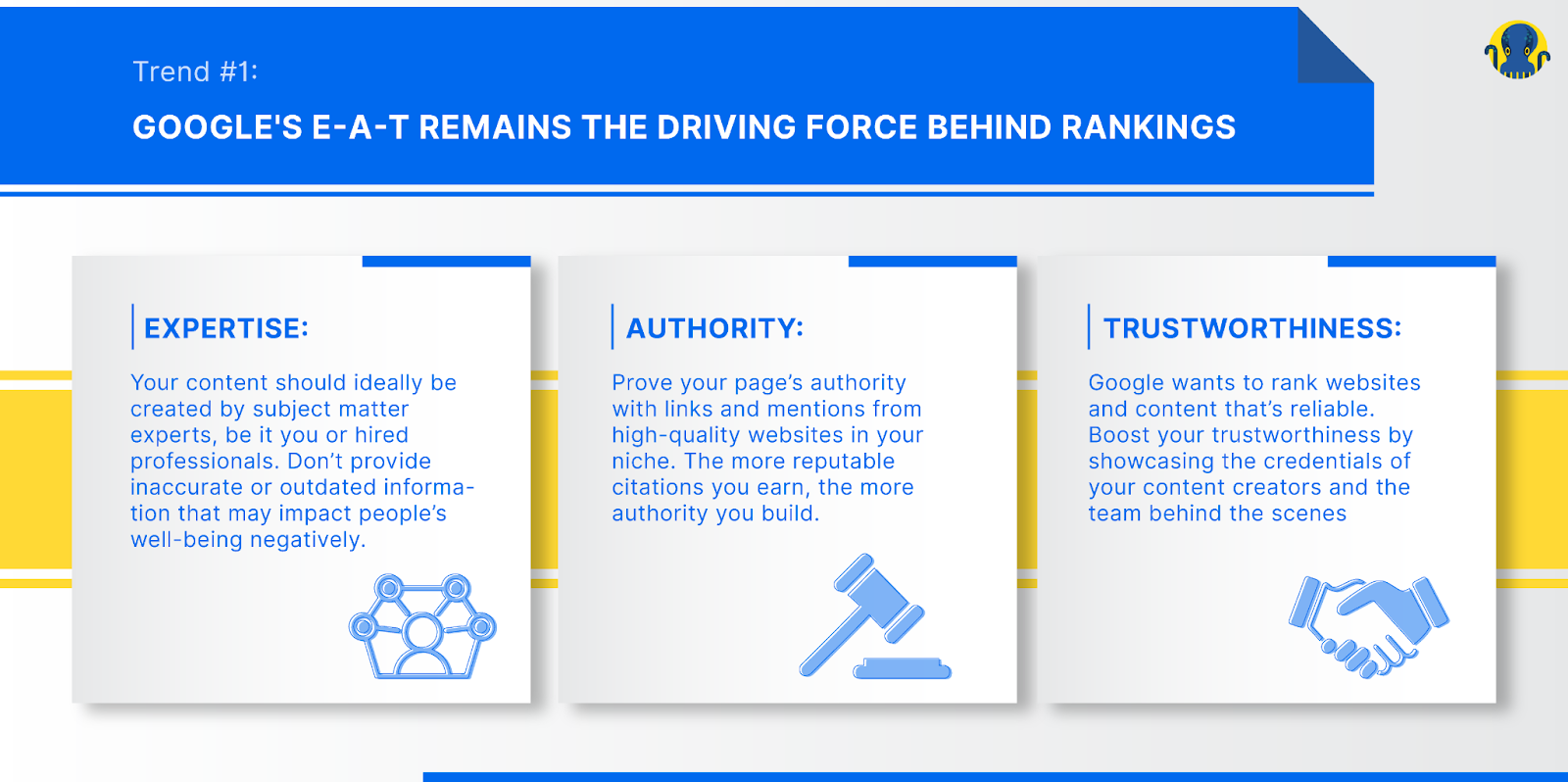 The concept of E-A-T is especially important for websites that fall under the "Your Money or Your Life" (YMYL) category, such as financial or fitness advice.
"The leading SEO trend in 2022 will continue to be E-A-T. I know I sound like a broken record, but E-A-T is the driving force behind what makes sites rank in recent years, especially on YMYL (your money, your life) topics," corroborates Lily Ray, Sr. Director, SEO & Head of Organic Research at Amsive Digital.
"Other SEO tactics ebb and flow in importance, such as small technical tweaks that Google gets better at understanding on its own (or even ignores our suggestions) over time. Focusing on E-A-T is the best long-term, forward-thinking SEO strategy because Google's algorithms are becoming increasingly sophisticated in their ability to understand what is truly expert, authoritative content," explains Lily.
Jonas Sickler, SEO Manager at Terakeet agrees:
"In terms of search evolution, I believe Google will continue to refine its ability to comprehend topics and E-A-T signals across different forms of media and channels.
In 2022's cookie-free future, I predict Google will double down on the importance of a website's user connection and search relevance. This means SEOs will need to shift away from traditional product-based content marketing and toward personalized, audience data-driven, and search intent-based content. High-quality online content that answers the questions consumers are searching for, like product comparisons and how-to guides, will help pages rank higher and capture valuable traffic.
This will help ensure SEOs maximize their brand's search market share and are well-positioned to reach their target audiences in Google."
Trend #2: Technical SEO Continues to Evolve
Let's get a bit technical, shall we? For the most part, technical SEO aspects such as speed, security, sitemaps, structured data, etc. have and will continue to play a vital role in a website's rankings on Google.
But in 2022, there'll be a few small albeit important considerations to watch out for, with regards to image format, internet protocol (HTTP), and AR/VR technology.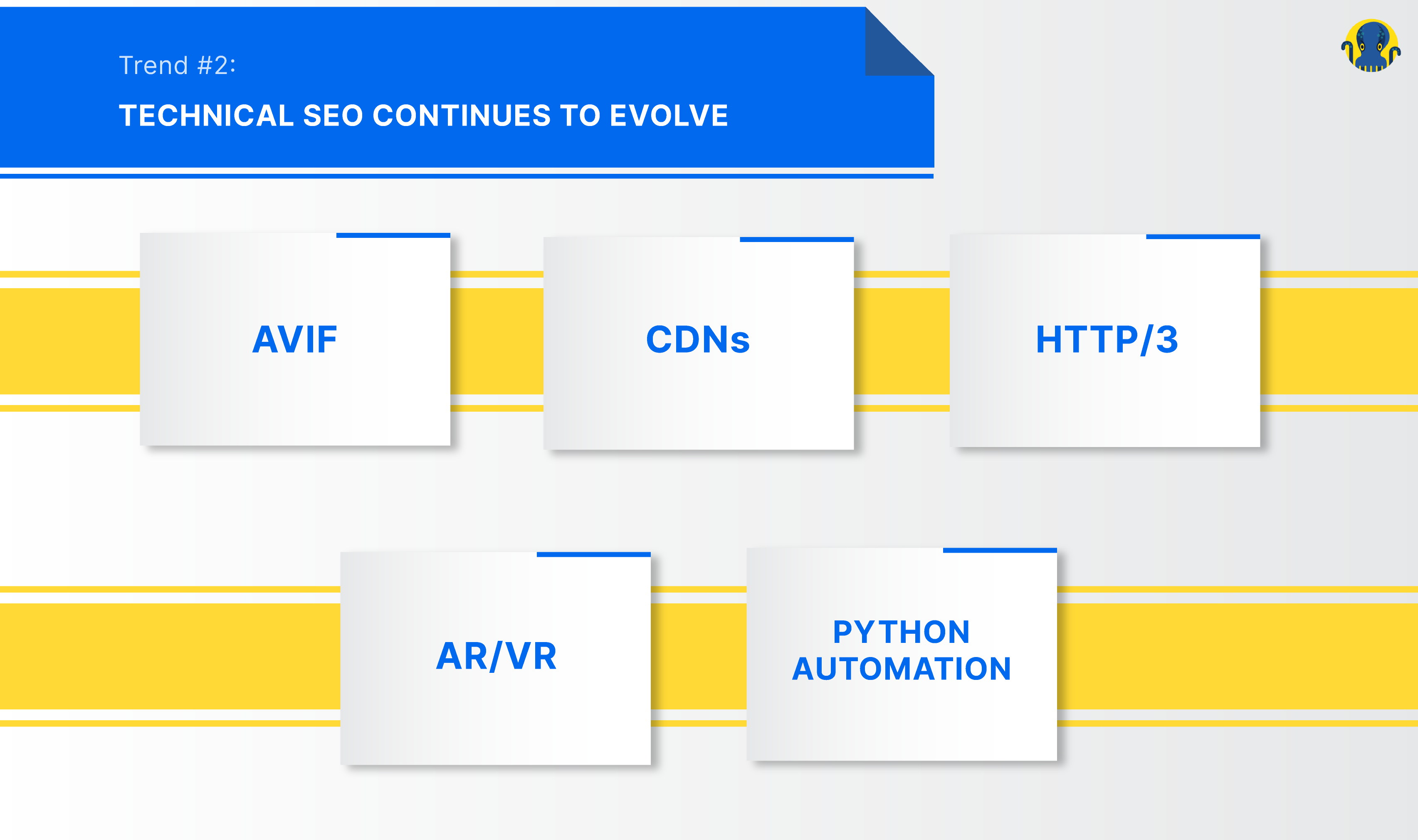 David Reid, Technical SEO Manager at iProspect, shines some light on this trend:
"For Tech SEO specifically, look back at older image formats such as JPEG-LS or JP2 and compare that to AVIF against what's most compatible for your audience. There's no harm in serving the basic .jpg or .png format to bots and serving newer formats to visitors. I feel speed performance will continue to evolve in 2022, even if bots don't keep up with the trends. CDNs are already experimenting with HTTP/3, YouTube has it already, and whilst the SEO industry is still stuck with the HTTP/2 bug in the GSC inspection tool."
"Whilst AR/VR has a long way to go yet that makes it difficult to apply optimizations to these experiences from an SEO perspective. You should consider experimenting with technology like Google does to learn what works well for your clients and what doesn't. I see this as a trend rather than a fad because even analytics software is being applied to AR/VR and you wouldn't invest in that application of analytics if it weren't a trend," adds David.
"Without trying to use all of the buzzwords that are out there, I believe I think that a leading SEO trend will be more of a lean towards AI & ML based technologies. I know a number of companies and agencies out there are working on some really cool tools that can really help supercharge SEO insights," suggests Tom Pool, Technical SEO Director, Blue Array
Furthermore, more and more activities are getting automated with advanced software, and SEO-specific tasks such as logs file analysis are no exception.
"I think the biggest trend in SEO for 2022 will be Python automation for SEO professionals. It can save masses of time by automating tech SEO tasks, and also analyzing massive data sets. As more of us learn Python we will be able to do our jobs better and make better-informed decisions for the benefit of our clients. Some available Python scripts can help SEOs to map URLs ahead of migration, analyze on-page elements, internal link analysis, analyze log files, validate hreflang, competitor analysis, and more," explains Nikki Halliwell, Technical SEO Manager, Rise at Seven.
Trend #3: Focus on Search Intent and Consumer Journey
In the real world, it's ultimately the actions that matter, not intentions. But understanding the intent behind a person's actions does help paint a complete picture.
Likewise, in the digital world, understanding the intent behind a user's search query is vital to creating content that's relevant and rank-worthy.
"Search algorithms are getting more and more advanced every day, and the search engine result pages (SERP) are also getting more and more crowded with various rich features. One key aspect of appearing in the SERP in 2022 will be paying more attention to the search intent. In other words, SEO specialists will have to find out what topics to cover, how to structure the content, and what content format might be the best for a search query. The challenge will be in understanding the users and providing them with what they are looking for," suggests Samuel Schmitt, Founder of thruuu.
Jonas Sickler, who explained how SEOs must shift away from traditional product-based content marketing and toward personalized, audience data-driven, and search intent-based content, also suggests:
"Informational content will be a significant growth driver in the 2022 organic search landscape.
The pandemic changed human behavior on a global scale, and that includes search behavior. Because consumers were shuttered away in their homes, people looked to Google instead of in-store sales associates to answer product-related questions. As a result, SERPs that once favored product pages now returned more comparative and informational articles to meet the shifting consumer search intent.
Brands that recognize this trend will dominate organic search going forward. A prime example comes from the beauty industry where online publishers like Allure and Byrdie snatched up organic search market share from established retailers by creating high-quality informational content."
But there's more to it than search intent. You need to consider the entire consumer journey and craft a comprehensive content strategy that aligns with each touchpoint.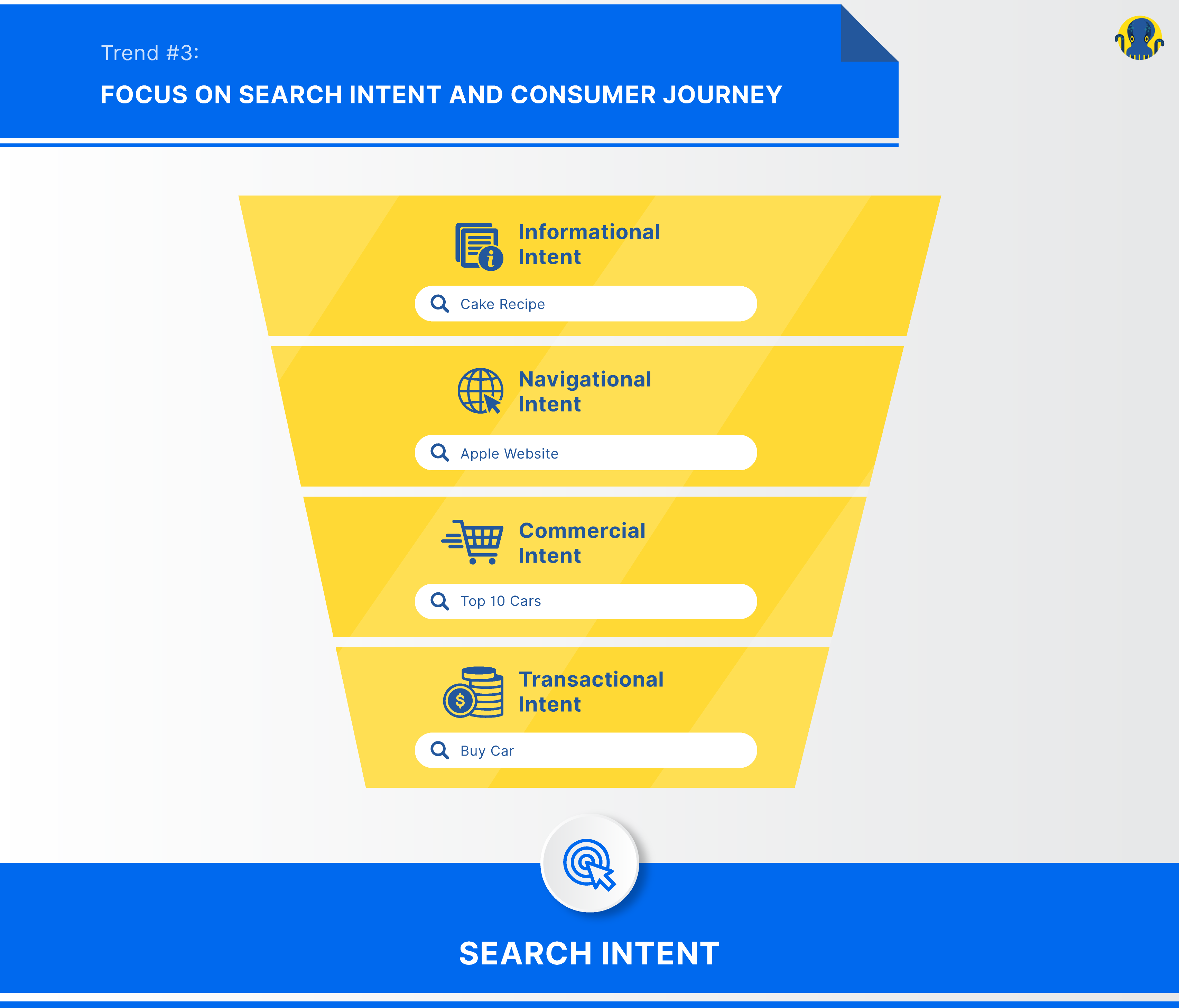 Jeff Ferguson, Partner & Head Production at Amplitude Digital, explains this very well:
"I think the major shifts in SEO (especially if I have anything to do with it), will be a realization that we need to move beyond our simplistic concepts of 'search intent' and instead align our content strategies with the complex concept of the Consumer Journey. While hack SEOs simply try and '10x' their content through 'Skyscraper' methods, the real marketers out there will create useful content for their target audience that aligns with where their target audience lives in their Consumer Journeys, that ranks as well."
Moreover, as both brands and Google shift their focus on search intent and consumer journey, black-hat and grey-hat SEO techniques are sure to die slow, painful deaths.
"I also think this will be the year that a lot of the 'Grey Hat' SEO techniques that have slipped beneath the radar, such as Link Tiers or Private Blog Networks, will finally get detected properly on an algorithmic level. It might not be those two specifically, but there's bound to be a few new tricks Google's algos can finally detect and there will be great gnashing of teeth and tearing of clothes from the Grey SEO community for sure.
Overall, I think the SEO world will be a bit quiet in comparison to the shakeup the world will feel when Google pulls the plug on third-party tracking pixels in 2022. While people are losing their minds over that one, Google could sneak out all sorts of improvements and no one would care," elaborates Jeff.
Trend #4: Local SEO Becomes Essential for SMEs
As consumer behavior is shifting toward supporting local small businesses over multinational brands, SMEs must focus their efforts on building a strong local search presence.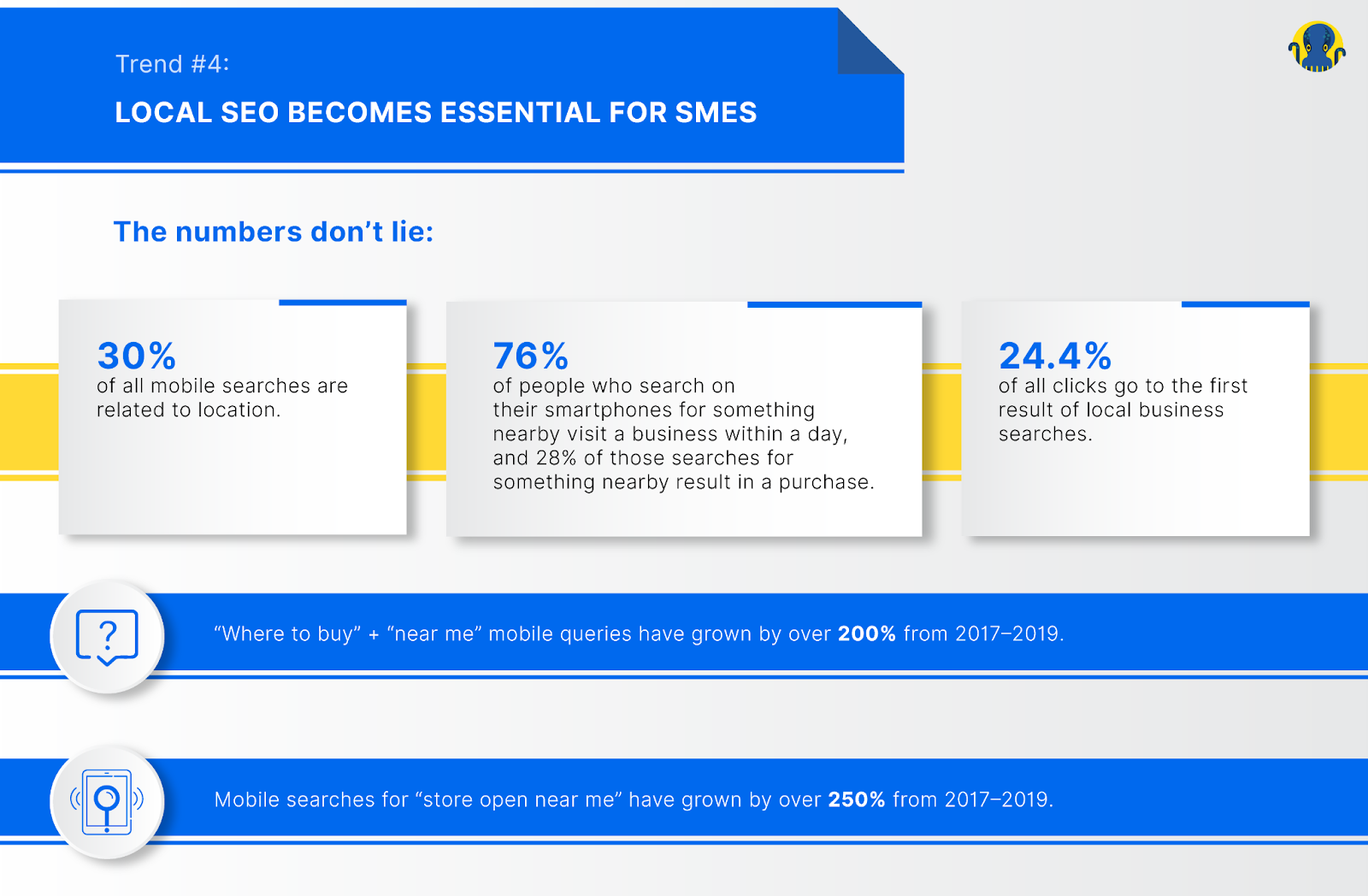 The numbers don't lie:
30% of all mobile searches are related to location.
"Where to buy" + "near me" mobile queries have grown by over 200% from 2017–2019.
Mobile searches for "store open near me" have grown by over 250% from 2017–2019.
76% of people who search on their smartphones for something nearby visit a business within a day, and 28% of those searches for something nearby result in a purchase.
24.4% of all clicks go to the first result of local business searches.
Local SEO is essentially a strategy that helps local businesses gain more visibility in local search results on Google. Be it a small shop, cafe, or agency, local SEO is all about optimizing your website for geo-specific search queries and keywords to attract high-intent traffic and footfalls to your business.
"B2C businesses should hone in on localized SEO in 2022. In the wake of the pandemic, more and more consumers show their support for local and independent businesses. An increased awareness of sustainability paired with recent supply chain issues across the UK has forced shoppers to reassess their buying habits," says Rachel Ferguson, Digital Marketing Manager at Dojo.
"In 2021 then, we're seeing buyers look closer to home – not only for their day-to-day necessities but also their experiences – fine dining, hair salons, coffees, and entertainment with friends. This provides an excellent opportunity for SMEs to upskill on SEO if they haven't already. In 2018 Google reported that localized SEO searches such as 'near me today/tonight' grew on mobile 900% – I'm no doubt this has increased given the current landscape," adds Rachel.
So if you're a local SME, how can you get started with local SEO? Here's what Rachel advises:
"As an initial start, small businesses can leverage and sustain their localized SEO by:
Creating and optimizing their Google My Business Account
Generating a stream of regular customer reviews on their business account and other platforms such as Trustpilot and Yelp
Utilizing Schema.org markup and other rich data
Claiming their business on Google Maps and making sure their location and address is constantly updated
Create guide content and locally relevant blog content
This, alongside a consistent and researched long-form content plan, will improve SMEs' overall visibility and market presence."
Trend #5: Google's Core Web Vitals Gain More Importance
Google's increasing focus on rewarding superior user experience isn't breaking news. And a huge part of user experience is not just how fast, but how well your site's content loads in a user's browser.
Along these lines, in May 2020, Google introduced a set of page experience metrics called Web Vitals. These metrics serve as a more granular, user-centered way of measuring and optimizing page load time.
Core Web Vitals are three such metrics that measure the different user experience aspects of page content loading: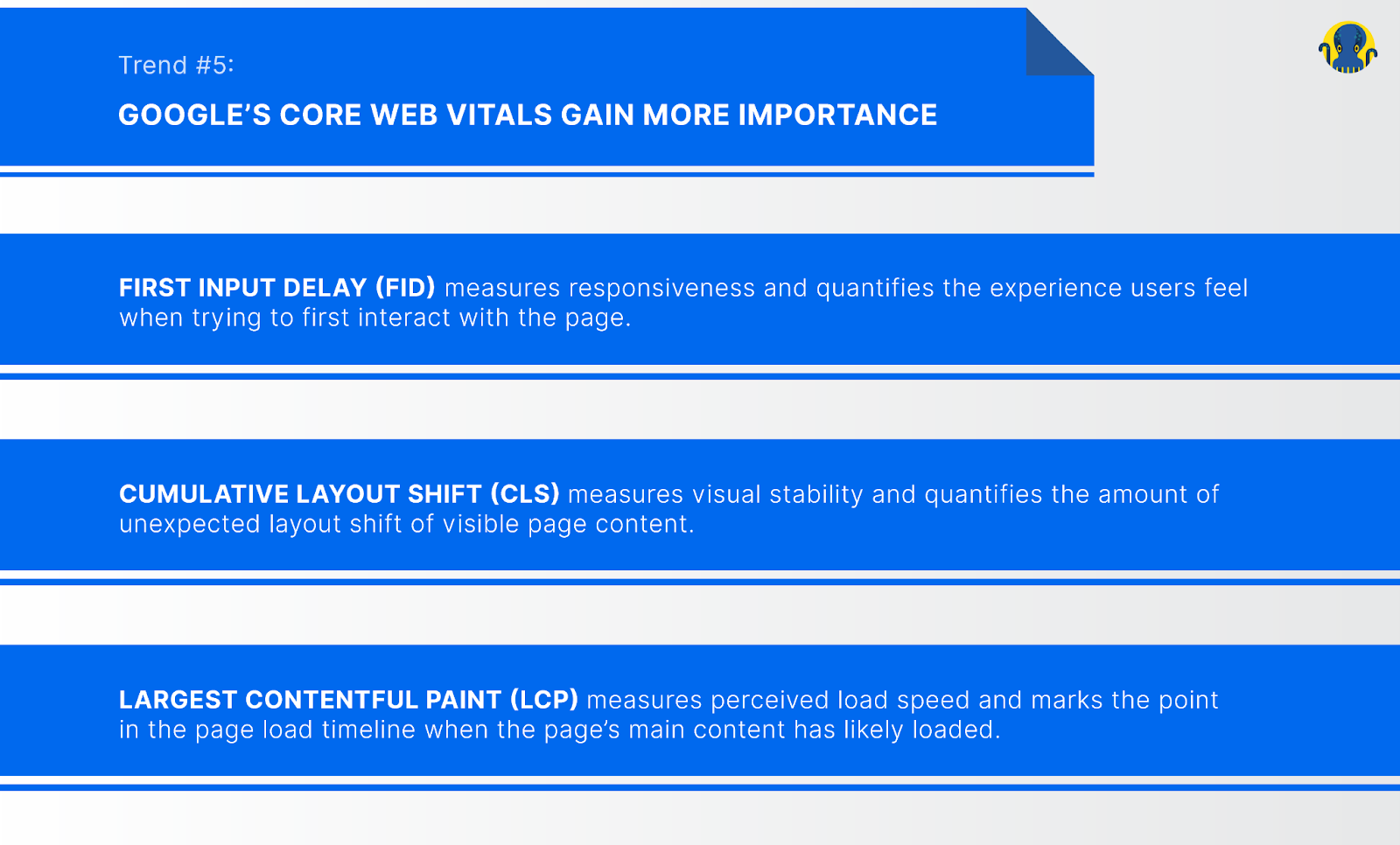 We dived really deep into Core Web Vitals in a recent article, covering what they are, their importance for SEO, how to optimize for them, tools to use, and more — be sure to check it out!
Coming back to the trend, Tomek Rudzki, Head of R&D at Onely, believes Core Web Vitals could continue to have a stronger impact on search rankings:
"In 2022, we'll dive deeper into topics the SEO community has been talking about this year: Core Web Vitals and crawling and indexing.
A lot of SEOs and developers had been working to improve their Core Web Vitals. A famous example is the improvements at Wix, a content management system.
This work will continue in 2022 and beyond. However, the magnitude of this trend depends on Google. If this search engine announces they plan to strengthen the impact of Core Web Vitals on ranking, then we will see lots of companies massively investing in it."
But as the discussions shift on these advanced and technical sides of SEO, Tomek also believes that the foundations of SEO should remain in focus.
"Apart from that, I believe that in 2022 people will focus on the foundations of search: crawling and indexing. These topics haven't been popular in the public debate, but we already see the change. During the BrightonSEO conference in March 2021, a considerable number of presentations tackled the problem of crawling and indexing. Moreover, major search engines are initiating debates around the topic. For instance, Google published a Large site owner's guide to managing your crawl budget while Bing, Yandex, and Baidu recently joined forces to create IndexNow.org. The year 2022 in SEO is going to be really interesting!"
Trend #6: Multimedia Content Clusters Can Be a Differentiator
You're likely aware of the topic cluster model, wherein you cover a broad topic with a group of strategically interlinked content, such as blog posts and whitepapers. The three key elements of a topical clustering strategy are a pillar page (the ultimate comprehensive resource on the subject), the cluster content (individual posts covering each subtopic), and internal links to connect all the dots.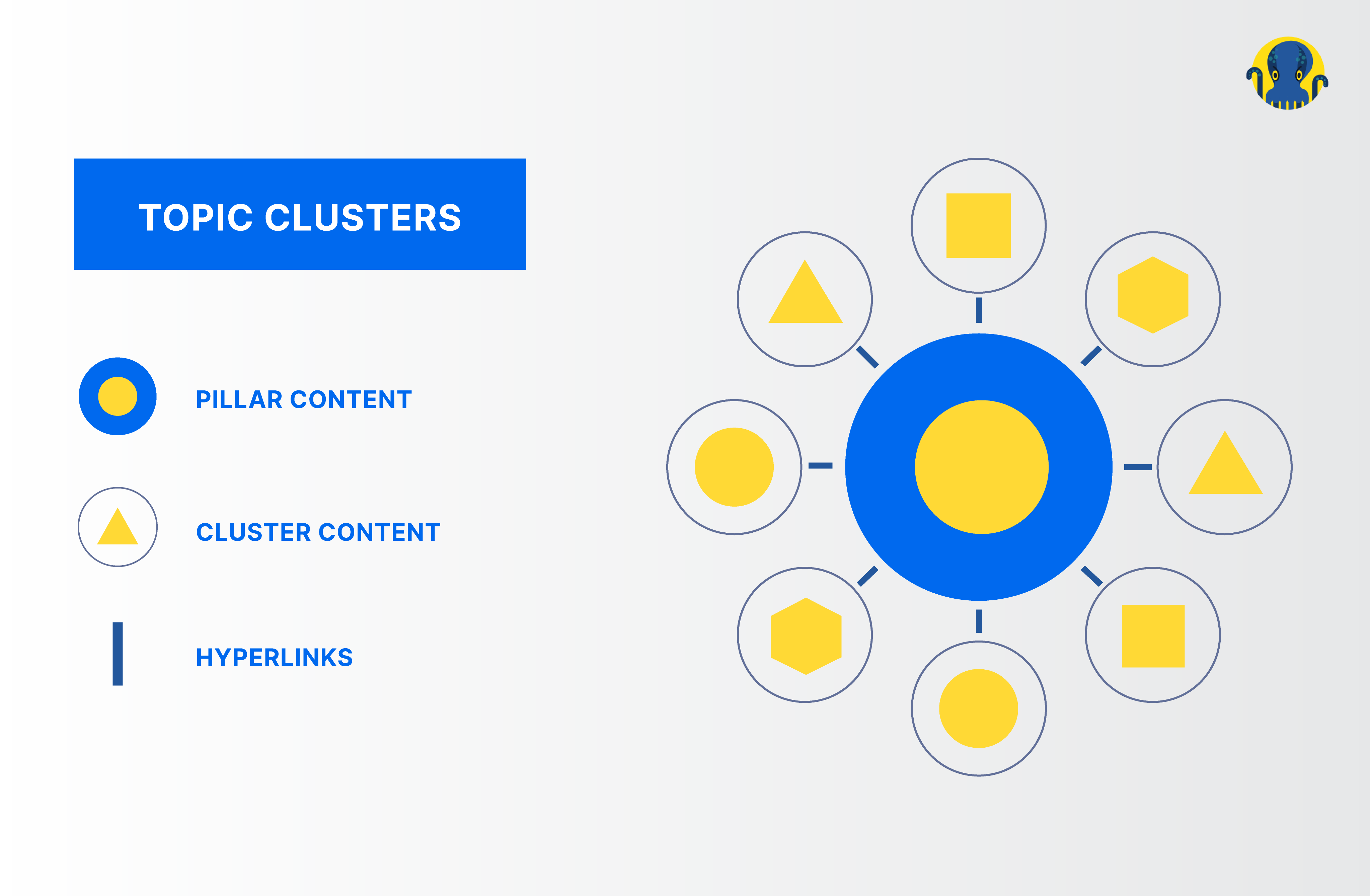 This model has worked well for brands like HubSpot, Ahrefs, New York Magazine, etc., and is fairly common today. But in 2022, you need to take it to the next level by combining this model with more multimedia content, especially videos. Consider these video marketing stats: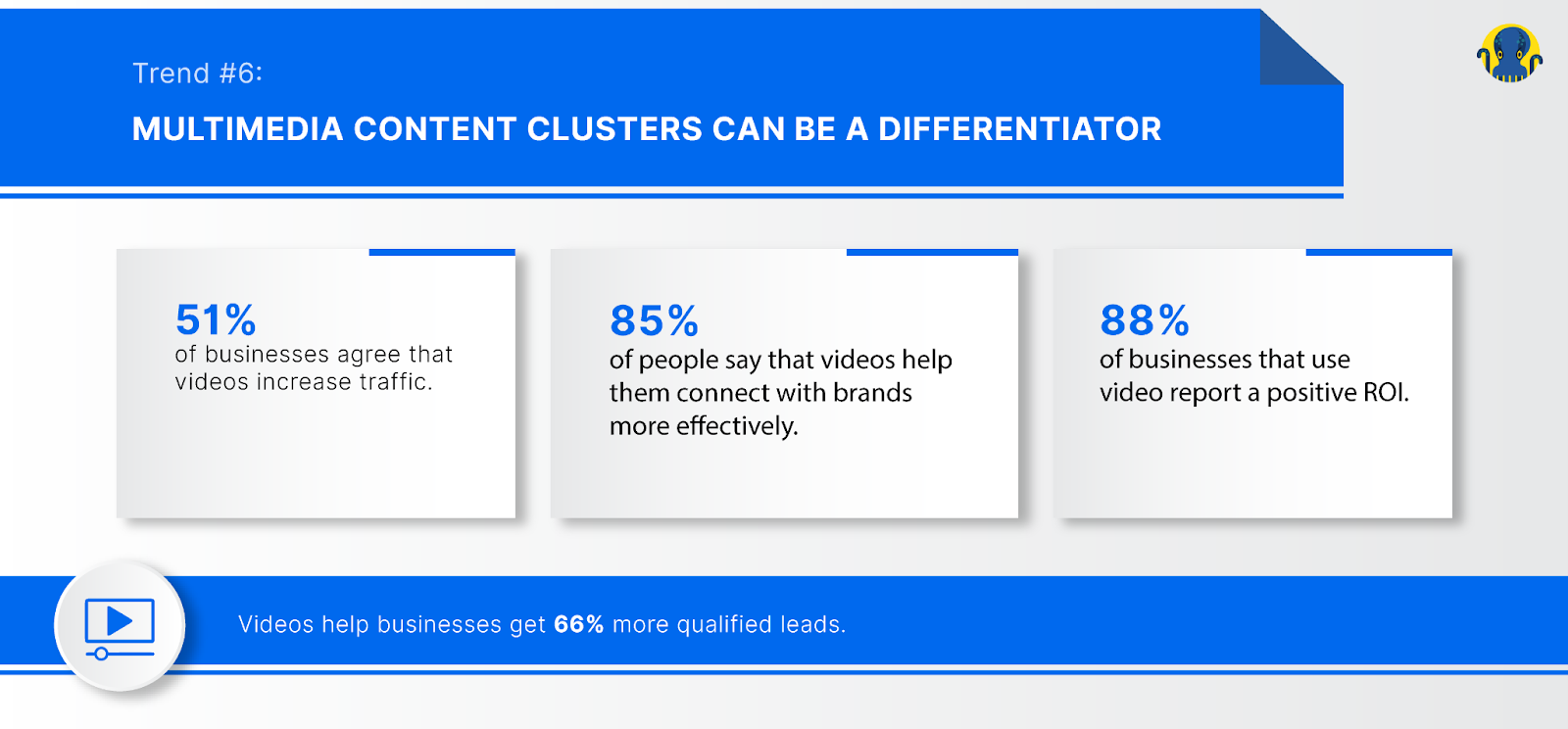 Garrett Sussman, Demand Generation Manager at iPullRank, has an interesting take on this:
"In 2022, SEO is going to get increasingly visual. With the roll-out of MUM as depicted in Google's SearchOn presentation in October, delivering a web of multimedia content is going to be a differentiator in the SERPs. While fear of cannibalization may have been a concern for businesses historically, appearing in search results via featured snippets, image, and video carousels, written content, and indented alternate content is going to only increase a company's visibility."
"Organizations that combine a topical clustering strategy with their visual content (both images and videos) will drive more organic traffic to their site and be less dependent on advertising," explains Garrett.
And so, it's a good idea to integrate videos and other visuals (images, infographics, GIFs, etc.) with a topic cluster model in your 2022 SEO strategy. Here are a few cost-effective and beginner-friendly ways to start with video marketing:
Screencast tutorials and presentations
Video testimonials from happy customers
Behind the scenes of your team
Short animated videos
Expert interviews
Top-performing blog posts turned into explainer videos
Check out this great list of video marketing tools to get started with such videos on a budget and without prior experience.
Final Thoughts
So to sum up, the organic search landscape in terms of both — brand initiatives and Google algorithm updates — could see some substantial changes in 2022.
To add to the above six Google SEO trends, one of the best advice you can take away, courtesy of Irina Maltseva, Head of Marketing at Hunter.io is to:
"Focus on high-quality content. Create in-depth and unique blog posts, guides. landing pages. Do it better than everyone else. Show your expertise and think of the content not as something that is good to have on your blog, but as something that makes a big difference."
And then there was (and still is!) the pandemic, which led to the rise of time-sensitive searches:
"The biggest trend in 2022 will be time-sensitive searches. With new variants of Covid-19, we're going to see openings and closings – demand fluctuates and falls temporarily – that the SERPS and therefore businesses have to rapidly adapt their content. Content creators have to start asking themselves – how does a pandemic change the context of content users expect to see on a piece of content?" – aptly points out Victor M Pan (潘), Principal Marketer, Technical SEO, HubSpot.
And that's all, SEO folks! Special thanks to all the experts for taking the time to share their insights on this topic. What are the latest trends in SEO you're prepping for in 2022? Leave a comment below!