SEO data will help you understand how your brand is developing and how the popularity of your website is changing. This article will tell you how to analyze brand traffic using JetOctopus and what to pay attention to during the analysis.
What are branded keywords?
Branded traffic is the traffic you get when users are looking for your product and have a specific intent to go to your website. For JetOctopus, branded traffic will be all traffic from keywords like "JetOctopus", "jet octopus", "SEO jet octopus", etc. But branded keywords are not "crawler", "log analyzer", etc. Because a person looking just for a crawler wants to find the best and most convenient option, and he has not yet decided on a choice.
By tracking brand traffic, you can find out how your website was affected by a TV advertising campaign, sponsored articles, social media activity, etc. After all, all these campaigns often have a delayed result that is difficult to measure. Therefore, this is an excellent report for analyzing interdisciplinary and inter-marketing activities.
How will the analysis of brand traffic be useful for an SEO specialist?
1. Determine what percentage of branded traffic your website has; if branded traffic prevails, then you should think about optimizing other pages;
2. What are the top pages that bring branded traffic, is there the home page among them, what is the bounce rate?
3. Are there any branded keywords that do not have relevant pages? For example, the brand query "JetOctopus commercial keyword analysis" leads to the main page. However, the user wants to get not the main page, but an article about the analysis of commercial words using JetOctopus. Therefore, we will create such an article to answer the questions of our visitors.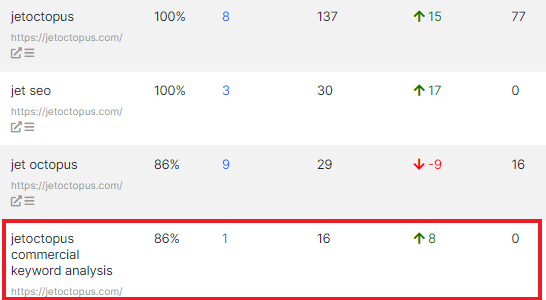 Brand traffic analysis with JetOctopus
Using the new "Keywords Groups" report, you can easily track the dynamics of branded keywords.
Step 1. Go to the GSC section – "Keywords Groups" dashboard. Create a new group.

Add a list of all possible spellings of your brand, including misspellings. This all shows how your brand is being searched for, heard and remembered.

Step 2. Click on the group name to go to the dashboard. Select the required period, device and country.

Step 3. Analyze the data. On the dashboard, you will find information about how the performance and visibility of branded keywords have changed, and you will find a lot of other information here.

We recommend paying attention to the ratio of the mobile-to-desktop device for clicks and impressions. If there is a big difference between the data in Google Analytics for the entire website and branded keywords, a deep analysis should be performed. Landing pages may not be optimized for mobile devices.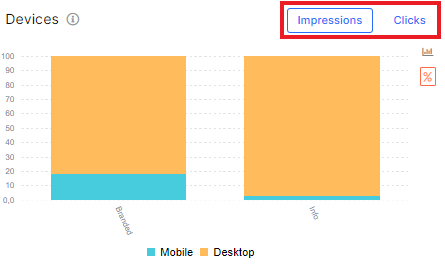 Be sure to compare the branded traffic and the total traffic of your website. This can also be done using the "Keywords Groups" dashboard. Select the two groups you want to compare and click "Compare Groups".
More information on how to identify Keyword Groups is in the article Product Update. Analyze the effectiveness of keywords in SERPs with Keywords Group Tool.