Timeouts can be a real pain when you're trying to improve your technical SEO. If you're scratching your head wondering what to do when you encounter a timeout, don't worry – we've got you covered.
In this article, we will tell you what to do and what to pay attention to if you see a timeout while analyzing the crawl results.
What is a timeout?
So, what exactly is a timeout? In simple terms, a timeout happens when a bot or a user is unable to load a page because the client browser doesn't receive a response from the server in a timely manner. When this occurs, the client browser terminates the connection to the web server and gives up on loading the page. By default, the timeout is set to 10 seconds. If you come across a timeout in your crawl results, it means that the page took too long to respond.
JetOctopus tries to load pages again if they time out, but if it happens twice, the page is recorded as a timeout page in the crawl results.
How to find pages with a timeout
Simple – just select the crawl you want to analyze, and head to the "Overview" section or the "Status codes" section. Here, you'll be able to see the "All Status Codes Breakdown" chart, which shows pages that have timeout.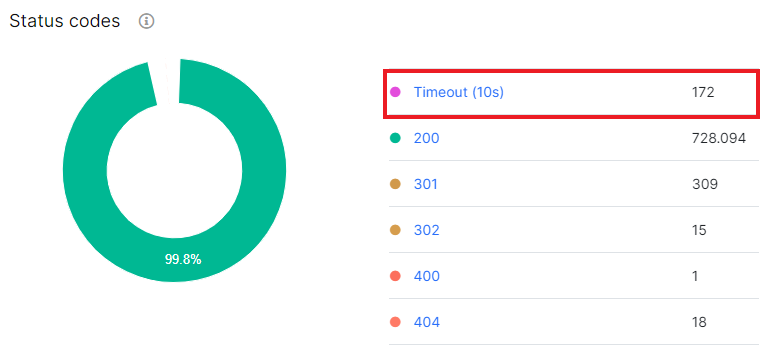 Click on the number next to the timeout to go to the data table with detailed results. Here, you'll find a list of pages that didn't return a response within 10 seconds.

Unfortunately, since the crawler wasn't able to access the page's content, meta data, and indexing rules, these pages will appear in all reports as non-indexable.
You can also filter pages with a timeout in any data table. To do this, click the "Add filter" button and select "Status code". Then, select "Equals" and type in "10". Finally, click on "Apply" to see all pages that have timeout. In the results, all pages with this message will be filtered.

You can even export these pages if you want to share them with developers or devops, or save them as a problem to check later.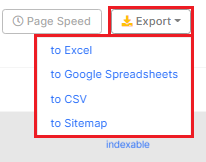 How to fix pages with timeout
Before doing anything, it's a good idea to check whether the error is reproducible. Often, timeouts can be temporary, just like 5xx status codes. You can manually check multiple pages or run a timeout page to see if the error persists. To check all timeouted pages, recrawl this list.
More information: How to recrawl pages unable to load by timeout
If these pages were timeout when recrawled, you can contact devops or web hosting admins because it could indicate that there's a problem with your web server or that the pages are too slow. In either case, it's important to take action, as timeouts can negatively affect your crawl budget and user experience.
Why you need to monitor the timeout URLs
It is crucial to check timeout pages in order to not lose your organic traffic. But you can lose not only organic traffic, but also users who came to your website in other ways. If a user clicks on a page and doesn't receive a result, it's likely that they will terminate the session and leave your website. Additionally, the content of the page will be inaccessible to bots. As a result, timeouts can negatively affect both crawl budget and user experience. So it's important to address any issues as soon as possible. By following the steps outlined in this article, you can easily identify pages with timeouts and take the necessary steps to fix them.