SEO monitoring is the great thing that allows you to sleep well and be sure that the next update of Google's algorithms will go smoothly without problems. Monitoring is indispensable during website migrations, design updates, or during front-end releases. Of course, due to monitoring, you can evaluate the results of website optimization or notice a negative trend in time and take measures.
Using JetOctopus, you can easily and quickly set up all the monitoring you need.
Why is SEO monitoring needed?
Over the last ten years, the number of websites on the Internet has increased significantly. And this means that competition in Google has increased. And to get stable traffic, you need to always keep your website's health and performance indicators in focus.
Let's consider an example with a technical bug. There are situations when, due to an error, important pages become nonindexable. As a result, traffic starts to drop, but we don't notice it in time. And it takes more time to discover the reason. While we deal with the problem, our place in the top-3 is occupied by a competitor. If we received a lot of traffic and were a popular website, then even changing the position by 1 point can lead to colossal losses.
In general, SEO monitoring is used in the following cases:
It is extremely important to use advanced SEO monitoring. And the bigger the website, the more different metrics should be monitored.
Key metrics for SEO monitoring
Organic traffic and everything related to organic traffic: bounce rate, engagement rate, number of users, number of sessions and number of pages receiving traffic. All these data can be monitored in the "Google Analytics" section if you have already switched to GA4.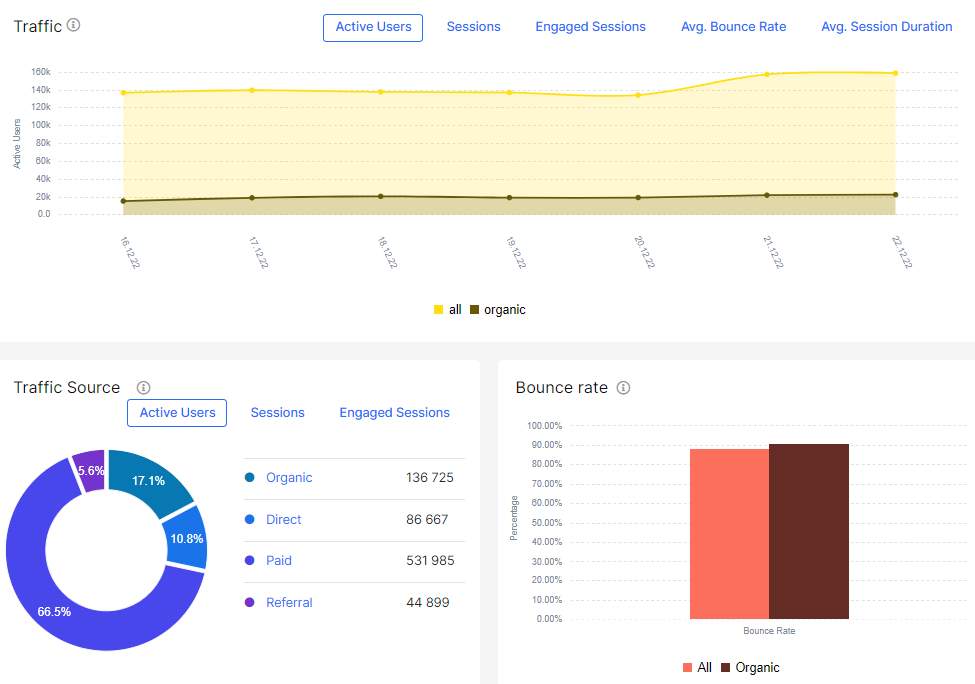 Clicks, impressions, positions, and CTRs show your website's performance in SERP. Therefore, we recommend monitoring this data not only in general, but also for different pages. Pay attention to how the number of keywords with zero clicks changes, how internal optimization affects rankings; which pages are generally effective in SERPs.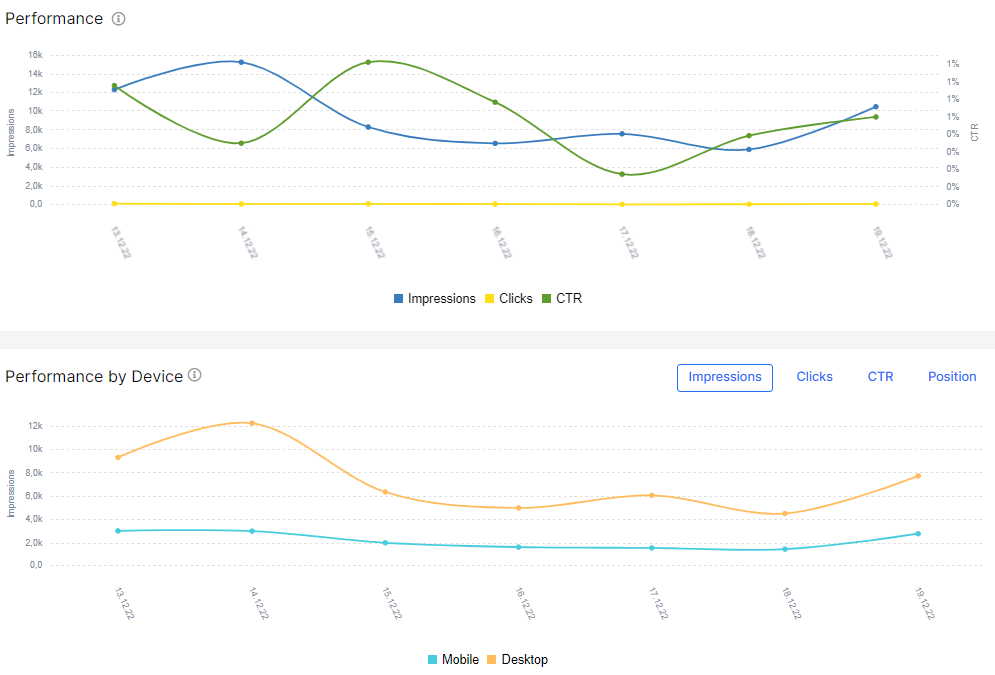 By the way, using JetOctopus, you can easily detect pages that had impressions and clicks in the previous period, but which have no impressions and clicks in the current period. For this purpose, we have created separate data tables in the Google Search Console section: "New pages" and "Lost pages".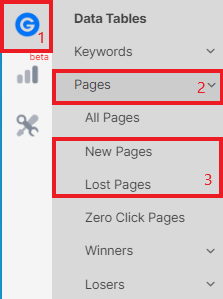 Go to the required table, select the period for comparison, device and country.

Next, configure additional filters, if necessary, and analyze the performance of these pages in the SERP.

In the same way, you can monitor the important keywords for which a website ranks. For example, if your website used to get a lot of traffic for the high-volume keyword "apples" but stopped ranking for that keyword, you're likely to lose a lot of traffic.
Also, with the help of keyword monitoring, you can determine whether your SEO optimization has been effective. If you've added new blog posts with special keywords, find out which keywords those pages started ranking for.
The activity of search robots must also be monitored. Use all the opportunities of the "Logs" section for this. We advise you to pay attention to the following metrics when monitoring bots' activity:
the number of visited pages during the selected period;
activity of various types of search robots (mobile, desktop, fake robots, etc.); if you are visited by many fake bots, we recommend blocking them at the server level;
status codes that your website returns during the visits of search engines (more non 200 URLs, the more difficult it will be for search engines to rank your website pages);
load time;
frequency of rescanning of pages by search engines.
You can find the general data in the "Logs" section of the "Overview" dashboard.

But you will find a lot of useful data for monitoring on the "Health" dashboard.

Site health (including status codes, loading speed), indexability, canonicals, hreflangs, titles and meta data are the basic elements that need to be monitored to avoid a sudden drop in traffic due to a technical error. For this, we recommend setting up alerts and running a regular crawl on a schedule.
Availability of pages important to search bots, for example, the robots.txt file and sitemaps. If during the visit Google does not find the robots.txt file, then this search engine will reduce the crawling (and as a result – the discovering of new pages and the updating of indexed ones) of your website until the robots.txt is available again.
JetOctopus tools to help set up monitoring
JetOctopus has some special tools to help you set up the monitoring you need.
1. Alerts. Use alerts to monitor ranking problems, unusual activity of search engines (find out instantly if search engines stop crawling your website or certain types of pages); get a notification if a lot of 5xx or 404 occurs – the opportunities of alerts in JetOctopus are not limited. You can configure as many alerts as you need for each section: logs, Google Search Console, crawl, Core Web Vitals.
We recommend reading the article to set up the alerts you need: Guide to creating alerts: tips that will help not miss any error.
2. Segmentation. Using segmentation, you can set up monitoring of different types of pages or track data for a specific sample of pages. You can create a segment with a list of exact URLs or use Regex rules.
More information: How to use segments.
3. Join datasets. Another great tool you can use to monitor your optimization results. For example, track how the crawl rate of pages has changed after improving internal linking and add data from Google Search Console to understand how this has affected indexing and ranking. We recommend joining datasets for deep causal analysis.
4. GSC URL Inspection Tool. Use it to bulk analysis of URLs statuses in GSK. No more manual checking! Find out if Google has discovered your pages, indexed them, etc.
More information: Product Update. GSC URL Inspection Tool.