The JetOctopus team made a great and handy update: now all clients can analyze the effectiveness of their pages in Google Discover.
What is Google Discover?
Google Discover is personalized recommendations for Google users. You can see recommended articles and news both on your smartphone and on Google's desktop services if you use them. Based on a deep analysis of your interests, previous searches and visited pages, Google will offer you a variety of pages.
How does Google Discover benefit SEOs and website owners?
As statistics have shown, if a page appears in Google Discover, users are more likely to click on it. That is, the appearance of a page in Google Discover is additional traffic for your website.
That is, to display a page in Google Discover, completely different algorithms are used than for SERP. So you won't see product pages in the recommendations, but you will find blog articles, promotions, news, reviews, and more.
How to analyze data from Google Discover using JetOctopus
The new JetOctopus update allows you to analyze results from Google Discover. This feature is available to all our customers who have integrated Google Search Console.
Go to the Google Search Console section and select the Google Discover report.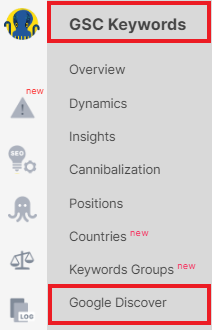 Here you will find the following information in convenient diagrams and charts:
the number of pages that appeared in Google Discover;
information about pages that were recommended by Google for two or more days – this is great content, analyze it and try to determine why these pages were so popular;
the dynamics of the number of pages in recommendations;
dynamics of impressions and clicks with CTR.
We also created a separate data table with all the pages that appeared in Google Discover.
Here you will find a complete list of pages for your selected period with all the necessary data for analysis.