To get good results in Google, you need to monitor the dynamics of your website and analyze many different metrics. One of the most interesting metrics is keyword analysis. In this article, we will tell you how to analyze the keywords for which your website ranks in Google SERP and what to pay attention to in order to get as many insights as possible using keyword data.
Introduction
In the introduction, we will briefly talk about what SERP and keywords are and why it is important to monitor it.
The abbreviation SERP means "Search Engine Results Page". This is the page that search engines users get when they search on Google. This page contains a list of URLs with snippets.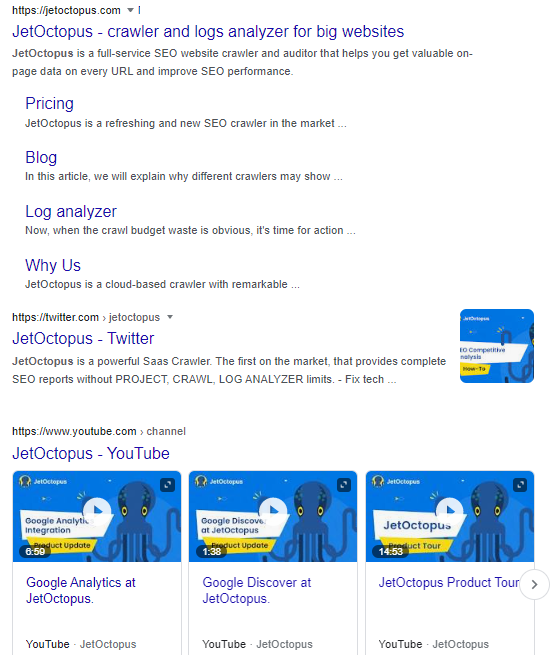 Keywords are the phrases that users use when Googling most often and which we use when optimizing our website to get organic traffic.
By analyzing the keywords for which our site ranks in SERPs, we can gain a lot of valuable information about the success of our SEO campaign, including:
by analyzing how many keywords a page is ranked for, we can determine how complete the content on the page is and how much it corresponds to additional search interests of users;
by analyzing the words by which pages are ranked in the SERP, we can determine whether the content of the pages is relevant: perhaps we want a certain page to rank for the query "crawler", but instead it ranks for the query "log analyzer"; in such situations we look for reasons;
it is worth collecting statistics, which keywords receive the smallest and largest CTR; maybe we're not getting the SEO potential;
can determine which keywords work best for different countries.
In general, the analysis of keywords by which the site is ranked in SERPs is a necessary, almost routine work of SEO specialists.
Analysis of the dynamics of keywords
Sounds a bit general and abstract, right? But we recommend monitoring the dynamics of clicks, impressions, positions and CTR for your keywords, not just for pages and the website as a whole. This can be done using the Google Search Console integration in JetOctopus.
Once you integrate Google Search Console, you will have access to various reports and data tables, including the "Keywords" data table and the "Keywords Groups" tool. Read more about "Keywords Groups" in the "Product Update. Analyze the effectiveness of keywords in SERPs with Keywords Group Tool" article.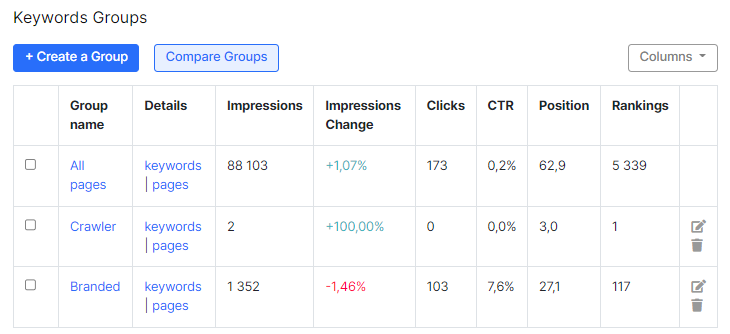 Our main advice is to set up keyword monitoring by time periods and by page groups. Compare week-to-week, month-to-month and year-to-year keyword performance. Pay attention not only to CTR, but also to the average position. If your site has a target localization, you can filter the keywords for which your site ranks in the desired country. To do this, select the country in the upper menu.

We also recommend monitoring the number of keywords your website is ranking for over time. To do this, go to the "All keywords" data table, select the desired period and country. In the results, you will see a list of keywords for which your website had at least 1 impression during setted period.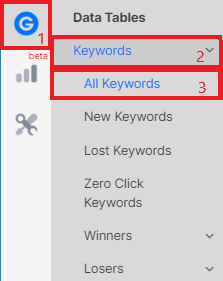 This data is from Google Search Engine, which is one of the most accurate sources of information about website performance in Google.
Another recommendation is to monitor keywords for different page segments. This is how you can determine the pages that rank best. These can be products, categories, filters, and blog articles, etc.
Segment your keywords
As with URL segmentation, keyword segmentation allows you to dive deep into keyword analysis. We recommend dividing your keywords into groups using the "Keywords Groups" tool.

Depending on the topic of your website, use different segments of keywords. First of all, we advise you to segment keywords for which you would like to be top 1. For example, if you specialize in selling apples in New York, create a keyword group that includes "apples" and "New York." You will easily be able to monitor how site optimization affects the amount of traffic received.
Another recommendation is to highlight brand queries. If your brand is well-known, branded keywords will occupy a large share of traffic. Typically, such keywords will have a higher CTR than non-branded keywords. After all, when users are looking for "something + your brand", they definitely want to go to your website. When analyzing brand keywords, focus on the position. If the position is low, then you should find out the reason and optimize your website. Because branded queries are the easiest way to get traffic and conversions.
More information: How to analyse the dynamic of branded keywords in SERP.
In addition to brand keywords, you can highlight commercial, informational, geo keywords.
Keyword segmentation is a powerful tool that will allow you to make the best decision about SEO optimization. The main advantage of keyword segmentation is that you will get more accurate information about the current state of the website and about its opportunities.
Monitoring of the most effective keywords
You can adapt the Pareto principle to keyword analysis. 20% of keywords bring 80% of clicks and traffic. Therefore, it is important to monitor the most effective keywords. After all, if your website stops ranking in SERPs for these keywords, you will most likely lose the main traffic.
Using JetOctopus, you can determine the most effective keywords in two clicks. To do this, go to the data table – "Keywords" – "Winners". Next, choose the metric by which you want to determine the effectiveness: clicks, CTR positions, impressions (JetOctopus has prepared ready-made data tables for each metric).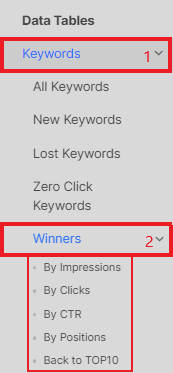 After analyzing the most efficient keywords, we recommend setting up alerts. If the number of clicks or positions drops suddenly, you will be notified by email, Slack message or SMS.
More information: How to set up alerts with JetOctopus.
Lost and new keywords
Another tip is to keep track of lost and new keywords. What does it mean? Analyze the keywords for which your website ranked last week, month, year, but is not ranking now. Conversely, using JetOctopus, you can discover keywords for which your website did not rank before.
Both metrics indicate the health of your website. If a large number of keywords have disappeared, check whether the indexing and crawling rules have changed, whether the content is accessible to search engines. Instead, a large number of new keywords will indicate the successful optimization of the website.
To check the lost and new keywords, go to the data table – "Keywords" – "New keywords" or "Lost keywords".
More information: How to find lost keywords with JetOctopus.
Zero click keywords
Zero click keywords are keywords that have impressions but zero clicks. These keywords have high potential.
We believe that analyzing these keywords is a great way to identify opportunities for SEO optimization. Select zero-click keywords in sufficiently high positions and analyze the snippets. This way you will find out why users are not clicking on your website.

Or add data about search volume and make a plan to optimize the pages.
More information: What is zero click keywords and how to analyze them.
Keyword analysis will help track the effectiveness of SEO optimization, conduct an A-B testing, or track the impact of Google updates on your website. Using JetOctopus, you can analyze in great detail the keywords for which your website ranks in Google. Unlike Google Search Console, JetOctopus does not have a 1000 word limit. You can get as much data as possible with our keyword analysis tools.