Information about outlinks on your website is very important if you are engaged in technical website optimization. In our opinion, analyzing outlinks can be a powerful way to improve SEO. Therefore, in this article, we will explain how to use JetOctopus to analyze outlinks on your pages. We will also discuss why analyzing outlinks is crucial and how to analyze them correctly.
What are outlinks?
Outlinks are links that point to another page. Outlinks can be either internal or external. Internal outlinks point to another page on your domain. External links point to other domains. You may also have heard the term "outbound links" used to refer to external links. For JetOctopus, an outlink is that one that is located inside the <a href> element. Search bots find outlinks in the same way.
Why is analyzing outlinks on your page so important?
The number and quality of outlinks can affect how users and bots perceive your website. If outlinks are relevant and useful, users will perceive your website as more convenient and authoritative. Similarly, high-quality and necessary outlinks can improve your website's navigation. For search engines, outlinks are a sign of the connection of one page with another.
What to pay attention to when analyzing outlinks
When analyzing outlinks, you should pay attention to their number. While Google doesn't give exact guidelines on how many outlinks a page can have for it to be considered organically optimized, SEO experts say that the number matters a lot. For external outlinks, it is recommended to have no more than 100-200 outbound links, while for internal outlinks, the number of permissible outlinks is much larger and amounts to several hundred. However, we recommend being cautious with the number of outlinks on your page, as having too many (more than a thousand) can make it difficult for Google and other search engines to process and crawl. After all, search bots need resources to process each page of your website, and if the page is too overloaded, the bots will process only the basic information and will not take into account your internal and external linking.
Additionally, a large number of outlinks can create inconvenience for users, who may not understand where to click and go. There are exceptions, such as various catalogs and lists, but then such pages should have a clear and understandable structure.
Another thing we recommend paying attention to is the quality of the outlinks. Outlinks may be broken, for example, or they may have an HTTP protocol that is less secure for users. Some outbound links may return a 404 or 500 status code, which is also not very good. Therefore, be sure to analyze the following points:
what external links are on your page and whether they have an HTTPS protocol;
whether all external links correspond to the topic of your website and whether they point to authoritative sources;
which rel attributes have external outlinks;
how many internal outlinks are on the page;
which internal outlinks have rel follow and which have rel nofollow;
whether there are outlinks pointing to 404, 500, 301 or 302 pages.
Additionally, with link analysis, you can identify pages that do not contain internal links, meaning neither the user nor the robot can go anywhere further on your website from this page.
How to analyze outlinks on your page using JetOctopus
There are several methods for this. The first is a manual check, where you open Chrome Dev Tools and inspect the code page, counting the number of <a href> elements. This method can be used if you need to check one or two pages.

However, it is not suitable for checking the entire website. For this, you can use JetOctopus – a multifunctional SEO crawler.
Step 1.
Start a new crawl or go to the results of the crawl you want to analyze. Remember that the number of outlinks, both internal and external, can only be analyzed by scanning the website.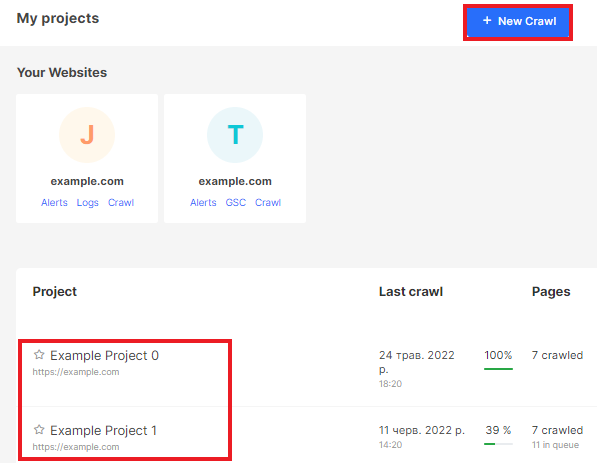 Next, configure all necessary crawl settings. For more information, refer to the article "How to configure a crawl of your website" or "How to configure crawl for JavaScript websites".
After the crawl is finished (and JetOctopus crawler is really fast, so you don't have to wait long), you can go straight to the data table and get a lot of data for outlink analysis.
Step 2.
Go to the data table named "Pages".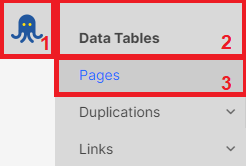 Click the "Setup columns" button.

Go to the "Out" section and select all the necessary data that you want to see in the report. Then, click "Apply".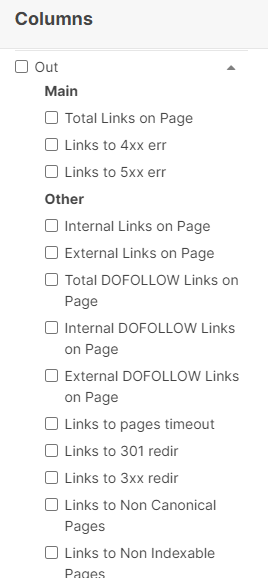 Step 3.
You can filter pages that contain more than 100 or 1000 outlinks or set any other filter. Click the "Add filter" button and select the filter in the "Out" section: "Total Links on Page" – "Greater than" – "100/1000".

Filters provide many opportunities for analyzing outlinks. You can analyze the total number of outlinks on your page and identify pages with an extremely low or high number of links. You can also analyze the number of links pointing to 404 or 301 pages. To do this, select the desired filter, as shown in the screenshot below.

You can also count the number of internal links on a page or the number of external links on a page that have a rel=follow.

Step 4.
After setting up the appropriate filters, you can analyze each case in detail, as well as observe the general situation with outlinks on your website. We recommend considering atypical cases using manual checking. For example, you can analyze which outlinks are located on the page with the largest number of these outlinks. To do this, set the desired columns and click on the number in the column opposite the desired URL.

After clicking, you will be directed to the data table, where you will see a list of all outlinks that were found in the code of the page you selected.

Step 5.
Export the data in the format of your choice, customize KPIs, or save the dataset as a problem to always have access to the analysis you need.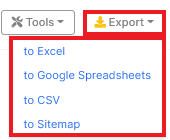 Conclusions
The analysis of outlinks is an important aspect of technical website optimization that can greatly influence search engine ranking and user experience. Outlinks are links that point to other domains or pages within the same domain, and analyzing their number and quality is crucial for effective SEO. When analyzing outlinks, you should pay attention to their number, quality, HTTPS protocol, rel attributes, and whether there are any broken links. By using JetOctopus, you can easily analyze outlinks on your website and identify pages that require optimization. Using filters, you can count the number of outlinks on a page, analyze the quality of internal and external links, and identify pages with low or high numbers of links. With JetOctopus, you can significantly improve the SEO and user experience of your website.
JetOctopus offers many data tables and reports for internal linking analysis.
More information:
Internal Links For SEO: The Comprehensive Guide
How to analyze internal linking with JetOctopus
How to do a deep audit of all internal and external image links