Google updates its algorithm every other day. Hence, SEO is increasingly evolving into a complex and dynamic discipline. Most of these updates are minor and do not significantly change the SEO landscape. However, a few updates like the Core update and Page Experience update have changed the way search experts approach SEO.
Consequently, the search realm has increasingly been paying attention to page experience, technical SEO health, local SEO, and the tools that can help.
If you are aware of these facts, in all probability, you are already convinced that there's more to SEO than keyword research, sharing quality content, and link building. Making a website crawler-friendly and managing its technical aspect is central to improving its ranking in the SERP.
These are exactly the issues your company website is facing. And the SEO tactics used by your in-house team aren't helping. You are aware of this and so is your team. You are also convinced that a fast and effective SEO crawler like JetOctopus can help in pointing out and solving these issues.
But you just cannot convince your boss about all this.
What can you do?
Unless you get management on the same page as you, it's impossible to solve the issue. Because they are the ones signing the checks. Thankfully, we have put together a few suggestions and useful data that can help you make a compelling case for JetOctopus.
If you are looking for a dependable SEO partner that can make your search efforts predictable, visible, and ever-growing, you need JetOctopus! Click here to view an in-depth presentation on how JetOctopus can support you at every stage of your SEO journey.
So, without further ado, let's see how you can persuade your boss to invest in this awesome tool!
Explain the Importance of SEO to Your Boss
If your boss isn't convinced about SEO, chances are they haven't cared about 404s, redirects, search engine spiders, or indexing. So, when you discuss these aspects of website ranking they may give you a blank appearance.
Also, with the poor reputation SEO holds (black hat or outdated methods), they may feel it's a scam or a rip-off that does no good.
But you need to convince them that things have changed now. With the unfathomable number of websites and complex search algorithms, every business needs SEO to stand out.
Here are a few ways you can explain the value of SEO to your boss.
1. Compare with Paid Traffic
Pay-per-click campaigns with impression pricing options fetch you paid traffic. You will need to pay for every click on your advertisement. However, to make every click count you need to snag clicks from high-intent traffic. If you fail to do so, your ROI on these PPC campaigns will be poor.
In sharp contrast, unless you are hiring an SEO agency, SEO is practically free. SEO practices demand time and effort but your boss will soon see the results.
For instance, keyword targeting can be made more effective using SEO tactics like keyword research. Say your business sells photo editing software. Without SEO, you may target the keyword, 'photo editing tool,' not knowing that you may need to spend competing against brands like Adobe or Pixlr.
Investing in keyword research can help you identify cost-effective and long-tail keywords that will fetch you qualified traffic.
Another common belief among the top management is that traffic comes by building brand reputation. So, your boss may argue that the organic traffic your website is getting is because those people know your brand.
For this, you can show them the non-branded queries in the Google Search Console performance reports. In fact, the GSC integration with JetOctopus helps your boss see the number of non-branded queries driving impressions and clicks.
Finally, remember that your boss is comfortable investing in paid ads because they can easily prove the ROI. But these campaigns are notorious for giving short-term spikes and nothing in the long term.
On the other hand, tools like JetOctopus can help them see the earned revenue after solving technical issues using Google Search Console and Google Analytics. That way, you can monitor the revenue, and the language your leadership team speaks.
2. Explain the Compounding Benefits
'How long does it take to see the impact of SEO?' is the question most bosses have in mind. And if you answer like most search professionals, 'Well, it depends,' it might convince them otherwise.
In a survey by Morningscore, 82% of SEO experts shared that SEO takes at least 6 months to show a tangible impact on traffic. However, the fruits of consistent SEO efforts are reaped year on year.
So, it's best to tell your boss about compounding SEO. Most websites implementing SEO tactics see a steady increase in web traffic. This rise in traffic is steady even with no significant change done on the website.
This could be in terms of improved visibility, more organic traffic, or positive reviews. Also, the optimized and high-quality content will fetch more social shares and backlinks, sending positive ranking signals to Google.
Thus, as time passes, each piece of content you share will claim ranking for important keywords, thus attracting new searchers. All this will attract more authority and traffic to your site for many years to come.
3. Bring Up Your Competitors
Leaders constantly want to understand how they are doing vis-a-vis the competition. Hence, giving them an update on how the competition is placed and their efforts to boost ranking will work.
To begin with, make a list of your top 10 competitors who are currently beating you for top-ranking keywords. Find out the average monthly search volume for those keywords. Showing them this lost opportunity will persuade support your SEO efforts.
4. Talk about Profits
As mentioned earlier, business leaders speak just one language – revenue. They are skeptical about investing in SEO because they don't understand how it will contribute to their business goals and bottom line.
The best way to overcome this is to put together an SEO value proposition. Here are a few tips for creating this document.
Set goals related to your company website. For instance, online leads, increase in online revenue, or ranking on Google.
Determine how much you are spending on your current marketing campaigns.
Find out how much you will spend on SEO to achieve your goals.
The cost difference between your existing campaigns and SEO along with the results SEO is capable of getting can help convince your boss.
At this point, your boss may be in two minds about investing in SEO. That's when you do a trial run with SEO tactics to move the needle.
For instance, implement a few SEO quick wins like effective keyword research, including long-tail keywords in your content, optimizing title tags, and sharing high-quality content.
Keep a track of these tactics and the impact they have on your website performance. Share the results of the trial run with your boss. It will help them understand how SEO impacts revenue.
5. Dispel Myths and Tackle Objections
One of the last tips we can offer to convince your higher-up on SEO is to offer adequate general knowledge on the subject. This includes dispelling myths and explaining SEO vocabulary.
Let's look at the common misconceptions that cloud the minds of business leaders, discouraging them from investing in SEO.
SEO Involves Manipulating Google
Google aims at delivering a great user experience and the most valuable and relevant content to its users. Hence, the search engine encourages webmasters to up their content quality and UX.
Thus, on the contrary, SEO is about improving your site's experience and boosting your ranking in the SERPs while superseding the benchmarks Google has set for websites.
It's natural for bosses to blow the gasket seeing quotes from an SEO agency. They think SEO is expensive until SEO becomes their only option.
The fact is, SEO is a critical part of a holistic marketing strategy offering a high return on investment. A majority of leads will start their research with search engines to make purchase decisions.
So, in the long run, the cost of not doing SEO will be more than investing in it. That's because your company will have to invest in costlier outbound methods to get customers on board.
We Can Never Stay on Top of Google's Algorithm Updates
That's what SEO agencies do! If you invest in white-hat SEO tactics you can optimize your website for your target audience. That way, Google's changing algorithms will not impact you.
Our Firm Is Already Ranking Well
Most bosses have low standards for SEO success. So, even if a webpage is ranking within the first three pages, it's good enough for them to get traffic that pays.
Can it get better?
Of course! But they may not be convinced about it as they are selling.
The best way to convince your boss in such a scenario is to share the benefits of scaling SEO. For instance, you can tell them how investing more in SEO can help you outrank the competition for competitive keywords that you had identified but weren't able to touch.
Scaling SEO can boost visibility and revenue. Hence, every firm needs SEO.
Explain How JetOctopus Can Help
Now that you have explained the significance of SEO, it's critical to shed light on the action areas. Thankfully, SEO doesn't have to be effort-intensive and time-consuming. Neither do you need a full-fledged agency to manage your site's performance and ranking.
With a tool like JetOctopus by your side, you can routinely conduct a technical SEO audit and point out the issues that may be negatively affecting your search performance. JetOctopus is the fastest enterprise cloud SEO crawler and log analyzer that offers crawl report data alongside real-time log insights.
However, knowing that JetOctopus can help and getting your boss to invest in it are two different scenarios. As an SEO expert, your objective is the up your company website's technical health. However, your higher-ups are constantly thinking about the ROI.
Hence, we have enlisted the top reasons why JetOctopus is the best and most cost-effective tool for improving your site's online performance and revenue. Share these facts with your seniors to get them to your side.
1. Data Visualization
JetOctopus has a clean yet detailed dashboard with pie charts and histograms that point out the top technical issues on your website. Its user-friendly interface allows you to quickly populate results after a site crawl.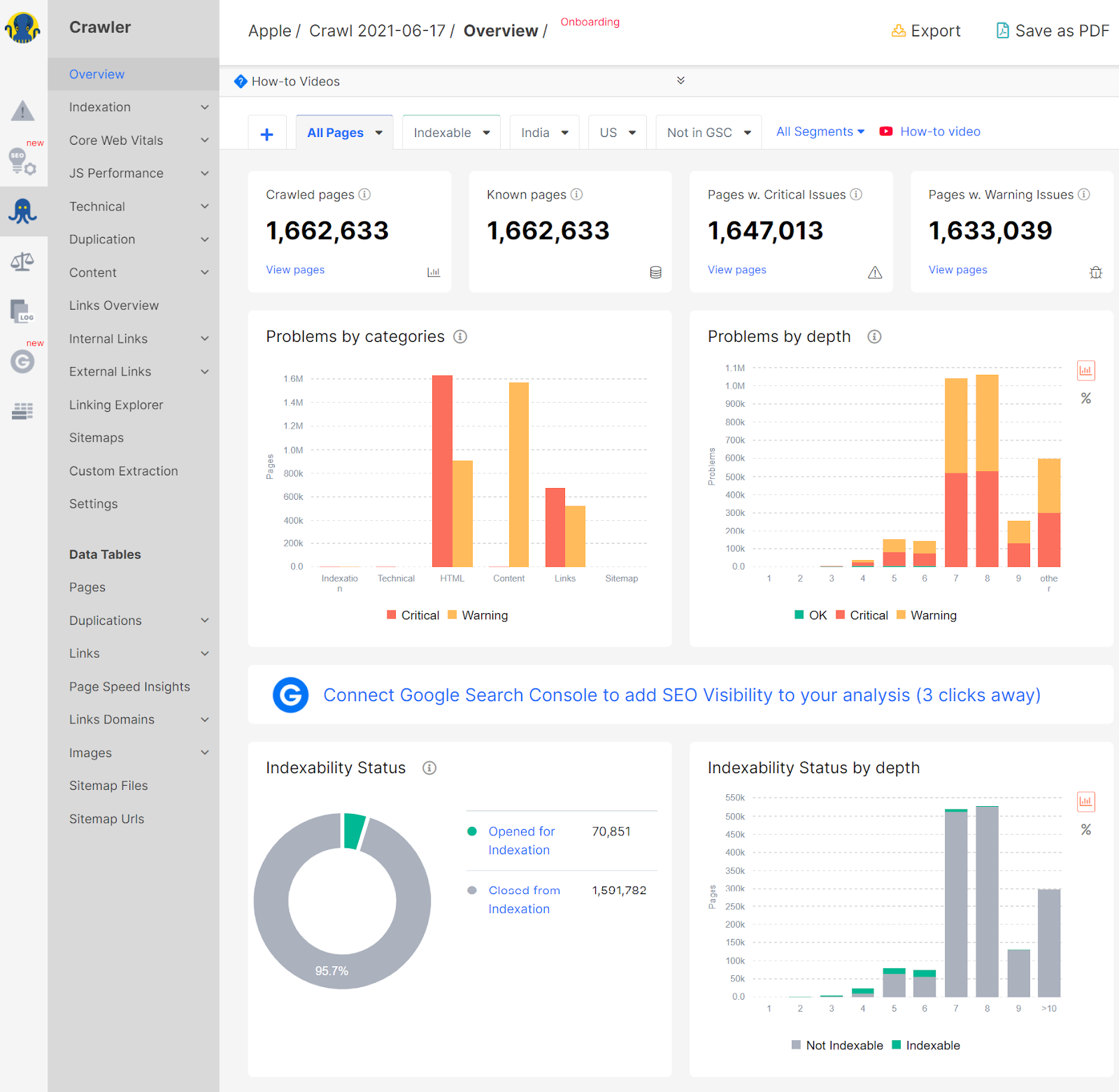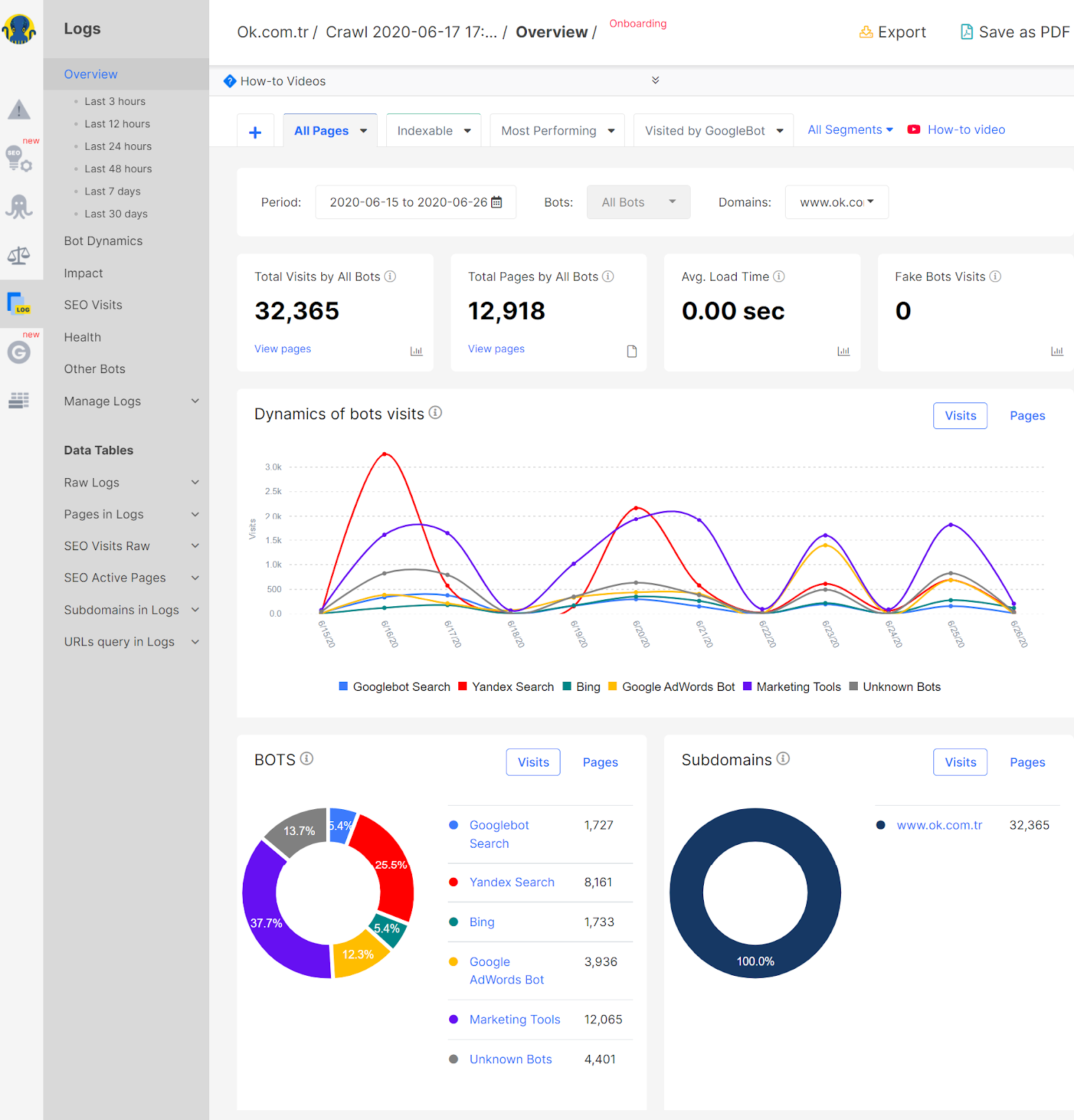 Source – Snapshot from JetOctopus dashboard
JetOctopus's dashboard effectively communicates the main technical problems in full scale, allowing you to drill down into crawl report comparison.
What's more? Once you click on these interactive charts you get the necessary details in the correlated sections. This makes it easy to focus on the main issues from the word go.
2. Pre-Set Insights Reports
JetOctopus has a pre-set insights reports section that removes all the manual work from the SEO audit process. This section points out the pages with critical issues and warnings, allowing the team to take the necessary steps. It also shows the major issues by categories and depth.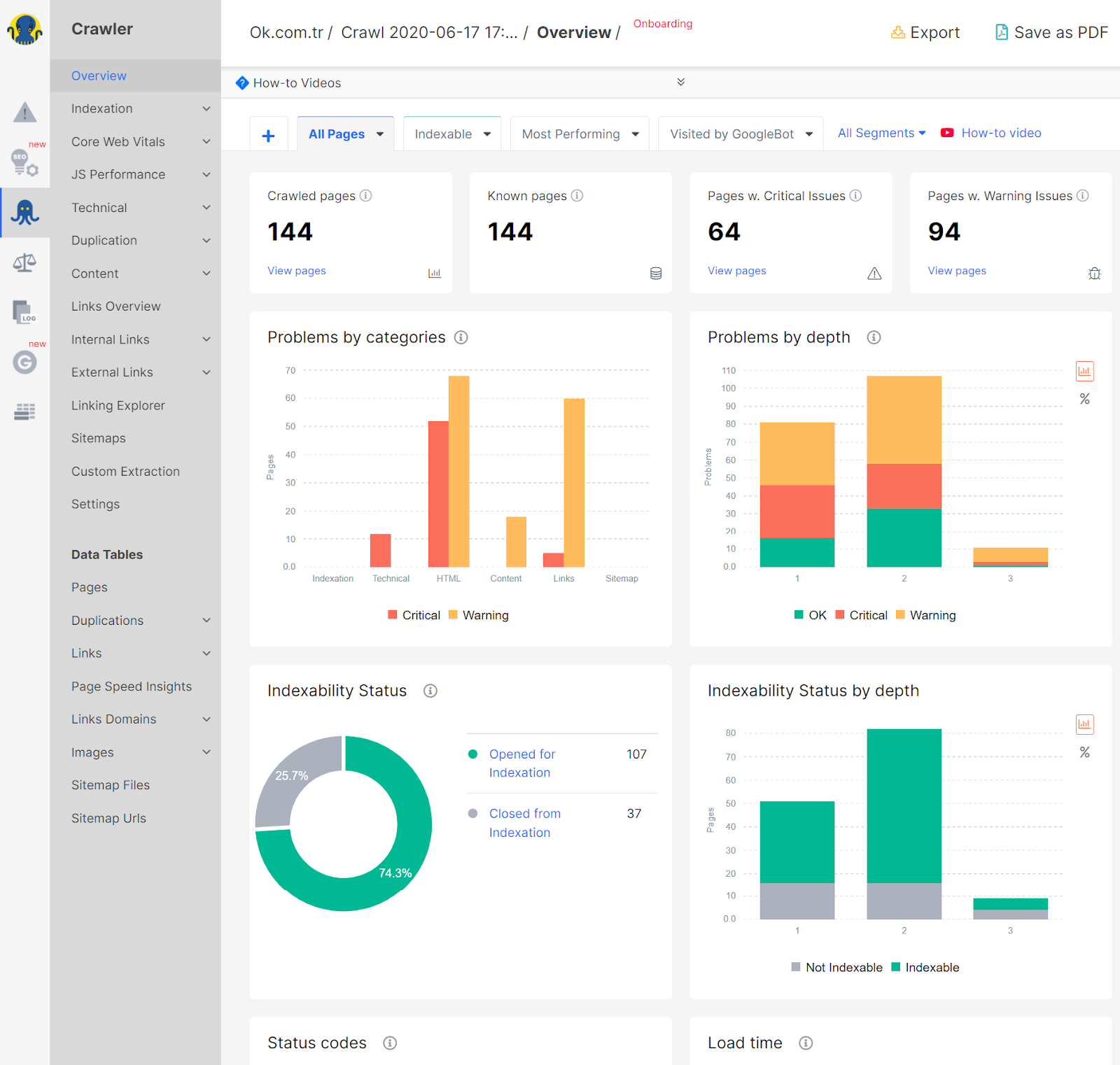 Source – Snapshot from JetOctopus dashboard
3. All Data in Dynamics
Google's algorithms are forever changing and so is your website. Hence, crawl reports may vary significantly over a short period.
So, as you are solving existing SEO issues, new ones will emerge. That's why seeing day in dynamics is critical.
JetOctopus allows you to see the dynamics of issues and the issues your website has at present and past (current and compared crawl). Moreover, it tells you the number of new problems detected and the problems fixed.
4. Intuitive UI
The JetOctopus team has worked hard and passionately to make the user journey as intuitive as possible. Their user interface is easy to navigate with well-organized sections and categories. This makes fixing technical issues in websites a breeze.
Here are a few JetOctopus features you can highlight to your boss to show them what this tool has to offer.
This section tells you the website issues you need to address and how you can fix them.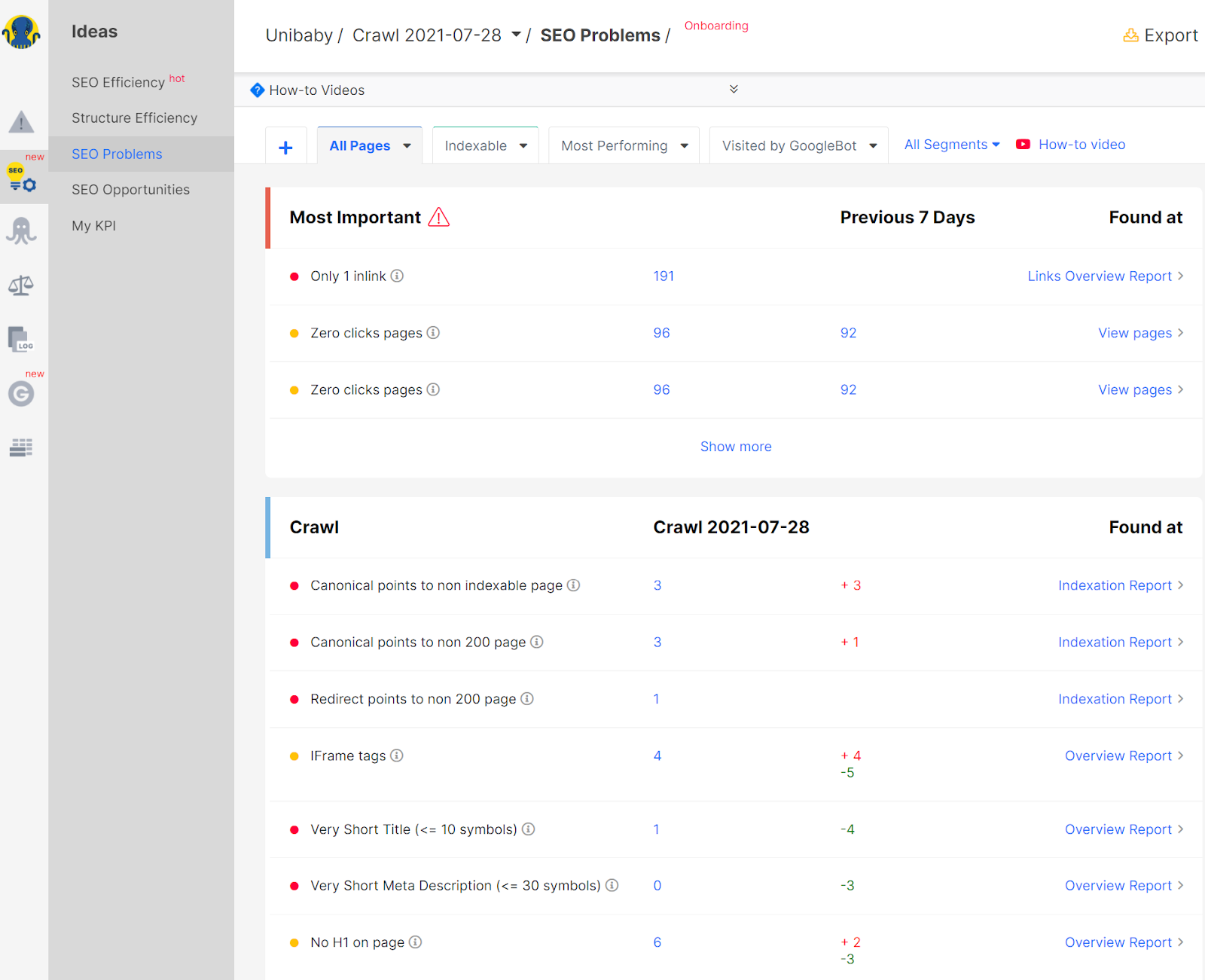 Source – Snapshot from JetOctopus dashboard
The SEO Opportunities section directs users to quick wins and low-hanging fruit, enabling them to boost their site's crawlability and indexability.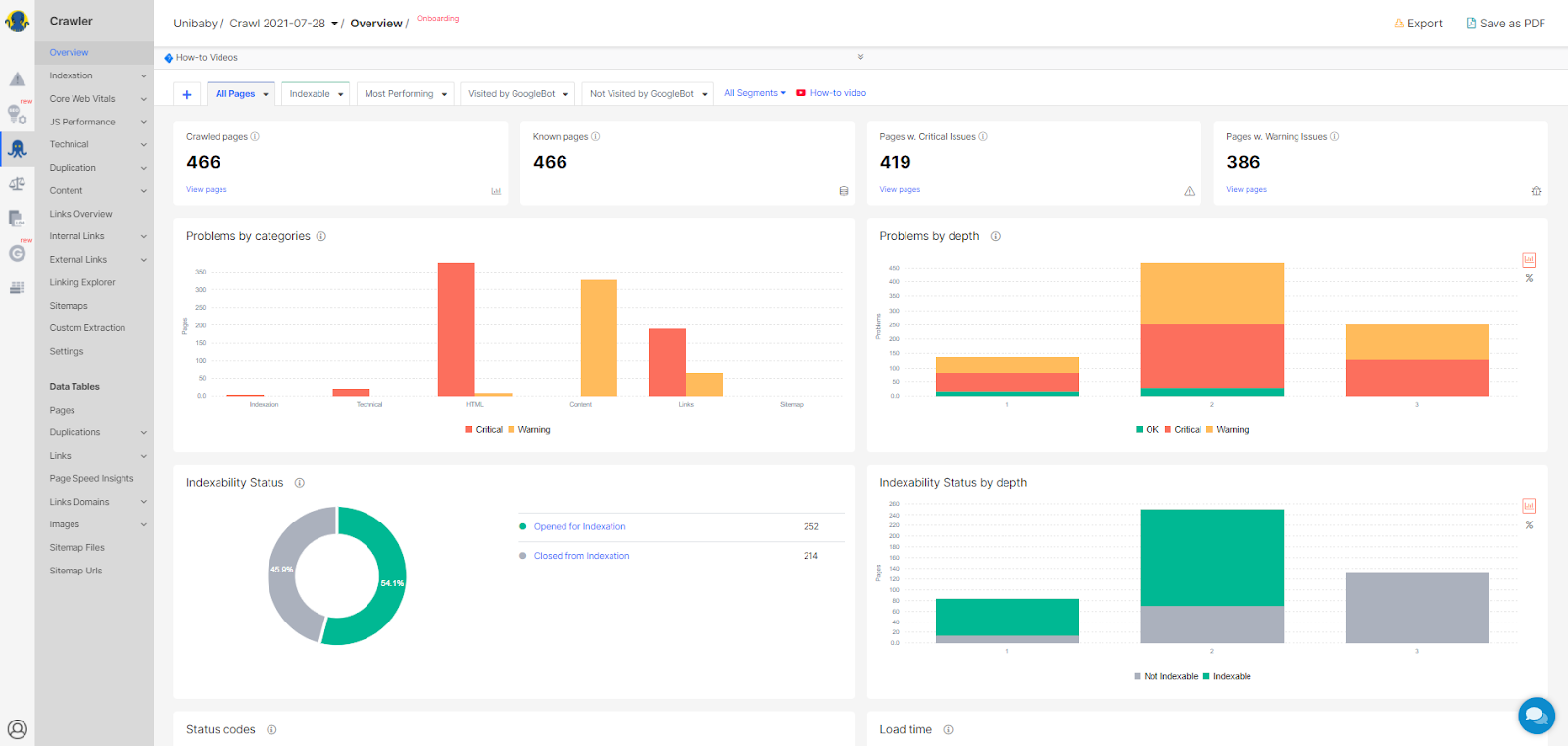 Source – Snapshot from JetOctopus dashboard
This section offers a comprehensive site audit report. It will show you errors and issues upfront. These are organized according to –
Categories: It shows the top SEO issues.
Depth: It determines the distance of the problem from the site's homepage. So, if the depth is 1, the issue is either on the index page or close to it.
Indexability Status: This tells the percentage of pages that are and aren't indexable. It also shows the distance of these pages from the index page (depth).
Status Code: This shows the section of pages with 3xx, 4xx, 5xx statuses.
Load Time: It breaks down pages based on fast or slow loading.
Top Directories: It tracks the number of pages per directory on the website.
Links Distribution: It tells the number and types of links the site has.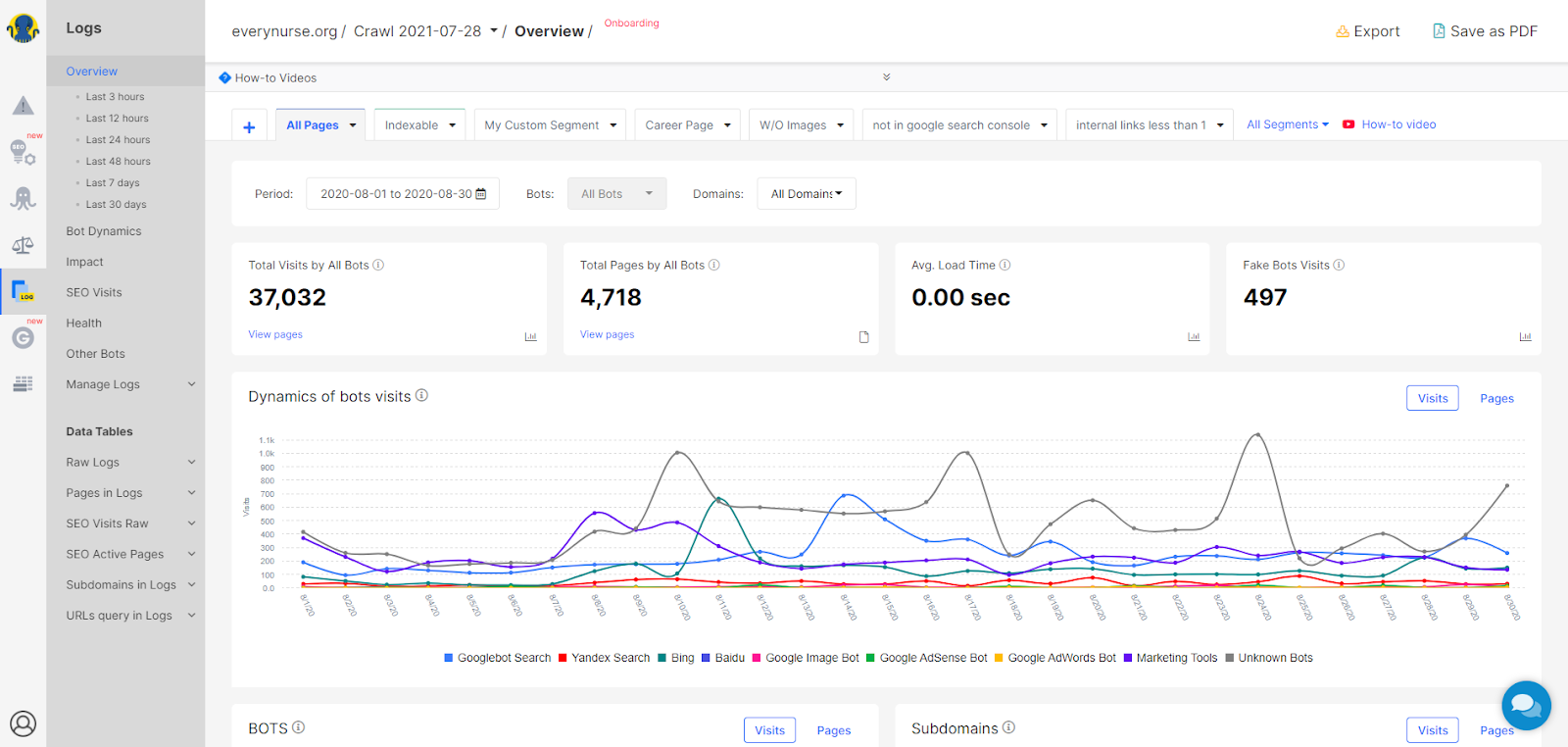 Source – Snapshot from JetOctopus dashboard
Log analyzer is one of the best features of JetOctopus. It keeps track of the search bots visiting the website. Thus, it helps SEOs optimize their crawl budget, fix site architecture, and help the crawlers engage with high-priority pages.
The feature can help in the following ways –
Share problems encountered by crawlers and organic visitors. It helps you compare data from both vectors and check for inconsistencies.
Separate the good bots from the bad ones. It also tells you the IPs of the bad bots.
Gather organic visits directly from bots with less dependence on Google Analytics.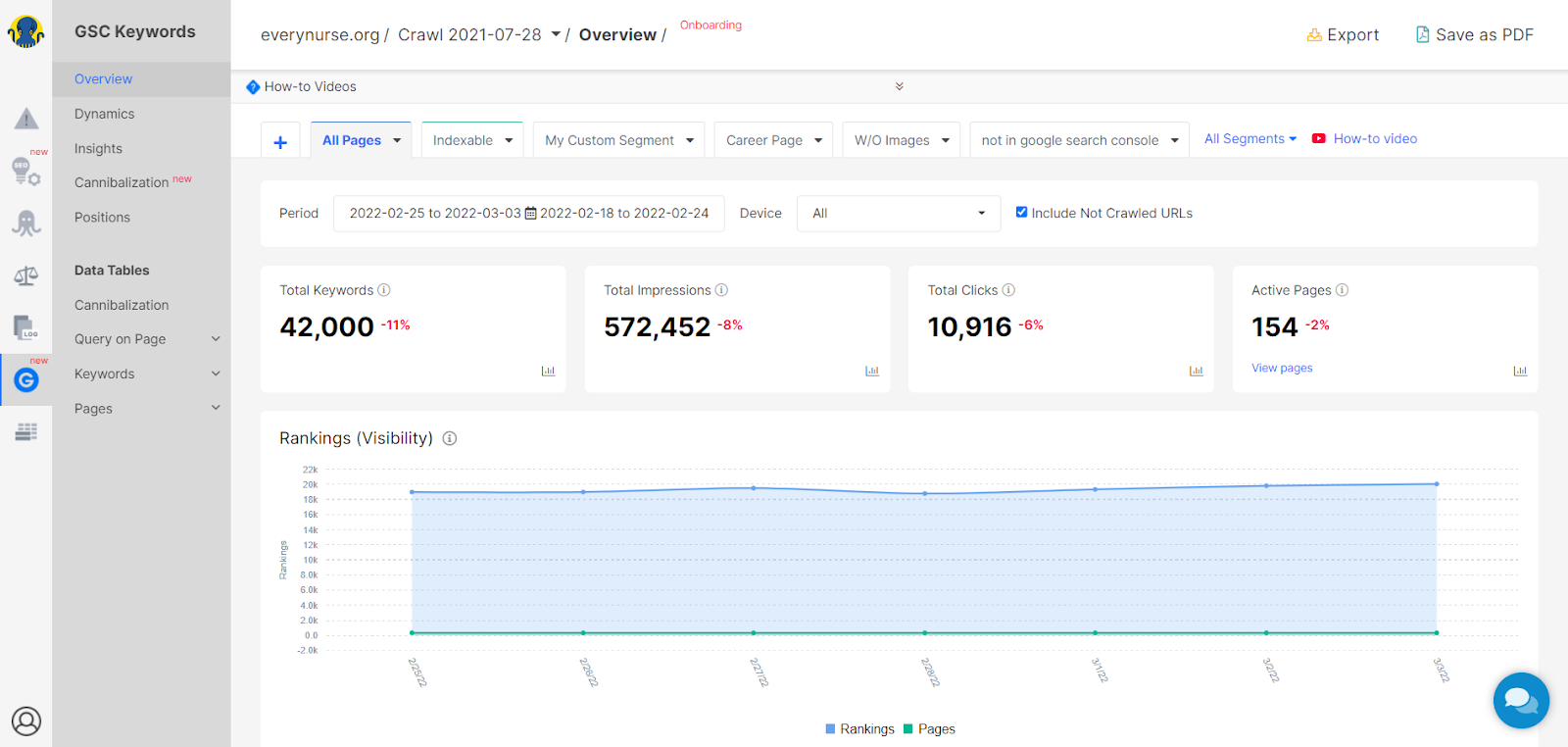 Source – Snapshot from JetOctopus dashboard
Once integrated, JetOctopus allows users to view GSC data. You can consolidate all your site information on a single dashboard. Imagine what a relief that is! It means a quicker resolution of issues and less manual work of jumping from one site to another.
Further, you get access to actionable insights. For example, check out what happens when you click on the 'Insights' tab.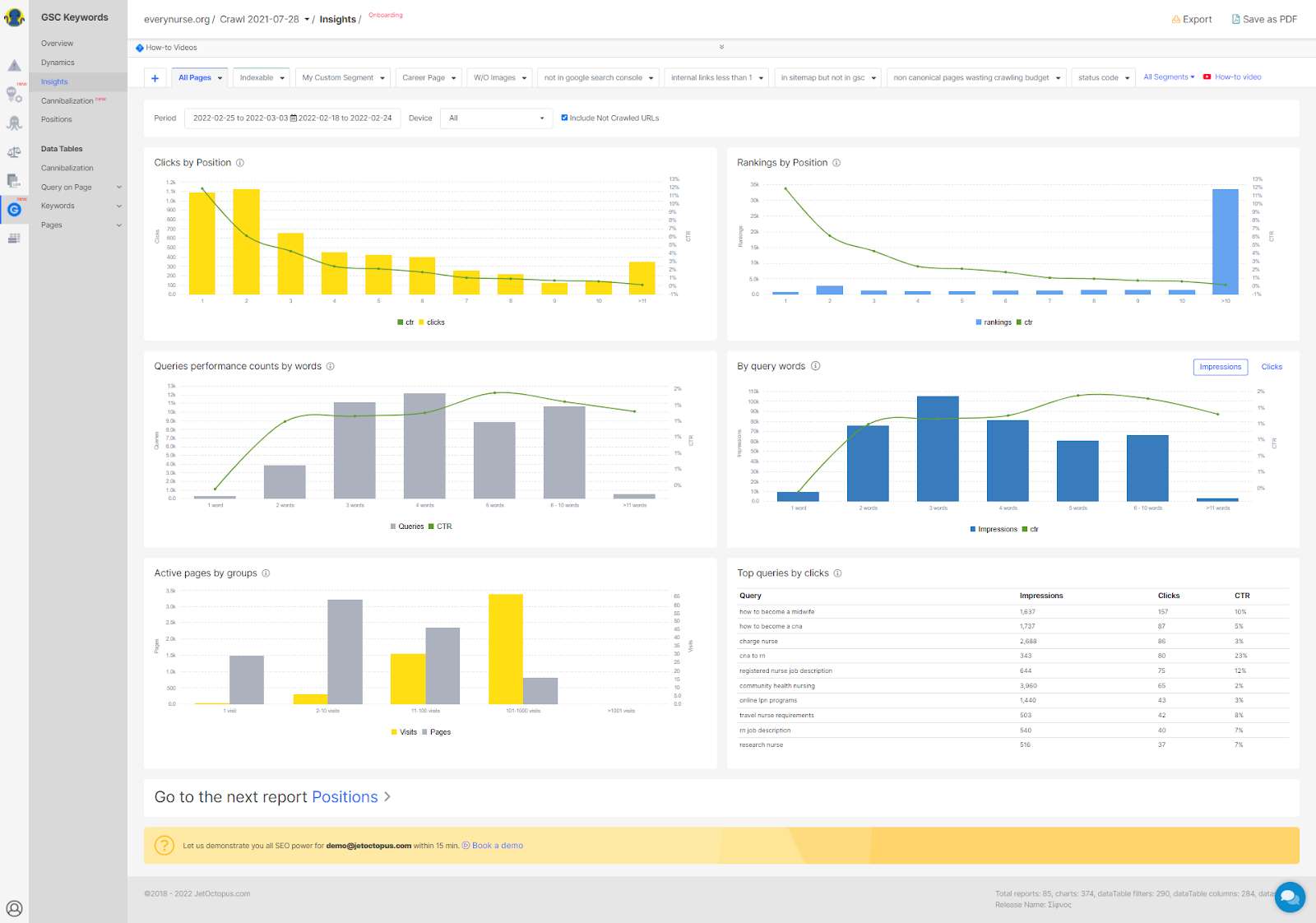 Source – Snapshot from JetOctopus dashboard
You will see collated GSC data of all your web pages. This shows how compelling and actionable JetOctopus' data presentation is.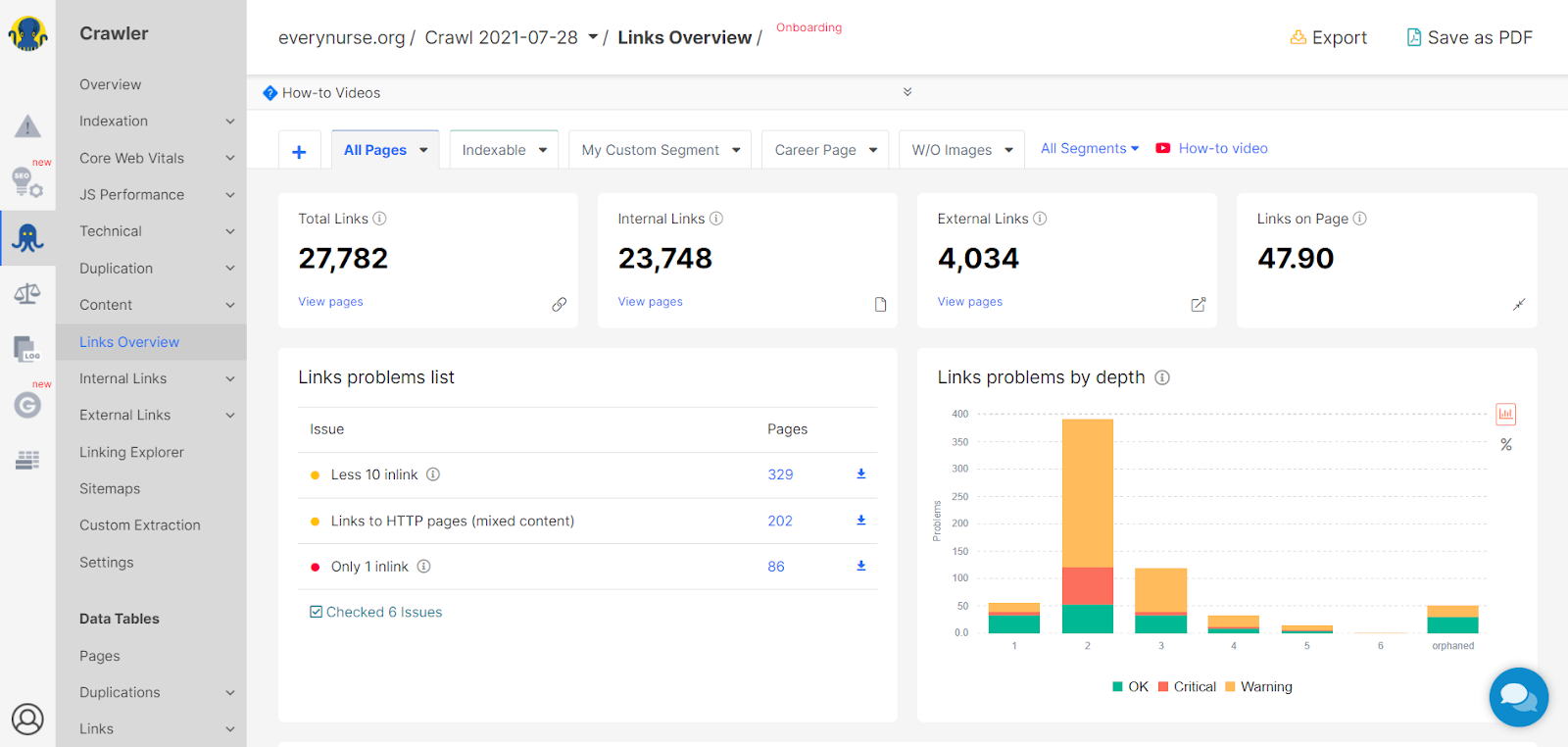 Source – Snapshot from JetOctopus dashboard
JetOctopus allows users to analyze the types of links to their web pages, thereby feeding their internal linking strategy. It also highlights the link problems that need to be addressed on priority. Such data and insights take away the guesswork from the issues in your site's linking structure.
5. Fastest Crawler in Market
JetOctopus is the fastest cloud-based crawler in the market today. Its cutting-edge technology allows it to crawl at a speed of 250 pages per second (or 10000 pages in less than a minute) with zero domain, project, or user limits.
Thus, you get instant access to valuable and actionable website data without killing your PC.
Further, super-fast crawl speed means you don't have to wait till the search bots find the issues on your website. You will detect them before they are there.
All this means you can use JetOctopus for crawling huge ecommerce sites or enterprise websites having millions of web pages. Crawling massive websites is their core expertise.
Tell this to your boss, they will surely be impressed and convinced!
6. Affordable and Cost-Effective Pricing
JetOctopus is a cost-effective tool that offers a special pricing structure for all business needs.
It allows users to buy modules separately. So, for as little as $30 you can crawl up to 100K pages every month. You are free to increase your crawl pages per month at an additional cost.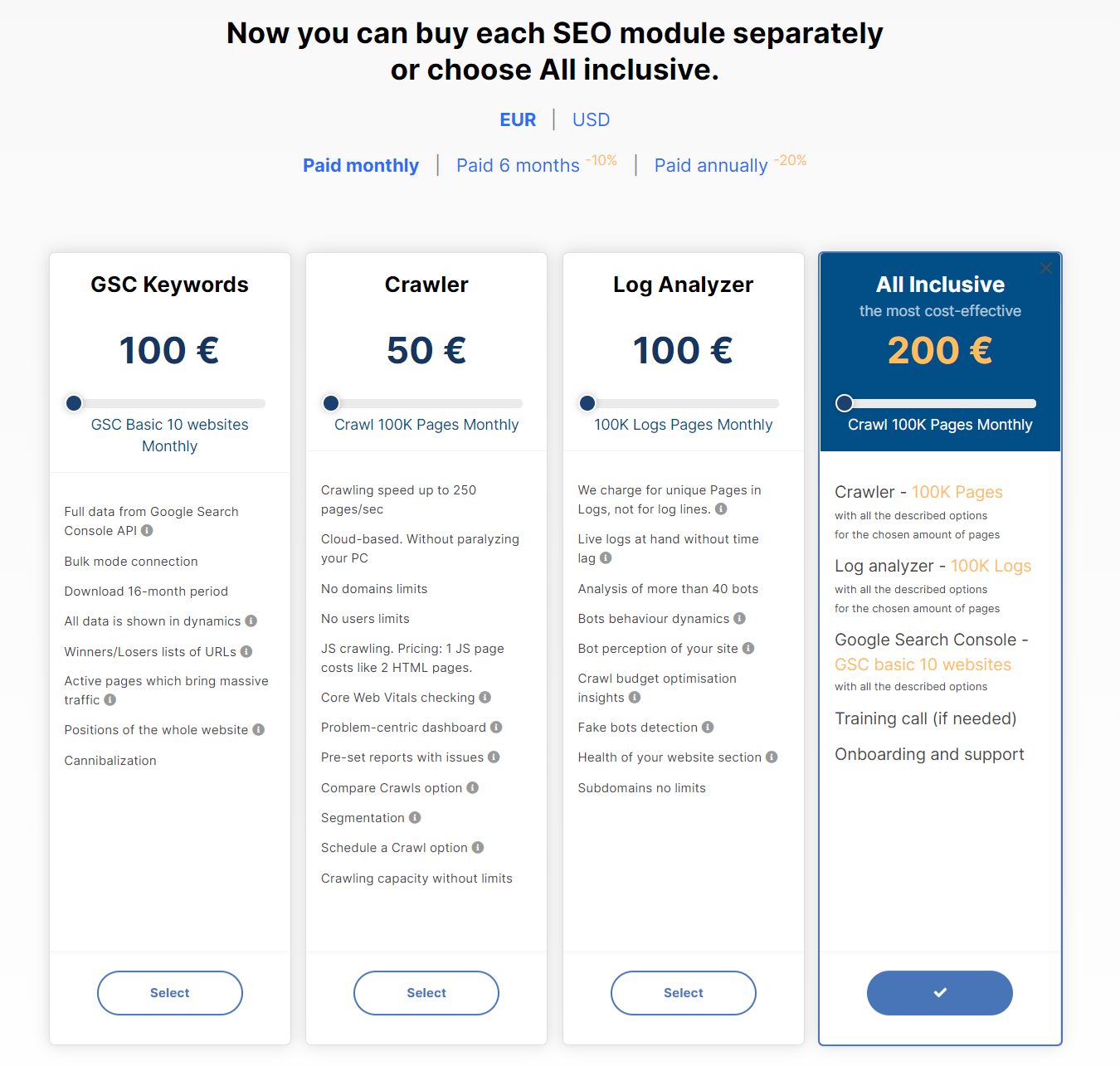 7. SEO Safety
With so much data from raw logs at hand, site owners can be assured of SEO safety. They can manage the performance of their website by viewing the insightful charts shared on the dashboard.
Further, JetOctopus alerts users of the scale and the threat of technical issues, allowing them to design their SEO campaigns effectively.
8. Excellent Tool for Enterprises
Since JetOctopus has a super-fast crawl speed, it can crawl large websites within minutes.
Most enterprise websites have issues with the internal linking structure on thousands of pages. Spotting them can be a daunting task.
However, JetOctopus can do it for you effortlessly. Hence, JetOctopus is an ideal tool for large enterprise websites.
Final Thoughts
When your boss will look at all the facts we've shared about the importance of SEO and how JetOctopus can help, getting buy-in from them will be easy.
If you are looking for more information, click here to know more about JetOctopus – the company, the tool, and its remarkable features.
We'd also love to schedule a 1-hour demo meeting for your higher-ups. Your C-suite will be amazed at how investing in JetOctopus will benefit their firm's bottom line. Get in touch with our team now!