Our customers have already experienced the tremendous value of our feature that enables the comparison between JavaScript (JS) and non-JS versions of websites. In today's digital landscape, where JavaScript is widely utilized, this feature has proven to be immensely popular. However, it is important to note that search engines still render JavaScript more slowly, causing them to prioritize parsing non-JS versions of websites. So, discrepancy in indexing rules between JS and non-JS versions can lead to indexing issues. That's why our JS vs. non-JS version comparison tool is designed to swiftly identify such problems and address various other JS-related issues.
Enhanced Analysis with the "URL Inspection Tool"
In response to our customers' feedback, we have expanded the capabilities of our "URL Inspection Tool" to include the ability to compare JS vs. non-JS versions. This tool consolidates all information related to a specific URL in one convenient location.
With just one click, you can analyze a multitude of factors, including the number of outlinks, inbound links, indexing settings, search bot visits, and keywords associated with the page. Now, you can also evaluate the resources of this page in JavaScript.
To perform the analysis, simply enter the URL you want to assess into the corresponding field within the tool.

Uncovering JS-Related Problems and Enhancements
This comprehensive check reveals any issues that may be caused by JS, such as problems with headings, meta-descriptions, internal links, and more. Furthermore, you can easily identify JS requests and JavaScript Console Errors in the test results. This holistic analysis empowers you to make informed decisions and optimize your website's performance.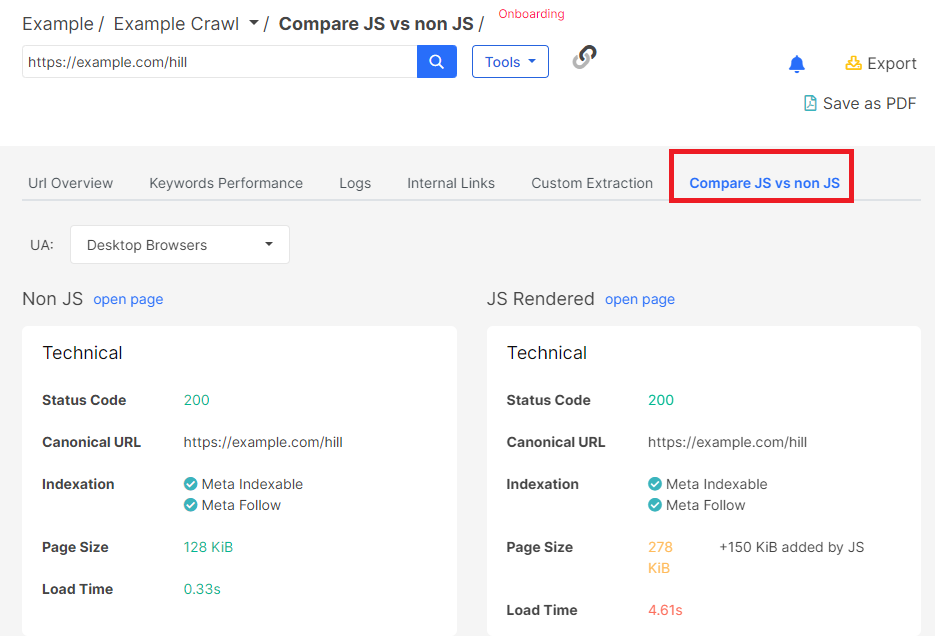 In conclusion, the inclusion of JS vs. non-JS comparison within the URL Inspection Tool provides valuable insights for website optimization. By assessing and comparing both versions, you can identify and address potential issues related to JS implementation. Our tool enables you to streamline your optimization efforts by conveniently consolidating all relevant information in one place.
The JetOctopus team is committed to providing exceptional support to our customers. Feel free to contact our support team at any time for assistance and guidance.