At JetOctopus, we are dedicated to continuous improvement, regardless of the circumstances – Russia attacked Ukraine on a full scale. In March 2022, we released two significant updates to further enhance our platform.
Firstly, we streamlined and optimized the registration process, making it simpler and more convenient than ever before. New customers can now experience the full advantages of JetOctopus with just two clicks. We believe in providing a seamless onboarding experience, allowing users to quickly access our powerful SEO analysis tools and unleash their website's potential.
Secondly, we are excited to introduce the ability to export data tables to sitemaps. This new feature empowers users to leverage the insights gained from their data analysis and seamlessly incorporate it into their website's sitemap structure.
So, how does it work? It's as easy as setting the desired filters in any section of our platform. For instance, you can select indexable pages that appear in the crawl results but are absent from the search engine logs. By applying the filters, you can then export the filtered URLs directly into a sitemap.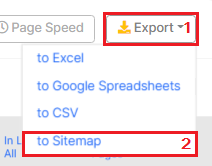 The result? A ready-to-use XML file containing the pages that have yet to be discovered by search bots.
JetOctopus takes care of everything for you, generating the correct sitemap with the selected URLs. All that's left for you to do is upload the sitemap onto your website and submit it to Google. With this effortless process, you can ensure that your website's hidden gems are promptly discovered and indexed by search engines.
At JetOctopus, we are committed to empowering our users with powerful features that simplify complex SEO tasks. The ability to export data tables to sitemaps not only saves time and effort but also helps you ensure that all relevant pages are available to search engines, and Googlebot can discover and index these pages.
We will continue to work diligently to bring you more innovative updates and enhancements, enabling you to navigate the ever-changing landscape of SEO with confidence. Join JetOctopus today and experience the ease and effectiveness of our latest features, designed to optimize your SEO workflow and drive your online success.