According to research, 41% of adults and 55% of teens use voice search daily. The volume of voice search queries is growing, but how does that affect ranking algorithms? What priority should have voice SEO in 2020? What would you do now to gain the upper hand over competitors in the future era of voice search? Let's find out.
What is all the fuss about?
To understand whether we should give full priority to optimization for the voice queries, let's define what voice search is and understand how quickly it is being developed.
Voice search (also known as voice-enabled search) is a speech recognition technology that allows you to perform a search via voice command. Although designed to be a software application, voice search also may be used as a service by smartphones and other small Web-enabled devices.
Voice search is rapidly evolving. In 2008, the Google Voice Search app for iPhone was launched. In June 2011, Google's webmasters implemented voice search on Google.com. In the beginning, the service supported only English but at present more than 60(!) languages are available in Google Voice Search.
After the Hummingbird update in 2013, the concepts of typed and spoken SERP results transformed significantly. This upgrade marked the most significant change to Google search in years, with more "human" search interactions and a much heavier focus on conversation and meaning. Thus, SEOs and content strategists were encouraged to optimize content with natural writing rather than forced keywords, and make effective use of technical web development for on-site navigation.
In October of that year, Apple released Siri. In 2014 Microsoft created Cortana, and Amazon implemented Alexa. Today, Big Tech companies invest a princely sum in virtual assistant development. According to a KPCB survey, voice search has grown 35x since 2008. Adobe finds that 48% of consumers are using voice for "general web searches."
So, voice search is definitely on the rise, and we shouldn't ignore this trend in the SEO industry. Does that mean we need to dedicate most efforts, time and money to the voice search? I've asked Googler, gathered opinions of SEO influencers, and explored fresh surveys to give you a сlear answer.
Why voice search is NOT the main priority in 2020
Diving deep in research data is the only way to understand what we should prepare our website for. I've gathered and analyzed relevant sources to evaluate the importance of the voice search in the next year. Let's find out the truth.
Internet user survey
In March 2019, Perficient Digital agency updated survey data on voice search. More than 1,700 people were asked how they use this technology, when they use it, and why.
According to the study, about 25% of people named voice search as their first choice for queries in 2019―compared to 15% in the previous year.
Credit: Perficient Digital agency
Nevertheless, when 5 choices was offered, respondents placed voice search only on the 4th position: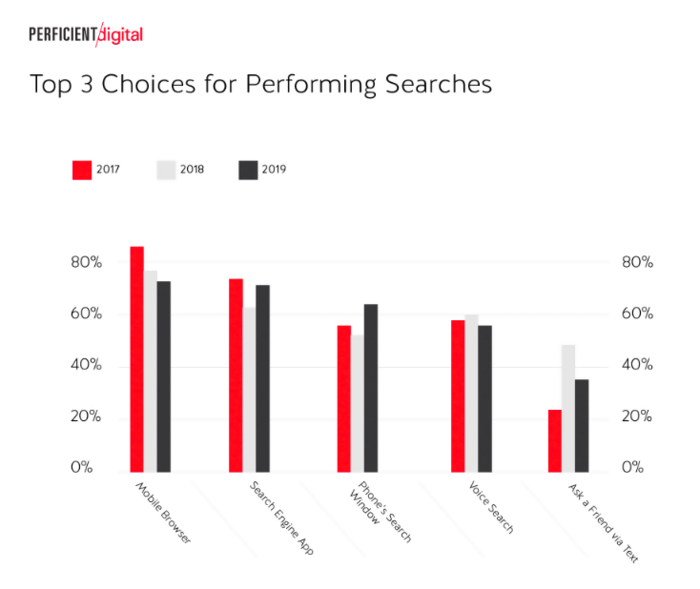 Credit: Perficient Digital agency
Mobile browser is invariably the top choice for performing search in 2019, thus SEOs should focus on optimization for mobile queries, then improve search visibility, and only then think about a promotion for voice queries.
Who should care about voice search in 2020
Every technology can be useful for one business niche, while useless for another. In some countries, people use voice queries much more frequently, and look for special kinds of items more willingly. Explore the stats below to understand whether you need (or not) to optimize your website for voice queries.
International consulting firm OC&C conducted research covering 1,500 smart speaker owners. According to the study, the three most commonly shopped categories through voice are commoditized: grocery (20%), entertainment (19%) and electronics (17%)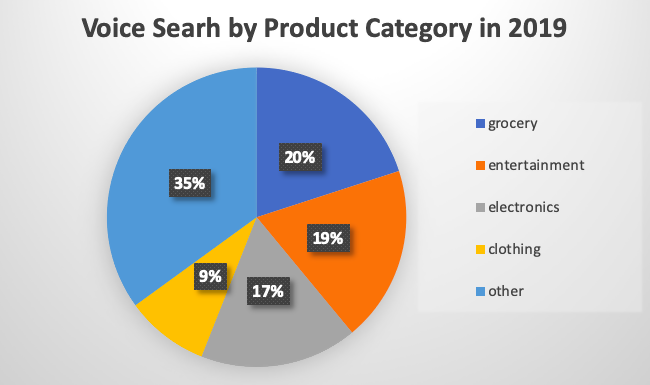 As you can see, it will be beneficial to invest in voiсe SEO for food-delivery services, online-cinemas, e-commerce websites with gadgets, and so on.
The next question is where is your target audience? The point is that not all nationalities are ready to buy something via voice search.
Based on the research from PaySafe Group, Germans and Austrians have the least level of willingness to conduct voice purchases with just 36% of consumers saying they would do so. At the same time, 50% of Bulgarians and 45 % of Americans say they use voice search for purchasing goods or services.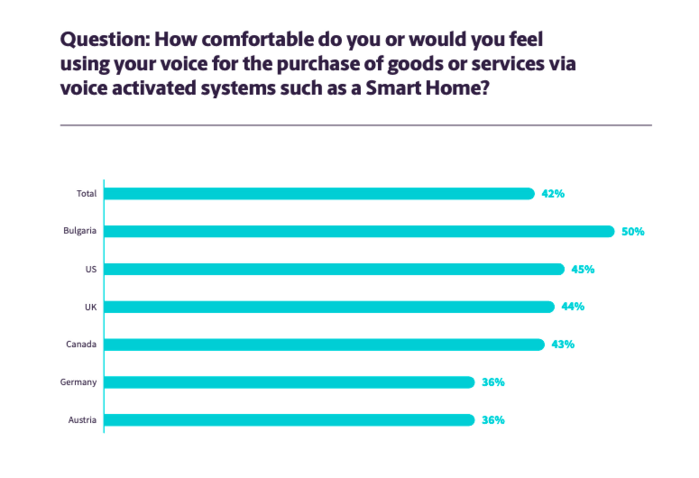 Before investing in voice search optimization, think about what ROI you can get? For that, track how readily people purchase in targeted countries. Real data will show how your customers use voice technology on a day-to-day basis, and determine how this will impact interactions with your website.
Influencer's point of view
In July 2019, at MozCon, Rand Fishkin shared the myth-busting report about digital marketing trends and illustrated a human tendency to overestimate the importance of innovations.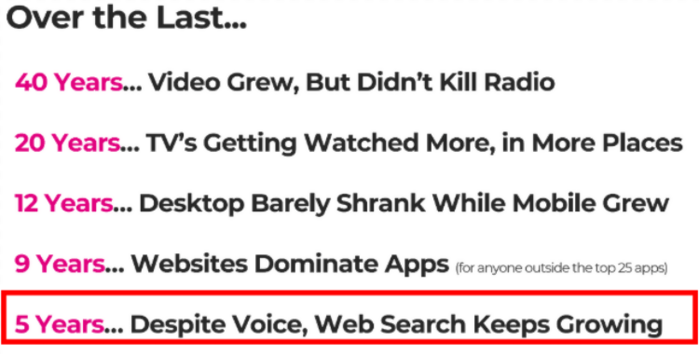 From past experience, voice search won't destroy SERP in the next year. Rand Fishkin recommends investing in mobile and desktop optimization(both are equally important). Also, he encourages creating web-based videos and podcasts to involve the new audience.
Digital Strategist and Forbes author Shane Barker confirmed the rapid growth of voice search usage, and recommends checking whether your website is ready for this. He warned, however, against investing the whole budget in voice search optimization: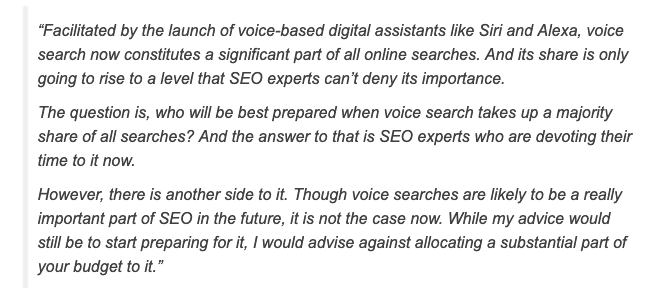 So, according to experts, voice search is definitely on the rise and it will only grow in the future. Nevertheless, influencers advise against focusing on voice SEO directly but on mobile, content optimization, and on relevant podcasts and video creation. By doing that, you will prepare your website for the voice search era that will come inevitably.
Four steps to be prepared for voice queries
OK, you are convinced of the effectiveness of voice SEO on your website. The next question is on what exactly you should pay attention to get the upper hand over competitors in SERP. We asked Googler Martin Splitt about that on Twitter: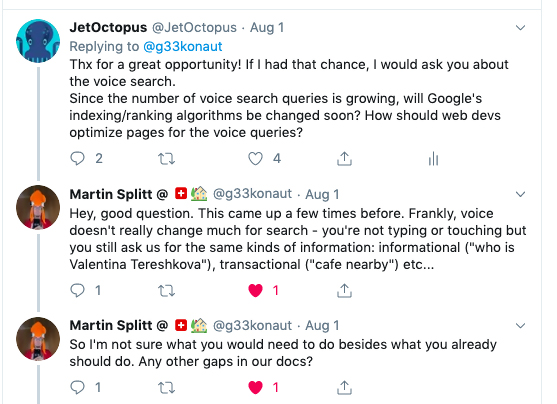 Martin replied that Google's ranking algorithms are the same both for written and voice-asked queries and advises focusing on basic SEO tasks.
I've also analyzed relevant sources and asked SEOs via social networks about what factors indirectly affect rankings for voice queries. Below are four things you can do to be the first in SERP via a search query.
1. Mark up and optimize your content
When a user interacts with Siri, Alexa, Cortana, or Google Home, the voice assistant reproduces a single, definitive answer to the voice query. And to be the single result for that query, your page has to be featured.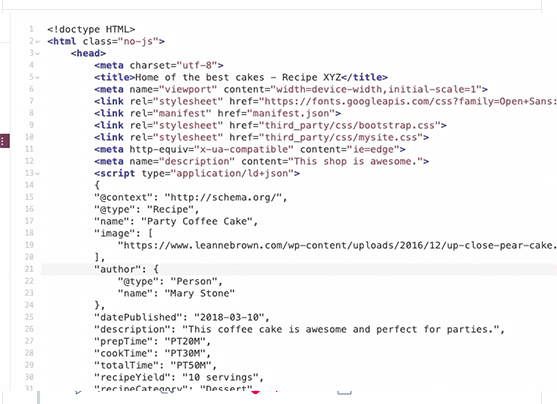 Here is Google's guide on how structured data works and how to implement it correctly. Briefly, structured data on your website should be a true representation of your content. Try to use the most specific applicable type and property names defined by schema.org for your markup. Be sure to test it using the Structured Data Testing tool during creation, and the Rich result status reports after implementation, to monitor the health of your pages.
E-A-T pages are often ranked higher in Google. That's why your content should be relevant, original and technically optimized. Use a web crawler to find duplicated content, similar meta tags, and thin pages on your website.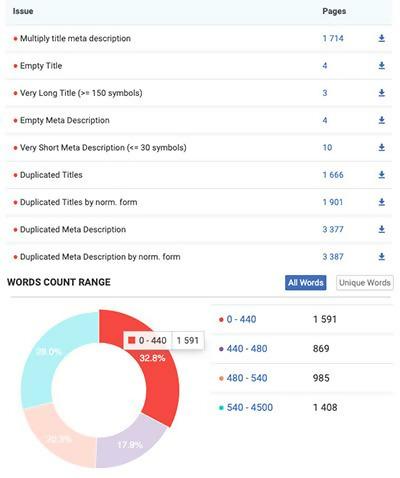 Content optimization addresses several challenges at once: thus you prepare a website for voice queries, increase indexability of mobile and desktop versions of your pages, and involve more traffic on your website. Content optimization is your silver bullet.
2. Use and track long-tail keywords
The main difference between voice search and text search is the usage of more natural, conversational language for queries. While text queries are often oriented towards shorter phrases like "best car," voice search is typically long tail, for instance: "best car for the most challenging winter driving conditions." This search features and query formats should be factored into your strategy.
Try Answer the Public service to find long-tail keywords phrases for your website. The tool allows you to dig deeper into people's intent by separating the results into question starters, such as 'what', 'where' and 'why'. Build on this research by uncovering other similar queries, using the 'People also asked' feature on Google.
After you've gathered relevant keywords and implemented them in your content, track what is the CTR of these keywords via Google Search Console:
Pay attention to the GSC integration into web crawler that enhances the capacities of keywords analysis: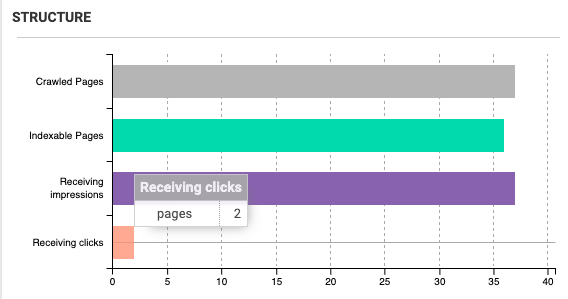 Tool overlaps crawl insights with search efficiency of your website, shows queries that, win/lose on impressions, сlicks, CTR, SERP positions, and much more. Use data-driven approach to promote your website for long-tail keywords efficiently.
3. Improve page speed and mobile interface
What is the avatar of a person using voice search? The user is probably on the go and in a hurry, he/she can't wait till slow pages load. So, to bid your competitors, website speed optimization really is high priority.
If your website is small, analyze your current webpage speed with PageSpeed Insights from Google. In case there are more than 1k pages, this task will be time-consuming to check speed page by page. It's better to use web crawler for big websites to evaluate the web speed on your website comprehensively.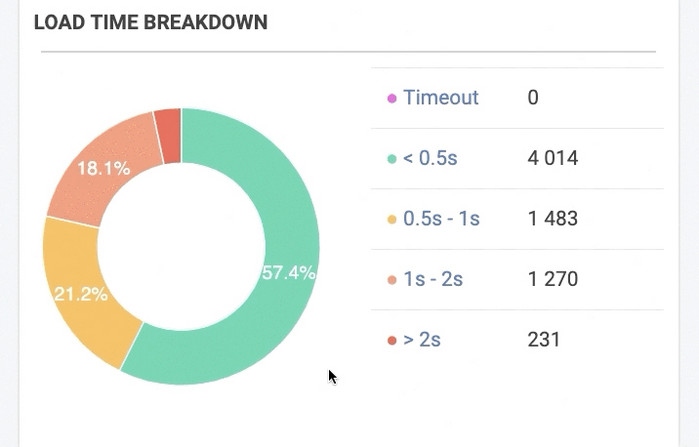 Here is the article with actionable steps on how to accelerate your website. Note that mobile speed is more important than desktop for voice search optimization. This goes for overall design as well — make sure your webpages are mobile-friendly since a majority of voice queries asked via smartphones. The tool from Google tests how easily a visitor can use your page on a mobile device. Just enter a page URL to see how your pages score.
4. Do local SEO (optional)
Stats encourages us to optimize your website for local queries: 58% of consumers have used voice search to find local business information in the last 12 months.
Register at Google My Business page and ensure you add important details like your business name, phone number, and physical address.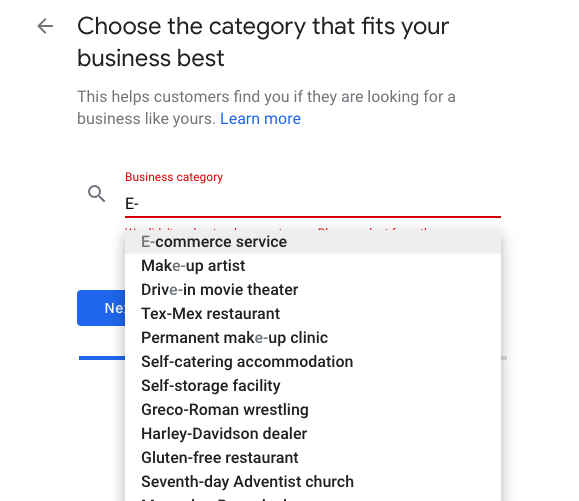 When you enter such detailed data, the chances of your business appearing in Google SERP will increase. Describe your items or services in short and simple phrases that are easy to understand.
Wrapping Up
Google's ranking algorithms stay the same both for typed and voice-asked queries. Your website still needs to be technically-optimized to reach the TOP of the SERP. In voice SEO you should just shift the focus on:
structured data for optimized content
mobile-friendly pages that load quickly
targeting long-tail keywords
local SEO
At present, the lack of reporting metrics for voice queries and imperfection of voice-search devices show that voice is still in its infancy if we speak about separate SEO strategy. When these metrics become usable, they should be converted into meaningful strategies, like all SEO data.
Get more useful info: How to Create a Site That Will Never Go Down